Hverfjall
Everything you need to know before visiting Hverfjall Crater
Want to experience an otherwordly volcanic crater during your trip to Iceland? We've put together an expert guide to Hverfjall to help you prepare.
Everything you need to know before visiting Hverfjall Crater
Well known for its volcanic activity, Iceland is home to several tephra cone or tuff ring volcanoes. One of the most popular is Hverfjall, which is thought to have erupted in 2,500 BP resulting in the crater appearance you can see today. If you're currently planning a visit to Iceland, here's our guide to the Hverfjall including where you can find it and what to expect while you're there.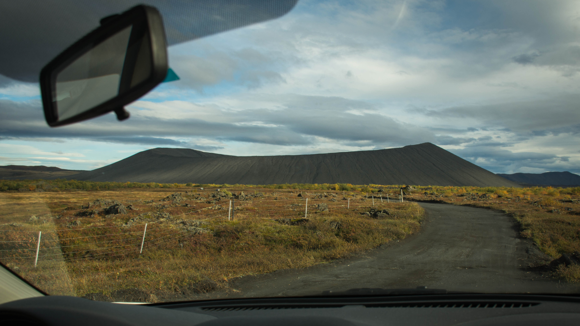 How to get to Hverfjall
Hverfjall is located in Northern Iceland, to the east of Lake Myvatn and is accessible via a simple hiking trail. Fortunately, Hverfjall is easy to reach by car from Reykjavik and can be found by taking the Ring Road, followed by Route 848.  If you are heading to the volcano from the capital, you should expect around 6 hours of driving before you reach your destination. 
Alternatively, you could opt for an internal flight to Akureyri and then hire a car from there. Public transport is available in the area but is very limited and may not be suitable for the journeys you are hoping to take. 
The surrounding area is full of things to see and places to visit such as Dettifoss, Krafla and Ásbyrgi, meaning you can easily spend a few days exploring or simply choose to add Hverfjall to your Diamond Circle road trip itinerary.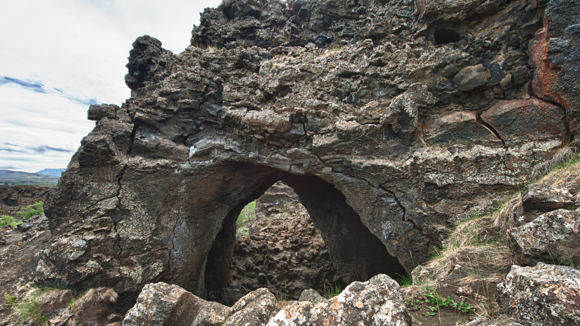 Local Hiking Routes
A small amount of hiking is required to reach the top of the volcano and experience the breathtaking view inside, however, this isn't too strenuous and is suitable for children. The main route tends to take around 20 mins from the car park to the rim, where it is possible to walk the entire circumference. On a clear day, the view extends to the nearby lava fields and across the expansive Lake Myvatn. 
You can also hike to Hverfjall from Dimmuborgir, however, this is a slightly steeper climb and the walk to the base of the crater takes around 45 minutes before you can begin to ascend. 
Aside from these 2 paths, it is strictly forbidden to use any other route to or from the top of the volcano. Deviation from the paths can result in damage to nature that surrounds the crater.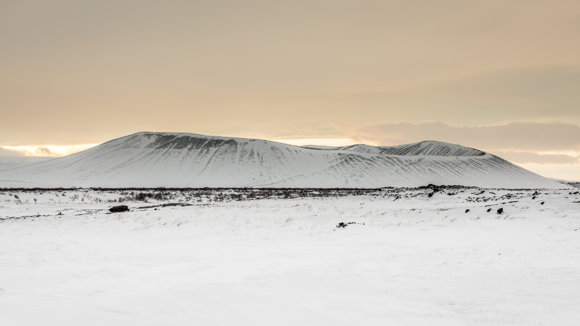 Inside the Crater
Approximately 140 metres deep and 1km wide, the intriguing view inside is often described as otherworldly. A landslide that occurred inside the crater is said to be responsible for the wavy appearance of the ground. 
What to Bring
Icelandic weather can be extremely cold, windy and wet, particularly during the winter, and is notorious for being interchangeable and unpredictable. You should pack appropriate warm, waterproof clothing, and ideally, lots of layers! Before heading off on a hike to the volcano, it is advisable to check the weather via the Icelandic Met Office. 
Hiking boots are a must to assist you on the gravel paths and a walking pole may be helpful to keep you stable. 
If you're keen to experience the Hverfjall volcano for yourself and are looking for somewhere to stay in the area, the Fosshotel Myvatn offers stylish, comfortable rooms in a scenic, peaceful location. Book your stay today.