Mývatn nature baths
Everything You Need to Know: Mývatn Nature Baths
Iceland is a place infamous for its geothermal activity, even more so for its hot springs and naturally heated pools. It's often said that a dip in a hot spring is something not to be missed on a trip to our island nation. While the Blue Lagoon might be the most renowned example in the southwest of Iceland, there are plenty of other incredible natural hot springs and man-made heated pools to enjoy across the country. One great example, located near Lake Mývatn, is the Mývatn Nature Baths. 
This set of pools and steam baths can be found just off Iceland's Ring Road near the village of Reykjahlíð and is set in stunning natural scenery. The large man-made lagoon contains naturally heated water rich in regenerative minerals, as are most of Iceland's geothermal baths. Sulphur is a commonly found mineral in the water, which will explain the slightly sour smell in the air as you relax.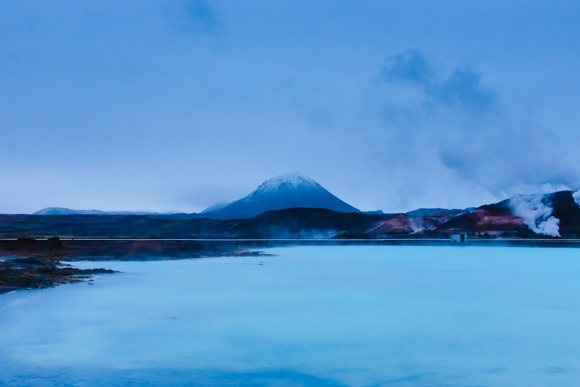 As you take in your dramatic surroundings, the water around you is heated to around 40℃, which you'll find to be the perfect temperature for ultimate relaxation. This water is heated by geothermal activity deep below the earth's surface and pumped into these pools via pipes. The water temperature might vary as you move around, so you might need to drift a little to find the right spot for you. Plus, while you float in this idyllic pool, the minerals in the water can ease any respiratory or skin problems. There are also steam baths available to enjoy, with a higher temperature of closer to 50℃ and a much higher humidity level. 
Mývatn Nature Baths Facilities
While you might want to have your swimming stuff underneath your clothes, there are changing rooms beside the pools to change before and after a dip. Alongside the larger heated pool and steam baths, you'll also find a separate area for young children on site. A hot tub also awaits you if you fancy even warmer waters. The on-site restaurant is also available for hungry stomachs after a restorative soak, as well as a bar where you can take drinks with you into the water. 
Nature Bath Prices (correct as of Nov 2022)
Adults (16+): 5.900 ISK (€40, $42)
Teens (13-15 yrs): 2.900 ISK (€20, $20)
Students/seniors/disabled people: 3,900 ISK (€27, $27)
Children under 12: free
If you need to rent a towel, it will cost you another 850 kr, so it's a good idea to bring your own. If this is a more spontaneous stop, renting a swimsuit is also possible here for another 850 kr, while a bathrobe rental will cost you 1.800 kr.
If you're looking to save a little money while travelling around Iceland, the nature baths near Lake Mývatn can be a more affordable option than the Blue Lagoon further south. While further out of the way if you're staying in Reykjavik, it's well worth considering making the trip.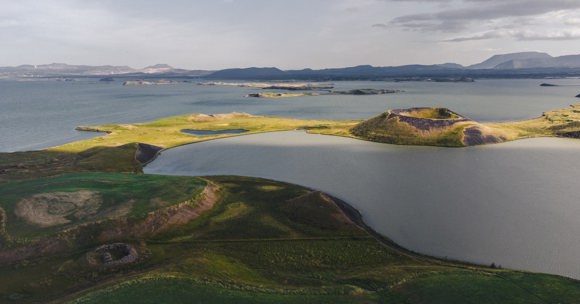 Mývatn Nature Baths Opening Times
Due to the dramatic changes in daylight hours in Iceland, the opening times to attractions like the Mývatn Nature Baths differ depending on season and tourism popularity. Opening hours are, as a result, longer when there is more light in the day. Plan your visit now with the opening hours below in mind.
From 1st May to 31st August: Open 9 am to 12 am
During September: Open 10 am to 11 pm
From 1st October to 30th April: 12 pm to 10 pm
Getting to Mývatn Nature Baths
A little over 6 hours from Reykjavik, the nature baths in the Mývatn area are more accessible from Akureyri, known as the capital of northern Iceland. The nearest town is Reykjahlíð to the west, which is also home to our very own Fosshotel Mývatn. With plenty of other incredible natural phenomena to be found throughout this area of high geothermal activity, Reykjahlíð can be a great base for a northern Icelandic adventure!