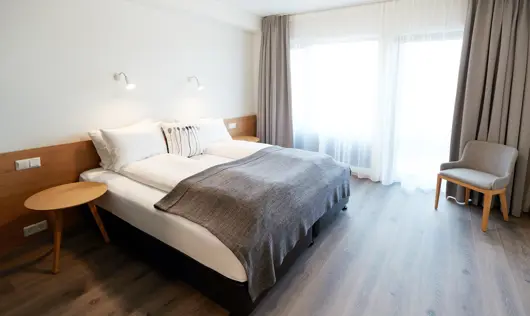 Superior Double or Twin Room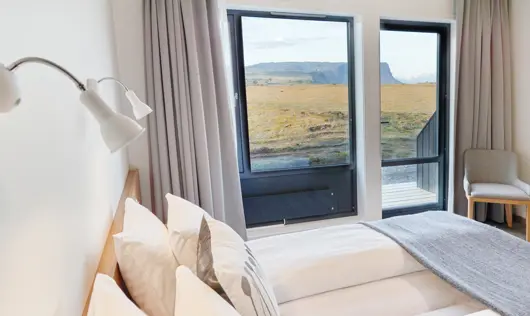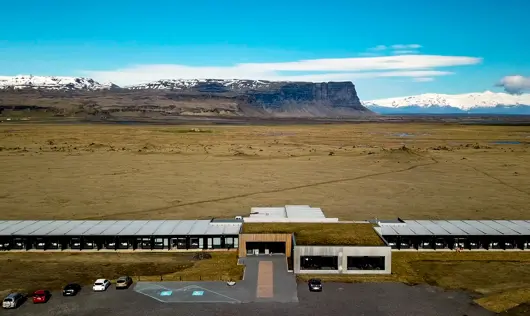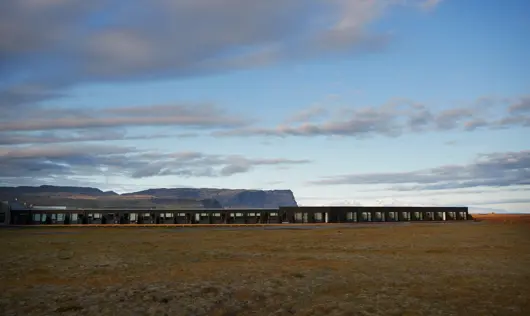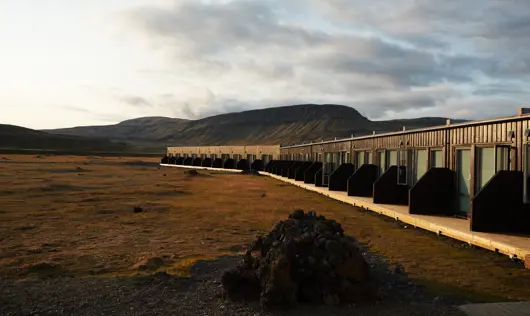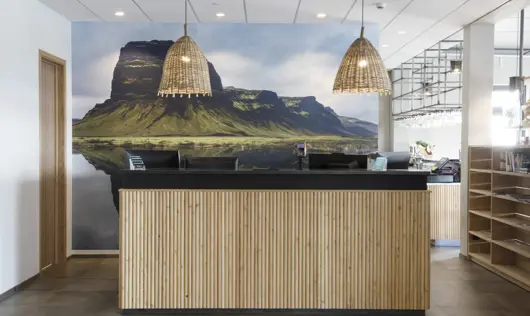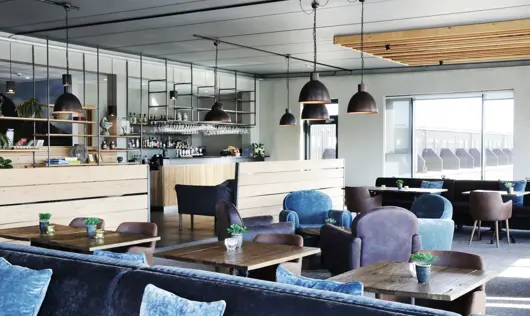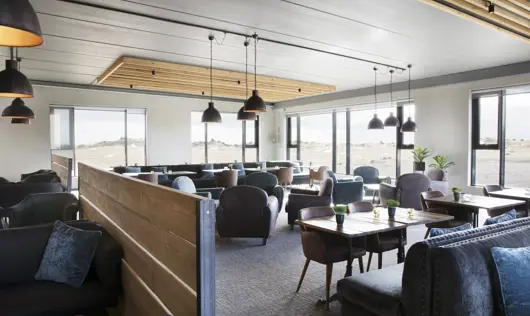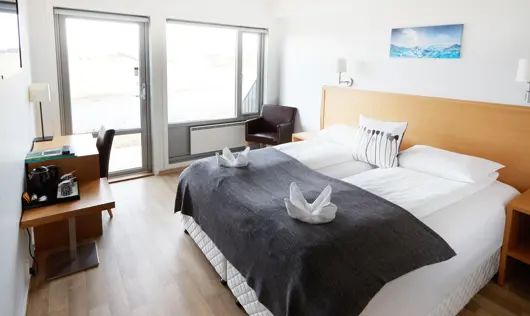 Standard Double or Twin Room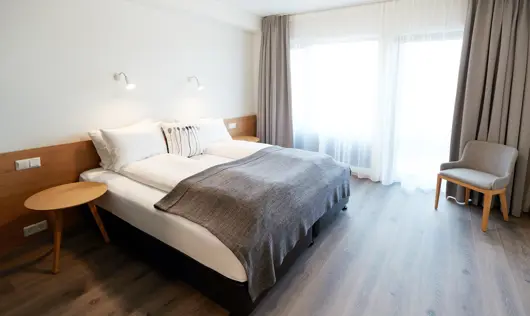 Superior Double or Twin Room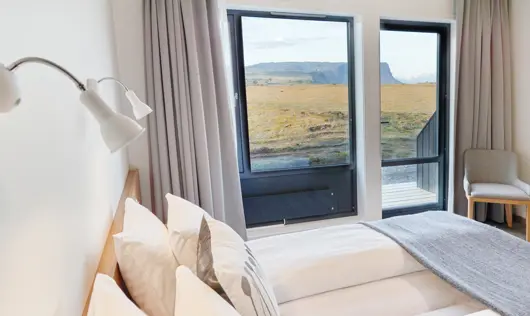 Fosshotel Núpar
Daily housekeeping on request
Fosshotel Núpar
Fosshotel Núpar is an ideal base for a southern Iceland adventure, located near many of Iceland's natural attractions such as Skaftafell National Park, Fjaðrárgljúfur and the craters at Lakagígar. The hotel is a comfortable haven after a day of wind-swept exploration of all that Kalfafell and southeast Iceland has to offer.
Hotels in Kalfafell Iceland benefit from incredible natural surroundings, notably with Laki Volcano and Vatnajökull Glacier nearby. Fosshotel Núpar is a comfortable hotel located in one of Iceland's most glorious landscapes. Surrounded by lava fields, it offers a spectacular view of Vatnajökull, the world's largest glacier outside the Arctic. Fosshotel Núpar is near many of Iceland's natural attractions such as Mount Lómagnúpur, Skaftafell National Park, the craters at Lakagígar and the amazing Jökulsárlón, Iceland's otherworldly glacial lagoon.
As one of the best and most stylish hotels in Kalfafell, Fosshotel Núpar is an incredible and unique accommodation for individuals, couples, and families hoping to explore a little more of Iceland. The well-known Laki volcanic chain has created a stunning backdrop to the modern and stand-out hotel architecture.
Accommodation
Looking for a hotel stay in Kalfafell? How about staying in the middle of a lava flow from one of the greatest eruptions in history?
At Fosshotel Núpar we offer quality rooms with modern furnishing, large windows, and a small backyard porch, making you even more connected to nature. With all the amenities you look for in a 3-star hotel, just sit back and enjoy yourself with the beautiful scenery right at your doorstep.
Restaurant
A charming restaurant with large windows and a great view of the surrounding lava fields.
Unwind after a productive day at the romantic restaurant at Fosshotel Núpar. There is nothing more relaxing than dining with the ones you love, watching the sunset (or not set) in the Eldhraun lava field which surrounds the hotel.
Interesting places and scenery near Fosshotel Núpar, South Iceland
The Fjaðrárgljúfur Canyon
When the light hits the Fjaðrárgljúfur Canyon just right, it lights up the verdant cliffs, deep valleys and serpentine river Fjaðrá like a scene out of Middle Earth. Hikers can make their way down to the river – though be prepared for a little wading at times – or trek the walking path up on the canyon's edge to soak up the panoramic (and very 'Instagrammable') views that spread out before them.
Dverghamrar - the Dwarf rocks
This peculiar yet beautiful rock formation lends itself well to Icelandic folklore, littered with tales of trolls, giants, elves and dwarfs. The stories say these immense, hexagonal basalt columns were built by dwarves to use as their homes. However, geologists offer a different explanation, suggesting the famous cliffs were moulded at the end of the Ice Age through the cooling of lava, motion of the tides and the build-up of contraction forces.
The Kirkjugólf in Kirkjubæjarklaustur
Kirkjubæjarklaustur may just win the prize for having the most tongue-twisting name of any in Iceland. While small in stature with only 150 inhabitants, this small village has become a popular destination for visitors due to its position as a major crossroads to several dramatic locations. Discover the charming double waterfall, Systrafoss, before dropping by Systravatn lake – once a bathing place for nuns. Next, find a local to tell you the macabre backstory linked to Systrastapi or 'Sister's Rock' and visit Kirkjugólf, a curious field of basalt rock and moss.
FAQ
Standard check in time is 3pm local hotel time and check-out time is 12pm local hotel time. 

You can contact the hotel and request an early check in and/or late check-out for additional charge. This is based on availability and possible to request via the welcome email guests receive shortly before arrival.

If you arrive earlier, the reception will gladly store your baggage in the baggage area until your room is ready.

Guests can enjoy free parking.

Yes, dogs are allowed at the hotel. To request a dog friendly room when booking, it is important that you inform us in the comment box. To guarantee the room, you'll have to contact the hotel. 

More about our furry friends. See our pet policy.

Bookings made on the website can be changed or cancelled via link in the booking confirmation email. 

Yes there is a charging station in front of the hotel. 

Breakfast is served from 7am-10am. 

The hotel is open all year except for 12.Dec – 28.Dec.

To request housekeeping services, please inform the front desk upon check-in or the day prior to the desired service. Additionally, feel free to request fresh towels, linens, and other amenities, as necessary.

At Íslandshotel we are committed to both sustainability and the privacy of our guests. As part of that commitment our housekeeping team will only enter your room to clean and change towels upon request, effectively reducing the amount of water and chemicals used. However, if you prefer daily cleaning or require a restock of amenities, we're happy to accommodate your needs.

To request housekeeping services, please inform the front desk upon check-in or on the day prior to the desired service. Additionally, feel free to request fresh towels, linens, and other amenities, as necessary.

We hope that this endeavor allows us to provide you with a more personalized and comfortable stay, while also contributing to a more sustainable future.

At Íslandshótel, we prioritize the comfort and peace of mind of our guests. In certain situations, our staff may need to enter rooms, even if a 'do not disturb' sign is displayed. This is typically for essential maintenance, safety checks, security procedures, or other valid reasons. To ensure a respectful and minimally disruptive experience, our team will always knock on the door and announce their presence before entering. We understand the importance of privacy and strive to maintain a welcoming environment for all.

If you have any concerns or questions, please don't hesitate to contact our friendly staff.

Learn more about our sustainable practices and our Green Key Certificate here.