Environmental Policy
We strive to achieve exceptional environmental standards that we can be proud of, and that our patrons will approve of too.
Íslandshótel are part of FEE´s Green Key and the Nordic Swan. We want to lead the way towards improving environmental standards in the hotel industry in Iceland and we are fully committed to achieving that aim.
We want to set the best example for others to follow by reducing our environmental impacts.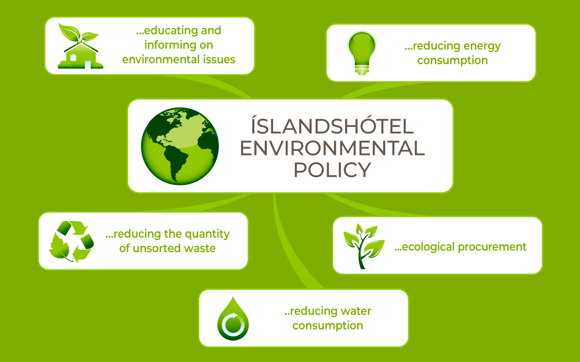 Íslandshotel Environmental Policy
Eco-Friendly
Reducing energy consumption
Always using LED and energy saving lightbulbs
Purchasing energy saving equipment
Reducing energy consumption

Ecological purchasing 
Always purchasing environmentally certified products and services when available
Offering organic products, including certified organic breakfast foods


Reducing unsorted waste
Limiting single use or small packaged products if possible
Sorting all waste and sending it for recycling. At the moment we have 11 different categories for waste sorting
Provide easy management for waste sorting for guests and employees
Limiting use of chemicals and using soap dispensers
Reducing water consumption
Using water saving equipment
Constantly monitoring equipment settings as well as water consumption in the kitchen, laundry and gym
Environmental education and information
Providing customers with information on the hotel's environmental efforts to promote a positive environmental impact 


Ensuring our staff is informed of the hotel's environmental policy and trained to work accordingly.
Keep up with current environmental issues and promote general awareness

The flag ship of Íslandshótel, Hotel Reykjavík Grand, complies with the increasing guest requirements for organic food items and insures that our products listed as organic have been certified by independent authorities.

We offer our guests the following: a daily breakfast section with certified organic products including a certified organic "mini" breakfast for meetings and a certified organic breakfast for individual groups. Certified organic coffee breaks are also available for afternoon meetings.

At Hotel Reykjavík Grand we actively source local products for our kitchen and strive to use Icelandic organic herbs and vegetables when available.

Whenever possible we purchase environmentally certified products and services.
Love Food
According to the European Consumers Organization, wasted food is equaling about a third of the food intended for consumption. This is preventable and we want to encourage our guests to minimize food waste.