5 Delicious Fish Dishes to Eat in Iceland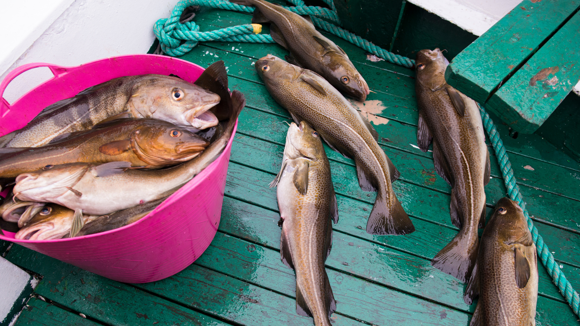 If you're a fan of seafood, you'll be pleased to know that fish is an extremely popular cuisine in Iceland. From cod and herring to halibut and haddock, as well as tasty langoustines, seafood is a staple on the menu in most Icelandic restaurants. So much so that you're likely to find it on offer for breakfast, lunch and dinner!
Why is The Fish in Iceland So Popular?
The cold North Atlantic waters that surround Iceland are rich in nutrients and therefore teeming with diverse marine life. As a result of this, the country boasts a modern and extremely competitive seafood industry, an industry that hugely supports the Icelandic economy. 
The fish caught in the pure waters here is sustainable, high quality, good for your health and fresh; often prepared and served on the very day it has been caught. Whether it's fried, boiled, stewed or grilled, the Icelandics know exactly how to prepare fish dishes that are guaranteed to leave you wanting more.
Best Fish to Eat in Iceland
Locally caught fish is simply delicious and you'll likely find yourself spoilt for choice when browsing extensive menus. These are some of the best fish and seafood dishes to try while you're in Iceland.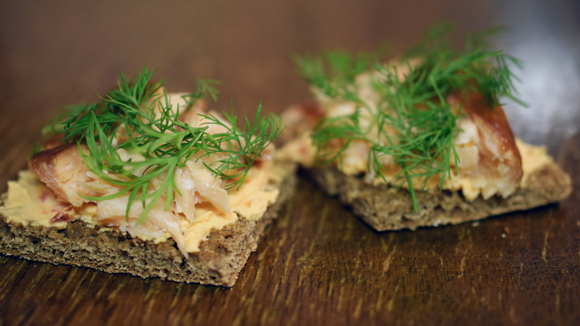 1. Rúgbrauð með Bleikju
Often served for breakfast rúgbrauð með bleikju, or rye bread with arctic char, is a filling dish that combines dense, grainy and slightly sweetened rye bread with the mild, buttery flavours of the tasty arctic char. 
Most often, the bread is lightly toasted and the fish is smoked, creating a dish with a rich flavour profile.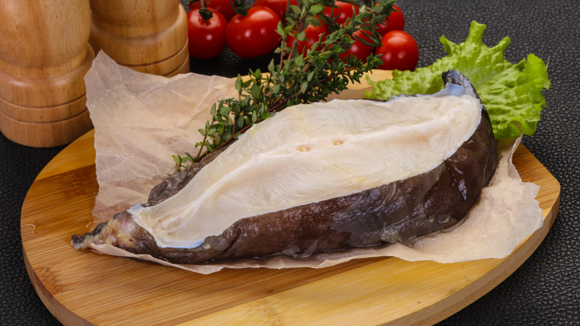 2. Grilled Wolffish
Unfamiliar to many cultures, the Atlantic Wolffish is regarded as a delicacy by locals in Iceland. The large white fish is meaty, with a sweet taste and similar in texture to crab. This unusual species is native to the North Atlantic and feeds mostly on crustaceans, which contributes to its oceanic flavour.
Wolffish is firm, which means it can be grilled to release the succulent taste that so many Icelanders love. Want to give it a try? After a busy day of exploring Reykjavík, you can find this tasty dish on offer at Fröken Reykjavík, in the heart of the city centre.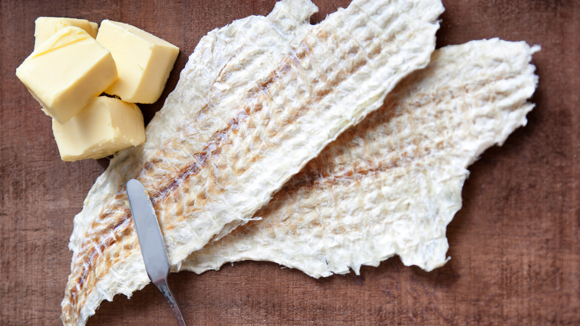 3. Harðfiskur
Though not technically a meal, harðfiskur is likened to fish jerky and is a snack that has been enjoyed by locals for hundreds of years. Typically made from cod, haddock or wolffish, harðfiskur is extremely high in protein and often eaten with salted butter. 
To prepare this delicacy, the fish is first tenderized with a meat mallet and then cured, a process which historically took place by drying the fish in the chilly Icelandic winds. Today, harðfiskur is mostly dried using machinery. Enjoy this traditional local snack with a glass of Brennivín for a truly authentic experience.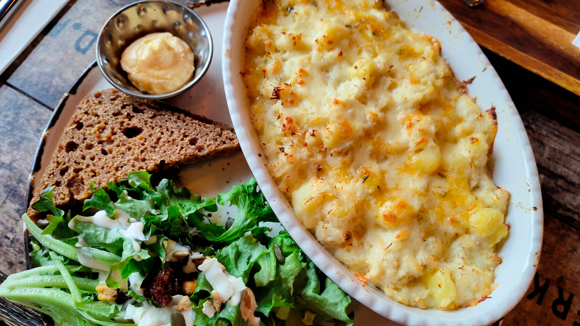 4. Plokkfiskur
Feeling a little chilly after discovering the land of fire and ice? Nothing is more hearty than this warming fish stew. Plokkfiskur, also known as plokkari, is a simple dish created using mashed white fish such as haddock or cod, potatoes and a creamy béchamel sauce. 
Traditionally, this dish was a popular way of using up leftover fish with just a couple of other ingredients. But over the years the flavours have begun to change and it's not uncommon to find it made with curry powder or served with cheese on top.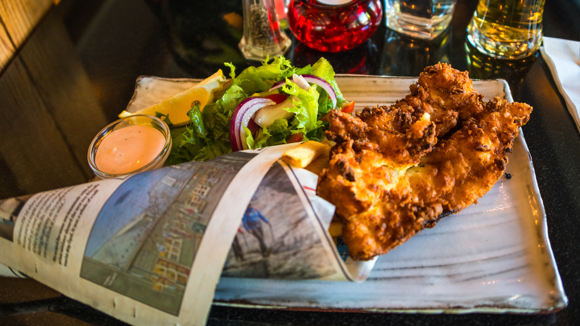 5. Icelandic Fish and Chips 
This Icelandic twist on a British classic is popular amongst visitors looking for a familiar flavour. However, in Iceland, it's done differently. The batter on the fresh fish is made from spelt flour, giving a lighter coating that's almost like tempura, and instead of being fried, the chips are oven roasted with parsley. 
Be sure to ask for a serving of Skyronnes dip to accompany your fish and chips. This traditional sauce is made of skyr, olive oil and fresh herbs - divine!