Iceland's Deildartunguhver Hot Spring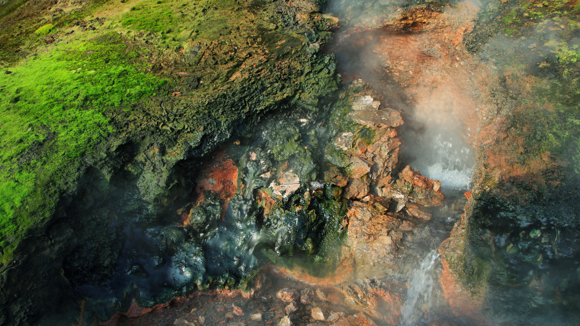 Iceland is well-known for its geothermal activity, with an abundance of hot springs scattered across the land. The country's location on the Mid-Atlantic Ridge means that volcanic and tectonic activity is at a high, resulting in bubbling hot springs varying in size and characteristics. Not only do the hot springs present unrivalled photo opportunities for adventurous visitors, but they are also used as energy sources to heat water for swimming pools, greenhouses and nearby homes.
We're sure you've heard of some of the most famous hot springs in Iceland including world-renowned tourist locations such as Blue Lagoon, Reykjadalur and the Secret Lagoon. But have you ever heard of Deildartunguhver? 
Located in western Iceland, this major hot spring should definitely be added to your Iceland itinerary. Discover everything you need to know about Deildartunguhver, including things to do and what you can expect when visiting there.
What is Deildartunguhver?
Deildartunguhver is the most powerful hot spring in Europe, with a flow rate of roughly 180 litres per second and a temperature of around 97°C. Sitting in Reykholtsdalur, a district of West Iceland, the hot spring has many uses, and can be used to heat homes and greenhouses, as well as local pools.
Uses of Deildartunguhver
Much of the hot water from the spring is used for heating homes in the surrounding area. The water from Deildartunguhver is piped to the two nearby towns of Borgarnes and Akranes, which are located 34 and 64 kilometres respectively away from the spring. This means that if you have taken a shower or bath within a 64-kilometre radius of Deildartunguhver, you would have likely used water from the hot spring itself!
Iceland is well-known for its efficient use of geothermal energy, and hot springs play a significant role in enabling this. Most of the hot water in Iceland is sourced from hot springs, with the exception of some parts of the country, such as the Westfjords. This is because the lands are geologically older, and therefore less active. Iceland's geothermal activity is considered why the country has such a good reputation for green energy and sustainable practices.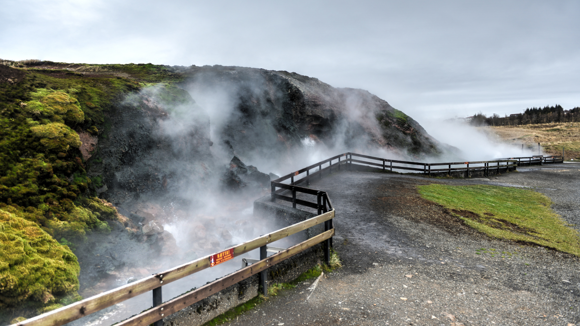 Things To Do 
When visiting Deildartunguhver, there are plenty of nearby sites and attractions in the area, enabling you to make the most out of your trip. Here are some top picks. 
Krauma Geothermal Bath & Spa 
The Krauma Geothermal Bath & Spa is a popular destination for those visiting the Deildartunguhver hot spring area of Iceland. It offers a relaxing and affordable alternative to the more commercialised Blue Lagoon, with warm glacial waters creating the perfect bathing temperatures to soak up the scenery. Krauma features a total of six pools, a relaxation room, and two steam baths, making it a great place to unwind and relax after a long day of exploring. 
Hraunfossar
Hraunfossar, also known as "Lava Falls," is a series of small cascades that flow through an ancient lava field in Iceland, and can be found close to  Deildartunguhver. The falls are created by underground hot springs that filter through the lava, creating a unique display. 
Barnafoss
Barnafoss, also known as "the Children's Falls," is a more powerful waterfall located in the same area. It is steeped in a dark legend, which tells the story of two children who were said to have drowned in the waterfall after attempting to cross a natural stone bridge that once existed there.
Reykholt
Reykholt is a small village located near the Deildartunguhver hot spring.  The village is known for its picturesque setting and rich history, and most notably was once home to Snorri Sturluson, a renowned historian, writer, chieftain, and poet. He is considered one of the most important figures in Icelandic history, and his works have greatly contributed to our understanding of Nordic mythology, folklore, and the history of that time. Visitors can take a stop at Snorrastofa Cultural and Research Center to learn more about the preserved works and life of Snorri Sturluson.
Looking to visit Deildartunguhver hot spring on your Icelandic adventure? Take a stop on your tour of West Iceland for a day you simply won't forget. Unwind at the romantic Fosshotel Reykholt, complete with a new spa and charming interior decor, to finish your big day of exploring.