Iceland's Legendary Húsafell Stone
Húsafell Stone
Iceland is full of curious elements of folklore and legend, from troll houses to Viking houses. Used by locals for hundreds of years as the ultimate test of strength or endurance, Húsafell lifting stone has an incredible history. The Húsafell Stone is an infamous stop on a tour of western Iceland for those looking for something a little unique.
History
Between 1756 and 1803, when Snorri Björnsson was pastor of the farm and church estate of Húsafell, he built a pen for handling his livestock out of rock walls. The entrance was blocked by a large basalt stone known as "Pen Slab" in Icelandic (Kviahellan). This large stone became a testament to strength, with challenges made up for the local people with pure muscle. Legend has it that Snorri Björnsson's daughter was able to lift the stone and circle the stone pen twice before setting it back on the ground.
 Test of Strength 
Weighing in at roughly 190 kilograms, the lifting stone is the perfect way to show off your muscles, whether you lift and hold or can carry the stone around its fenced-in location. The pen to which the stone was the entrance features heavily in these challenges, the main one of which is attempted by tourists from all over the world every year.
Onto Northern Wall
The first, and easiest challenge, is to bend and lift the stone onto a large stone in the northern wall of the livestock pen, where Snorri's name is still carved into the pen. 
Across the Pen
Not tired yet? Next up, attempt to carry the stone from one side of the pen to the other. 
Fullsterkur
The main challenge with Húsafell Stone is to lift the 418-pound stone and to carry it around the stone sheep pen without needing to put it down. 1 round of the pen is around 35 metres, which is still half of what Snorri Björnsson's daughter could allegedly manage.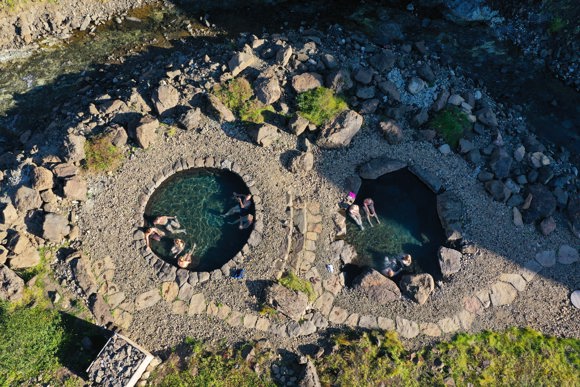 Know Before You Go
Fancy your chances at the infamous Húsafell Stone? Be aware that attempts at this feat of strength are done at one's own risk, so it's vital to consider this challenge carefully. The challenge is designed for trained athletes, not just anyone.
The weight of the stone is not the only factor in this strength challenge, so don't expect it to be equal to your normal weight-lifting feats. With no handles or handle-like shapes, the stone is difficult to grip to say the least. It is a naturally occurring rock, meaning it's not evenly weighted - it is unbalanced and slippery, so your grip strength will be tested to its maximum. 
Here are a few tips before giving it a go.
Consider wearing workout clothing. Your range of motion in jeans or similar will be far more restricted, meaning your attempt will be hindered.

Use chalk on your hands. To absorb moisture and reduce slip, why not use a bit of chalk on your hands before squaring up to the lifting stone?

Wear long sleeves and gloves. The sharp, uneven surface of the stone might cause bumps and scrapes on bare skin, so sleeves and gloves can help.
How to Get There
If you're staying in South West Iceland, the Húsafell lifting stone is easy to reach. In fact, why not take advantage of everything that Húsafell and the surroundings have to offer, Reykholt is a fantastic base for your trip. From Fosshotel Reykholt, the lifting stone is just over a 20-minute drive East via Reykholtsvegur, as well as the Húsafell Canyon Baths and other incredible natural wonders.