Discover Spectacular Buildings in Reykjavík
Reykjavík's architecture is truly unique. Nestled along Iceland's rugged shores, the city offers a unique landscape that seamlessly weaves together modern and traditional styles, which are appreciated by both visitors and locals alike. 
As you venture down the streets of Reykjavík you'll find a mosaic of buildings, each a testament to Icelandic heritage and evolution. From the towering church of Hallgrímskirkja to the charming old townhouses with their vibrant colours, Reykjavík's buildings are worth a visit. Join us as we uncover our top picks. 
Harpa Concert Hall
Harpa Concert Hall and Conference Centre, more commonly known as Harpa, is a modern masterpiece located right in the heart of Reykjavík. Its exceptional design has earned it several awards over the years, including the Mies van der Rohe Award for European Architecture in 2013.
The design, created by artist Olafur Eliasson in collaboration with Henning Larsen Architects, was inspired by the basalt landscapes that can be found in Iceland. The interior is just as impressive, boasting four main halls of different sizes and capacities. Harpa has become a prominent landmark and a popular tourist attraction in Iceland, thanks to its striking design and beautiful waterfront location.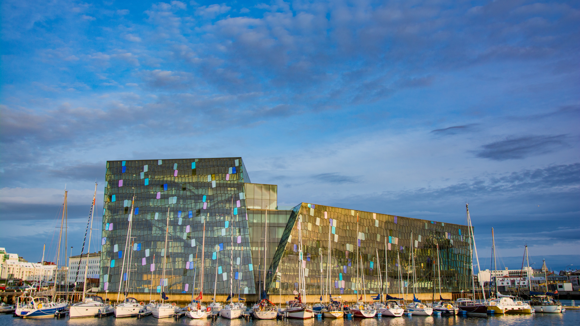 Hallgrímskirkja
Hallgrímskirkja is an iconic Lutheran church, standing as one of the most recognisable landmarks in Iceland. Again, the design of the church was heavily influenced by the natural geological formations in Iceland, particularly the basalt columns. The church was designed by architect Guðjón Samúelsson, and reaches a soaring height of roughly 240 feet. 
The church is made from concrete, with the facade decorated with stepped columns, creating a textured appearance. Sitting at the top of Skólavörðuholt Hill, the church offers stunning views over Reykjavík and the surrounding landscapes. 
The Sun Voyager
The Sun Voyager is a sculpture located along the waterfront in Reykjavík, Iceland. Designed by Icelandic artist Jón Gunnar Árnason, the sculpture holds a special place in the city's hearts. The sculpture resembles a moving Viking ship, designed to be a symbol of hope, progress and delivery. This acts as a tribute to the Icelandic spirit of exploration and imagination. 
The sculpture is easily accessible to the public and is a popular spot, especially for photographers. The Sun Voyager's reflective stainless steel curves interact with the ever-changing light and weather conditions, creating brilliant visual effects and endless photo opportunities.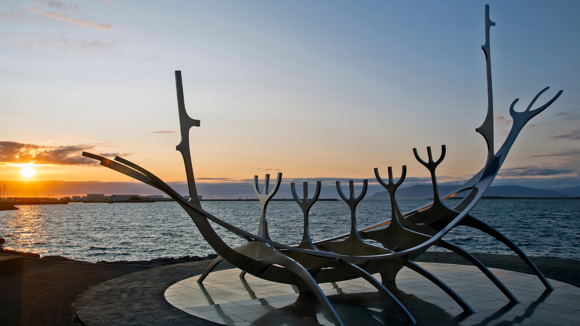 Perlan
Perlan, which translates to The Pearl in English, is another iconic landmark in Iceland. Situated on Öskjuhlíð Hill in Reykjavík, the building offers a range of attractions and experiences for everyone to enjoy. Some of these include:
The Viewing Deck - Offering panoramic views of the city.

Wonders of Iceland Exhibition - An immersive experience showing the natural wonders of Iceland, including glaciers and volcanoes. 

Saga Museum - Wax figures and displays showcasing Iceland's history and culture. 

Planetarium - Featuring shows about astronomy, space and the sky, great for children and adults to learn more about the universe. 
One of the most distinctive features of Perlan is its glass dome, which creates a futuristic feel. The dome is constructed on top of water tanks, that were once used to supply hot water to the people of the city.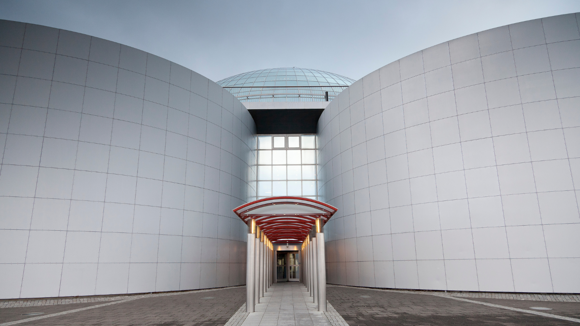 Colourful Townhouses
Whilst not a singular building, Reykjavík is full of colourful townhouses which are a charming feature of the city's urban landscape. These vibrant buildings are a symbol of the city's character, and provide a fun backdrop for its streets. 
The tradition of painting houses in bright and vibrant colours dates back to early 18th century Iceland when historical accounts suggest the tradition started. Danish trade monopoly once required that all houses be painted white, as a symbol of purity. However, due to the limited availability of paint in the country, Icelanders began adding colours to the white paint, to create the unique facades which we all know and love today.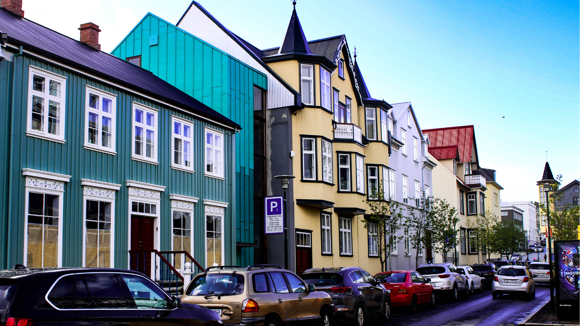 If you're thinking of visiting Reykjavík to see these buildings for yourself, you'll likely be searching for a convenient place to stay. Hotel Reykjavík Saga is an elegant 4-star hotel right in the heart of the city centre, designed with a modern appearance that also reflects Iceland's tradition. Find out more about staying at Hotel Reykjavík Saga. 
Or, if you're looking for more attractions, discover these top 10 things to do in Reykjavík.