Explore Reykjavík's Secret Hidden Gems
Have you ever pictured a golden-sand beach holiday in Iceland? Or heading back to school to learn about the elves? No? Well, picture it now. With so much to see and things to do in Reykjavík, it can be hard to make the perfect itinerary.  We've compiled the best-kept secrets in Reykjavík, so you can explore the weird and the wonderful that the city has to offer. Our list includes tradition, art, and some new experiences, so you get a variety of tourist things and local hotspots. 
Kolaportið Flea Market
Tryggvagötu 19 , Old Harbour Grófin Reykjavík Kvosin, 101 Reykjavík, Iceland
Located in the old harbour, this all-year-round flea market is a place to experience the weird and the wonderful. The market has a buzzing atmosphere with food stalls and locals selling second-hand items. Open from 11 am to 5 pm over the weekend, the flea market is a perfect place to wander on a weekend afternoon. Being inside a large industrial building, the flea market is a great escape from the rain and snow while browsing traditional and handmade Icelandic items. It is one of the best places to go if you're looking for woollen jumpers and vintage items. 
Álfaskólinn (Elf School)
Síðumúli 31, 108 Reykjavík, Iceland
A staggering 54% of Icelandic people believe that elves exist. In fact, if a hill or boulder is determined to be home to elves, then it will not be altered, and roads will be diverted around it. To get the true experience of elf life in Iceland, the Álfaskólinn is the perfect hidden gem to visit. This school is dedicated to teaching all about elves and their significance in Iceland. The lessons take place in the afternoon and start with stories of the relationships between these hidden people and Icelanders.
While you're being taught, you'll be served pancakes and hot drinks. Visitors describe it as a pleasant afternoon and great fun for the whole family!
Nauthólsvík Beach
102 Reykjavík, Iceland
If you find yourself on a warm and sunny day in Iceland (pretty rare!), then you may be thinking of heading to the beach. Nauthólsvík Beach, nicknamed "Ibiza," is a man-made golden-sand beach located in Reykjavík. The sand is imported and protected in an artificial bay. The water within the bay is a mixture of geothermal and seawater, which makes for a warmer but not too hot swimming experience. Make sure you bring a bathing suit! It is a free experience with a small charge to use the changing facilities. The area is popular with locals and is a hidden gem.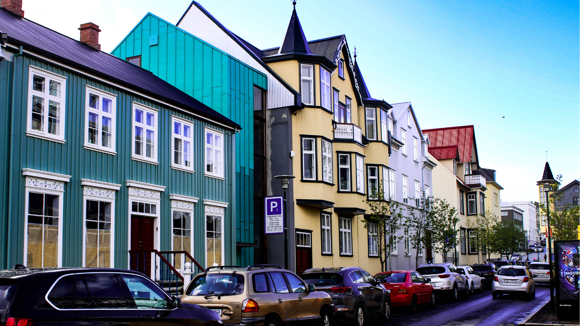 Icelandic Punk Museum
Bankastræti 2, 101 Reykjavík, Iceland
What's unusual about a tiny museum dedicated to punk music stuffed inside a space that used to be an underground public toilet? Everything! Iceland Punk Museum tells the story of punk in Iceland. Within its collection, you'll find information on bands who have performed in Iceland, as well as details of the Icelandic punk artists. The museum is designed to give you an interactive experience with headphones dotted around to listen to music, as well as some classic punk jackets to try on. Make sure you bring your camera to take some pictures looking all punked up.
If punk isn't for you, there are plenty more museums in Reykjavík to discover. 
The Raven's Nest
62 Laugarnestangi, Reykjavík 105, Iceland
This fascinating hidden gem isn't well-known by visitors to Reykjavík. The site, which overlooks the Atlantic Ocean, is an art installation created by Hrafn Gunnlaugsson. Spread across the garden are sculptures and pieces - all made of metal and other shiny things. Just like a raven, Hrafn Gunnlaugsson collects discarded items to create his rustic maze. The site is never finished and continues to evolve and expand as the artist finds more to add. Wander down to this unique location and you'll be sure to have stories to tell when you get home.
Þrír Frakkar
Baldursgata 14, 101 Reykjavík, Iceland
There's no doubt you'll feel hungry after all that exploring, and there's no better way to refuel after visiting Reykjavík's hidden gems than eating in one. Þrír Frakkar is just that. It feels like you're eating in someone's living room! The simple decor and dated design add to the charm of this restaurant. The menu screams tradition and is mostly seafood. Here you can find all the classics as well as some modern twists. Make sure you leave some room for dessert as they make a skyr brûlée, an Icelandic version of a crème brûlée using skyr, Iceland's famous yoghurt.
Head to the Þrír Frakkar website to book a table  
Boutiques on the Back Streets
Start on Laugavegur Street and wonder 
If you've heard about the quirky and cool style of Reykjavík but can't seem to find it, that's because you need to head to Reykjavík's main attraction, Laugavegur Street. Explore the quaint small streets and rows nearby to discover Reykjavik's hidden gems of shopping. Stumble upon everything from trendy cafes to tiny boutiques run by local designers.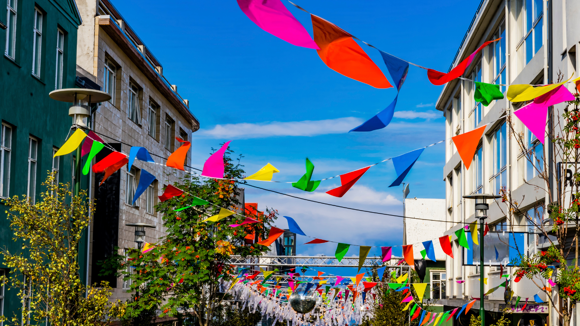 Looking for somewhere to stay in Reykjavík? Hotel Reykjavík Saga is located in the heart of the city. A short walk from many of these hidden gems and has some of its own. The hotel has terraces to enjoy the midnight sun and drink after a busy day in the city. With the Fröken Reykjavík Kitchen & Bar located on the ground floor, you can enjoy a delicious meal in this art-deco restaurant.