Guide to Tjörnin: Reykjavik's Lake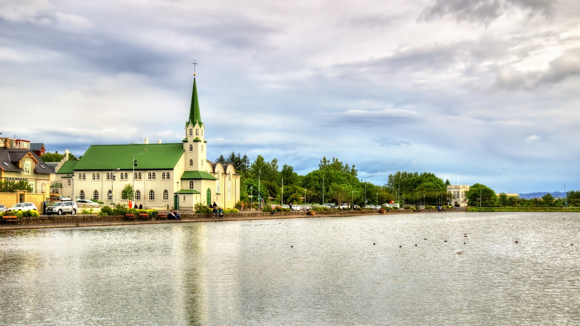 Iceland is full of surprises, more so than anywhere else in the small, vibrant capital city of Reykjavik. Just beside the colourful main shopping street, you'll find a pocket of open space in the form of Lake Tjörninin the downtown area. While technically classed as a lake, the shallowness of the water means that many locals will refer fondly to it as "The Pond". The area is a popular place for locals to get some fresh air (which is in abundance everywhere in Reykjavik), see a little bit of nature in the heart of the city, and stretch their legs.
But how did this small body of water come to be? Is it worth visiting? And what is there to do around the charming pond?
About Lake Tjörnin
If you're looking for a bit of an escape from the museums or shops of central Reykjavik, Tjörnin is a great and accessible haven in the centre of town. If walking West along the main shopping street of Laugarvegur, continue on your way West until you reach the busier road of Lækjargata. From here, turn left, and you should see the lake appear before long on your right-hand side.
Lake Tjörnin is, on average, 1,9 feet deep or 0.57m. The deepest point stretches to 2.4 feet or 0.8m deep, so it's clear that the water is not deep enough for many fish to live in. This should also explain why it's colloquially referred to as a pond. While no large underwater animals thrive here, the lake is a magnet for birdlife, obvious at first glance.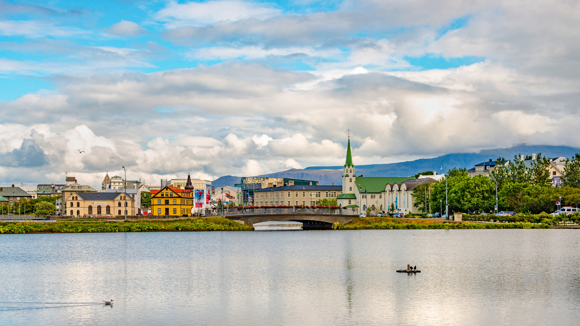 History of the Lake
Like lakes and ponds in other capital cities, you'd be forgiven for thinking Lake Tjörnin was entirely manmade. But this would be untrue. The lake first appeared as early as 800 AD, before Viking settlers had even set foot on the island and the landscape was far more forested than modern Iceland. Through tides and movement, a gravel barrier was formed between a body of water and the ocean. At this early stage, the lake started far closer to the edge of the land and stretched to where it now lies. 
While some aquatic life is estimated to have been present in the lake when visitors first settled on Icelandic shores, these quickly died out with the arrival of man - and midges! The water body was likely a huge attracter of settlers in the nearby area and for good reason. For farming, which was the livelihood of many early inhabitants, the lake was likely an invaluable resource and a reason that the surrounding area became very quickly built up in the years around 900 AD. 
Things to Do at Tjörnin
Ice Skating
Ice Skating on Lake Tjörnin is a popular and traditional activity in winter and has been since Icelanders discovered it was possible. As the lake is so shallow, sub-zero temperatures in the depths of Iceland's winter freeze its waters. There is almost no risk of the ice breaking under the weight of a person, so it becomes a fantastic public ice rink for the whole family to enjoy. 
Bird Watching
The very design of Lake Tjörnin was intended to attract birds to the centre of Reykjavik, and that has certainly been a success. Birdwatchers from across the world flock to spot some 40 different bird species that frequent Tjörnin's waters, including the Arctic Tern, Gadwalls, Greylag geese and, of course, seagulls. Heading to the lake's edge to feed the ducks is a very popular family activity, so much so that locals have been heard to call the lake "the biggest bread soup in the world, or "stærsta brauðsúpa í heimi". 
Jogging or Cycling
The banks of Tjörnin are paved on both sides, making it easy for locals and visitors alike to stroll its perimeter. South of the lake, you'll find Hljómskála Park, a well-maintained open area popular among dog walkers, joggers and cyclists, who enjoy winding paths for recreation. What's more, there are beautiful sculptures dispersed through the greenery, and a fountain, to add more interest to the pocket of greenery in central Reykjavik.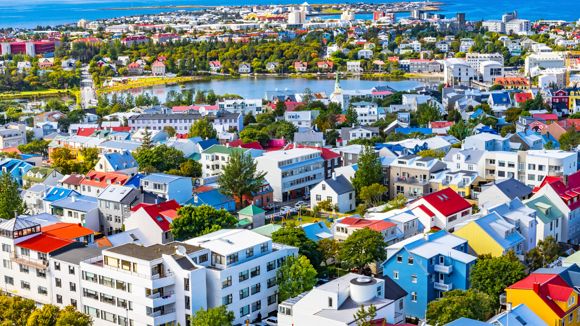 Nearby Attractions
The downtown location of Tjörnin means that you're never too far away from an enthralling museum or gallery in the heart of Reykjavik. There are also plenty of fine and casual dining experiences nearby, no matter the time of day. If you're wandering around the lake's perimeter and searching for things to do, look no further than:
Reykjavik City Hall: This is a hard building to miss, sitting on the banks of the pond. Alongside its unusual design, this structure also houses Reykjavik's main tourist information centre. You'll also find a huge 3D map of the city, which is definitely worth a stop!

National Gallery of Iceland: Over the other side of the main road from Tjörnin, you'll be hard-pressed to miss the National Gallery of Iceland. This grand building houses the largest collection of Icelandic art in the world, with more than 14,000 pieces of artwork to enjoy. Their website is the best place to tell you about upcoming exhibits in the gallery.

Alþingishúsið: One road away from the pond lies Alþingishúsið, where the Icelandic parliament finds its home. Dating back to 1881, this stone building is one of the oldest of its kind in the country. Though it has had many uses over time, it now houses the main debating chamber of the parliament.
Downtown Iceland contains no shortage of well-known attractions and hidden gems, both in equal measure. If you're looking for a jam-packed schedule in Iceland's capital, Hotel Reykjavik Saga is ideally located to offer a comfortable base in the capital's centre. And if you're keen to get the most out of Reykjavik, check out our recommendations for the best 10 things to do there.