Unforgettable Views at Bolafjall Mountain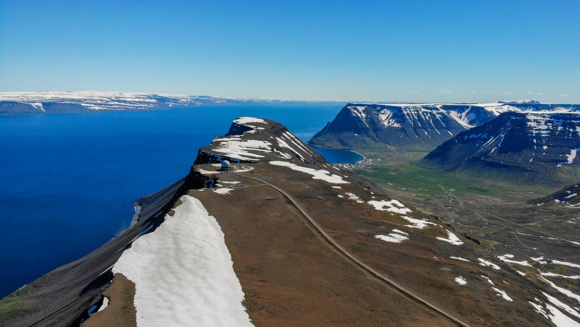 Take in Unforgettable Views at Bolafjall Mountain
With its awe-inspiring natural beauty, Bolafjall Mountain is a must-visit attraction in the Westfjords.  This Icelandic mountain offers an unforgettable experience with stunning views of the ocean, complete with a unique viewing platform and a rolling rugged coastline. It's no surprise that visitors flock to the mountain during the summer months as it's one of Iceland's peaks that can be accessed by car, making it easily reachable for anyone looking to explore the country's natural beauty. Here's everything you need to know if you're planning  to make Bolafjall part of your next Icelandic adventure.
Where is Bolafjall?
Bolafjall is a mountain peak located on the north-western coast of Iceland near the town of Bolungarvík. Standing at an incredible 628m tall, the views from the top peak are truly astounding. On a clear day, you can see across the fjord and set your eyes upon the dramatic Hornstrandir Peninsula.
The Bolafjall Viewing Platform
The viewing platform is a steel structure that was built on the peak of Bolafjall mountain in 2022. With 60 tonnes of steel used in its construction, its location on the cliff edge provides visitors with an unparalleled panoramic view of the surrounding mountain line, while ensuring their safety. Since its completion, tourists have flocked to enjoy the views and take photos from a new perspective. 
The Radar Station
While you are exploring Bolafjall mountain, you may come across a fenced off building located at the summit by the car park. This is an old radar station, originally built by the United States in 1992 and is now controlled by the Icelandic Coast Guard. 
It is also worth exploring the gravel walking paths along the plateau, where you can find other viewpoints, including a view of the quaint town of Bolungarvík from above - a great spot to watch as the boats come into port. 
How to get there
To visit Bolafjall Mountain, you have the option of going by car or hiking. To drive, it is accessible from Mid-June to Mid-September depending on temperature and road conditions. This unpaved road can be closed if it is dangerous, even in the summer. However, if you're determined to enjoy the views, it's still worth considering hiking if the roads are closed.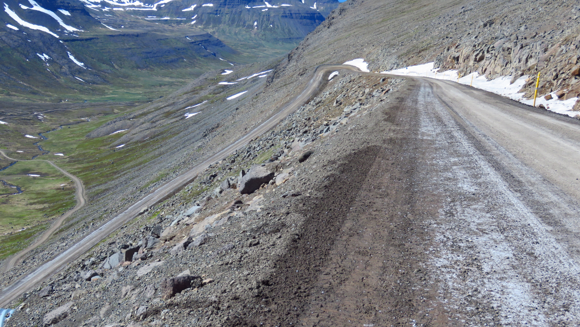 Bolafjall Mountain is only a 6 mile drive from the nearby town of Bolungarvík and takes around 10 minutes. From the town, head northwest on the 630 until you reach a right-hand turn at F-Road Skálavíkurvegur. Once you've turned onto Skálavíkurvegur, the road becomes steep, narrow and has limited guard rails. Continue to follow the road until you get to the small car park in front of the radar station mentioned earlier. The GPS coordinates are N66° 10' 41.306" W23° 19' 56.612. 
For those who are wanting to hike or have been faced with a road closure, there are several routes to choose from with varying degrees of difficulty. It is important to be prepared for the altitude and weather change and it's advised to bring some extra layers and check forecasts before you set off.  

If you are looking to truly discover the northern peninsula then take a look at our hotel in the Westfjords nestled deep within the northwest. With ideal links to one of the best locations to see local wildlife, including puffins at Latrabjarg, Fosshotel is a comfortable retreat to relax after a long day of exploring.