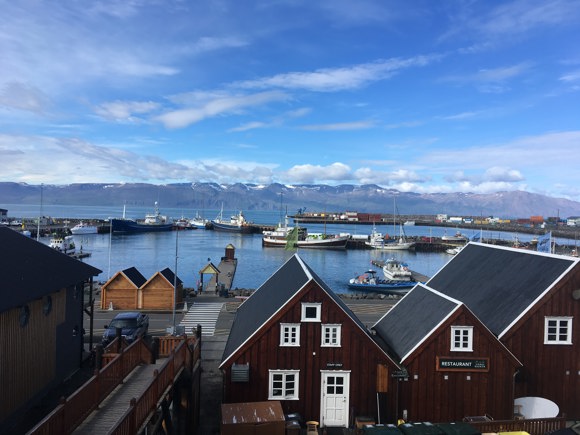 The small fishing town of Húsavík in northern Iceland is located along the majestic Skjálfandi Bay. While the town is renowned for whale-watching tours, which are among the best in the world, there's more to this waterfront town than meets the eye. In addition to unparalleled whale-watching opportunities, there's plenty to keep visitors busy, from hiking to pop culture and so much more.
If you're planning a visit to Húsavík, read on to find out everything you need to know to make the most of your time there. 
Whale Watching in Húsavík
Húsavík is famous for whale-watching and for good reason. A variety of whale species grace the surrounding waters, the most common being the Humpback whale. You'll also have the chance to catch a glimpse of other species, including:
Killer whales/orcas

Minke whales

Fin whales

Sperm whales

Harbour porpoises

White-beaked dolphins  
If whale-watching is high on your agenda, the best time to visit this quaint town is summer, when most tour boat companies can guarantee that you'll see a whale on one of their tours.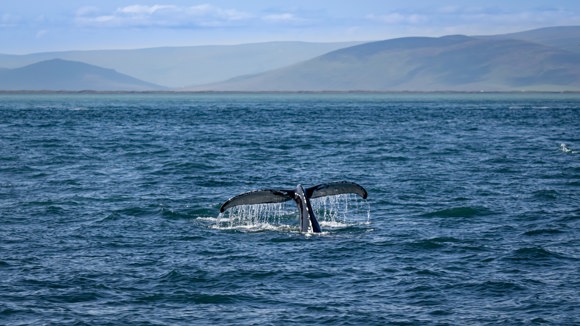 Things to Do in Húsavík
If whale-watching doesn't appeal to you, or you simply want to spend more time in Húsavík, there are plenty more things to do in the area! Just spending a day exploring the charming streets and walking to nearby Lake Botnsvatn are perfectly enjoyable, but there are things further afield and more involved, too. 
Geosea Bath Resort 
If Iceland's hot springs and obsession with spas appeal to you, this bath resort in Húsavík should top your list of things to do when in town. The naturally heated seawater baths are situated with fantastic views of the bay and nearby mountain ranges. Enjoy soaking away a day of adventuring and take in the beautiful scenery. 
The Eurovision Museum
If you're a fan of Eurovision, you won't want to miss this. The hit 2020 Netflix film, Eurovision Song Contest: The Story of Fire Saga, followed the story of an unlikely singing duo and their life goal of making it to Eurovision. 
The pair, Sigrid and Lars, hailed from none other than Húsavík. The film brought a lot of attention to Húsavík, and so the museum was founded, with objects used during filming donated by Netflix. For superfans of the film, there's also a new local bar in town called Jaja DingDong.
Nature
Húsavík is on the doorstep of some of Iceland's most beautiful locations. Lake Myvatn and Vatnakökull National Park are both short journeys away. You could also head south to see the beautiful waterfall, Ullarfoss. If you're keen to don your walking boots, there are plenty of hiking trails around Húsavík that will keep the outdoor enthusiast plenty busy.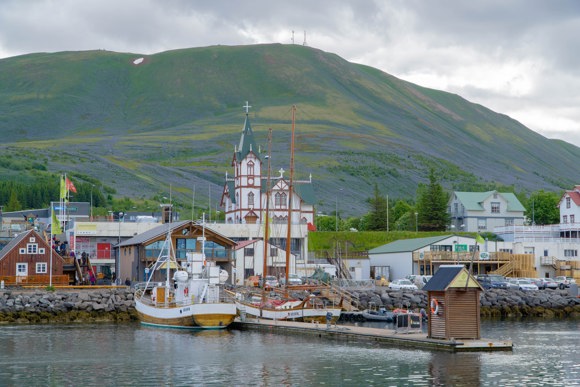 Dining in Húsavík
For a small fishing town, Húsavík has some great options when it comes to restaurants and dining out. There are plenty of waterside spots with a view that makes for a memorable meal, like Gambli Baukur. If you're looking for something light and healthy, Lemon is another great option. 
If you're after an experience, Fosshotel Húsavík is home to an excellent restaurant, with a distinct personality with dominant whale-themed decor. At the restaurant, you can enjoy a drink or two before or after an exciting day in the Húsavík area. We at Fosshotel always try to work with the local community, the menu is mostly based on local ingredients. Why not round out your time in Húsavík with a stay at the hotel as well? The hotel is conveniently located within comfortable travel distance to all of the area's most desirable attractions.