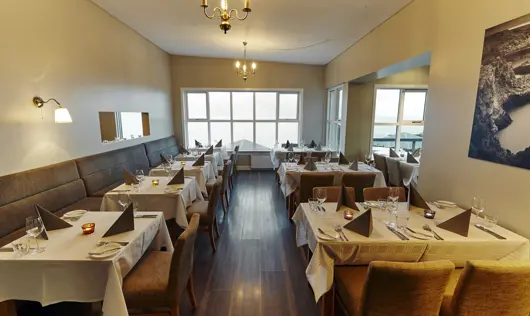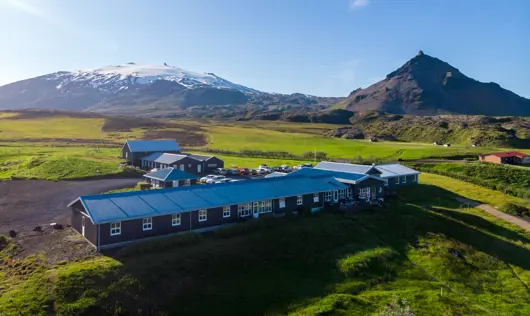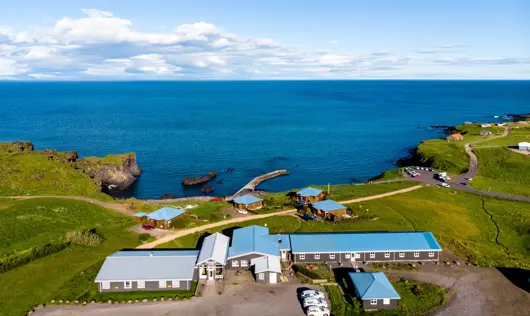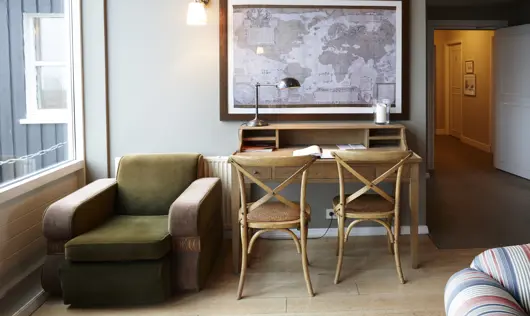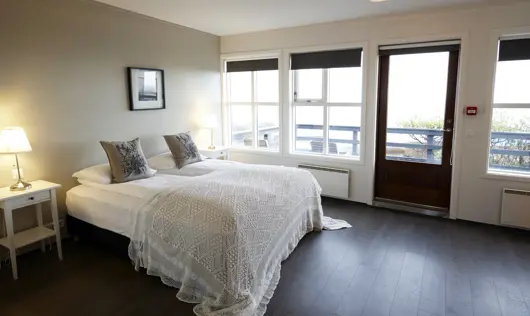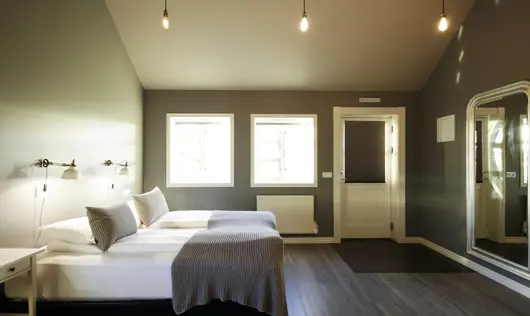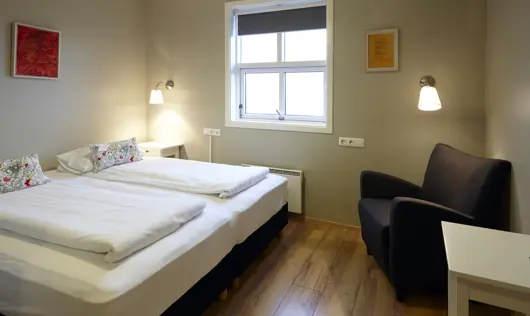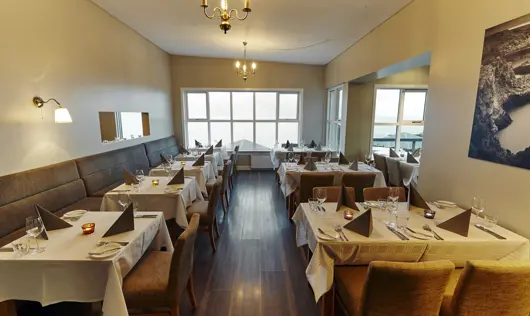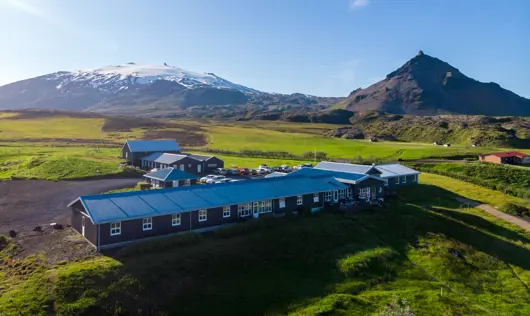 Fosshotel Hellnar
Daily housekeeping on request
Fosshotel Hellnar
Fosshotel Hellnar is located near Arnarstapi, Kirkjufell mountain and the mystical glacier Snæfellsjökull. Magical nature awaits you.
Just a short drive from Arnarstapi, a charming stop on the way to Snæfellsjökull National Park, Fosshotel Hellnar offers a comfortable stay in the Snæfellsnes peninsula. Fosshotel Hellnar is everything people look for in a charming country hotel near Kirkjufell mountain, Snæfellsjökull glacier and Djúpalónssandur. Djúpalónssandur, also known as the Black Lava Pearl Beach, is an unforgettable stop on a road trip around the peninsula, with fantastical lava formations and spectacular views of the glacier nearby.
With views of the incredible coastline, where lucky onlookers might spot whales breaching the ocean's surface, or a stunning panorama of Snæfellsjökull, the setting of Fosshotel Hellnar is a truly winning quality. The hotel is located right beneath Snæfellsjökull Glacier, a national park made famous in the novel Journey to the Centre of the Earth. The glacier is said to be one of the seven great energy centres of the earth and has been attributed to various mysterious powers.
After a day on the road, Fosshotel Hellnar is a comfortable stop for the night. Enjoy delicious food, friendly staff and all the amenities you might need to refresh and refuel before embarking on your next adventure. Even the restaurant offers picture-perfect views of the ocean, so keep your eyes peeled for Iceland's most famous wildlife.
Interesting places and scenery near Fosshotel Hellnar, West Iceland
Snæfellsjökull National Park and glacier
One of the most famous landmarks in Iceland, Snæfellsjökull is a 700,000-year-old stratovolcano with a glacier cap, situated on the most western part of the Snæfellsnes peninsula. The crater served as the entrance to the fantastical subterranean world in Jules Verne's classic 1864 novel, Journey to the Centre of the Earth and the peninsula also found fame in the 90s when thousands of people congregated to welcome aliens to Earth. There must be something magical in the air around Snæfellsjökull though – for centuries it has been considered a source of power, mysticism and energy amongst the superstitious locals and its reputation holds strong.
Eldborg volcano crater
The best example in Iceland of a spatter ring crater, Eldborg rises 60 m above the surrounding lava. Some geologists believe the crater formed five to eight thousand years ago, while others think there was a second eruption in historical time. Formed from splashes of lava, which accumulated around the vent, the crater is steep-sided, though not a difficult climb.
Vatnshellir Cave
Make your own journey to the centre of the earth with a tour down into the depths of the 8,000-year-old Vatnshellir Cave. This lava tube descends 35m below the surface and stretches more than 200m in length, so expect to negotiate staircases and uneven ground during this unique and unforgettable experience – sensible shoes are a must. Marvel at the fascinating formations and features in the upper part of the lava cave, before experiencing what total darkness looks and feels like in the lower regions when your guide switches off the torch.
FAQ
Standard check in time is 3pm local hotel time and check-out time is 12pm local hotel time. 

You can contact the hotel and request an early check in and/or late check-out for additional charge. This is based on availability and possible to request via the welcome email guests receive shortly before arrival.

If you arrive earlier, the reception will gladly store your baggage in the baggage area until your room is ready.

Guests can enjoy free parking.

There is a range of tours and activities available around Hellnar and the surrounding area. 

Yes, dogs are allowed at the hotel. To request a dog friendly room when booking, it is important that you inform us in the comment box. To guarantee the room, you'll have to contact the hotel. 

More about our furry friends. See our pet policy.

Bookings made on the website can be changed or cancelled via link in the booking confirmation email.

Yes there is a charging station in front of the hotel. 

Breakfast is served from 7am-10am. 

No, the hotel is open from 1.March-31.Oct. 

To request housekeeping services, please inform the front desk upon check-in or the day prior to the desired service. Additionally, feel free to request fresh towels, linens, and other amenities, as necessary.

At Íslandshotel we are committed to both sustainability and the privacy of our guests. As part of that commitment our housekeeping team will only enter your room to clean and change towels upon request, effectively reducing the amount of water and chemicals used. However, if you prefer daily cleaning or require a restock of amenities, we're happy to accommodate your needs.

To request housekeeping services, please inform the front desk upon check-in or on the day prior to the desired service. Additionally, feel free to request fresh towels, linens, and other amenities, as necessary.

We hope that this endeavor allows us to provide you with a more personalized and comfortable stay, while also contributing to a more sustainable future.

At Íslandshótel, we prioritize the comfort and peace of mind of our guests. In certain situations, our staff may need to enter rooms, even if a 'do not disturb' sign is displayed. This is typically for essential maintenance, safety checks, security procedures, or other valid reasons. To ensure a respectful and minimally disruptive experience, our team will always knock on the door and announce their presence before entering. We understand the importance of privacy and strive to maintain a welcoming environment for all.

If you have any concerns or questions, please don't hesitate to contact our friendly staff.

Learn more about our sustainable practices and our Green Key Certificate here.