Guide to Seyðisfjörður: Iceland's Artist Haven
Iceland's most colourful and picturesque town is located in East Iceland. Despite its secluded location, visitors have been flocking to this tiny town to witness its massive artistic influence. Seyðisfjörður is a short drive from the Ring Road and nestled between giant mountains which overlook it. Its harbour, which offers direct access to the ocean through a fjord, is quintessentially Icelandic. It is a town that takes traditional charm and heightens it with art and unexpected colour.
There is more than meets the eye here in Seyðisfjörður. With stunning landscapes and arctic influence, you'll soon fill the time you have here. The incredible Fosshotel Eastfjords offers a perfect place to relax after exploring this beautiful region. 
Discover Artistic Treasures: Things to Do in Seyðisfjörður
1. The Blue Church     
Without a doubt, if you're considering a visit to Seyðisfjörður, you've stumbled upon the Blue Church in your research. This idyllic-style church is one of the most recognisable landmarks in Iceland because of its unique pale blue colour. Located in the heart of the town by the main road, it isn't easy to miss on your way in – just follow the Rainbow Road. Visiting the church is possible all year round. However, if you're hoping to go inside, it is only open to visitors on weekdays from 10 am-12 pm and 1 pm-4 pm between the months of June and August.
2. Rainbow Street
Rainbow Street gives this town its shine and beauty. It's also the perfect spot to find places to eat and drink. The town first painted the street to celebrate Pride. Now, each year, visitors and locals alike are welcome to come and paint the road. Along the street, you will find colourful houses painted in interesting designs and patterns, making it a picturesque spot for a leisurely stroll or some Instagram-worthy photos.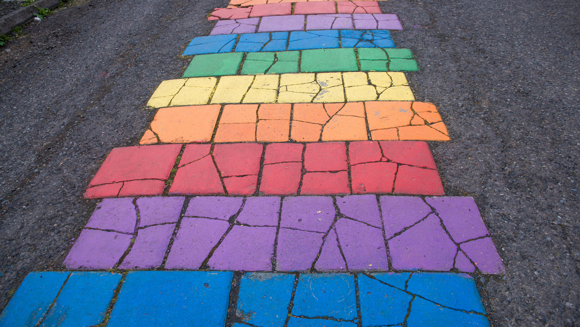 3. Herðubreið Cinema 
If you're looking for something to do in Seyðisfjörður on a rainy day or want to experience life like a local, head to East Iceland's only cinema: Herðubíó. This independent picture house shows top Hollywood movies and live concerts and shows. For a timetable of films, shows, or concerts, take a look at Herðubíó's Facebook page.
4. Skaftfell Center For Visual Art
For a glimpse into the contemporary art scene of Seyðisfjörður, a visit to the Skaftfell Center for Visual Art is a must. This dynamic art centre offers a range of exhibitions and events throughout the year, featuring local and international artists. Honouring its past as a meeting place for fishermen, artists and visitors visit the centre to view exhibitions and bond over food in the cafe downstairs.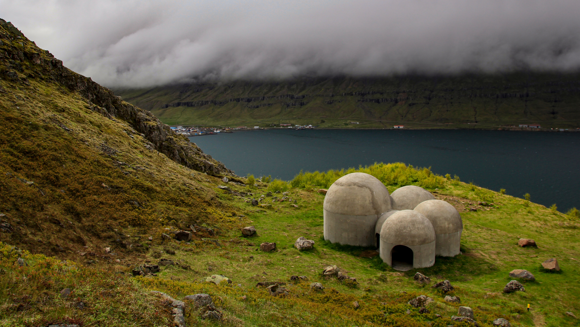 5. Tvísöngur Sound Sculpture 
Located in the mountainside above Seyðisfjörður, Tvisongur is a sound sculpture designed by Lukas Kühne, a German artist. It's located a 15 to 20-minute hike from the town and is a perfect way to spend an afternoon. The concrete sculpture creates eerie and incredible acoustics while overlooking the impressive fjord. 
When is the Best Time to Visit? 
Like most of Iceland, the peak time to visit Seyðisfjörður is in the summer (June-August). These months are ideal for outdoor activities, cultural events, and exploring the town's hiking trails and waterfalls. Most of the main attractions are open during this season, and the midnight sun makes it perfect if you're looking to make the most of your time here.
If you are visiting in the winter (December-February), you are more likely to catch a glimpse of the Northern Lights and you will have the chance to participate in winter sports. The mountains near Seyðisfjörður are ideal for skiing and there are 3 lifts in operation at the local resort, Stafdalur. While travelling around Iceland in winter, it's important to be aware of weather conditions and the conditions on the road. For more ideas, read our top 10 things to do in winter.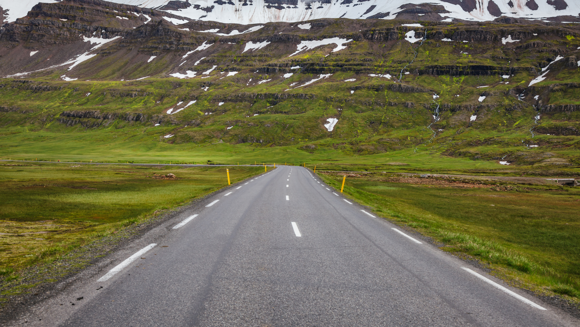 Seyðisfjörður is conveniently located near the Ring Road, which is Iceland's main highway that circles the entire country. If you're driving, you can take the turn off towards Seyðisfjörður and enjoy a scenic 30-minute drive through a valley of winding roads towards the town. The road is well-maintained but can be narrow and steep in some sections, so it's important to drive carefully and be prepared for changing weather conditions. Once you reach the town, there are several parking areas available for visitors. 
Its location next to the water also makes it accessible by sea. To make your way here by boat, the most popular way is to book one of the many cruises which explore Iceland. 
Nearby Attractions and Activities
Gufufoss Waterfall: Another stop in the area is Gufufoss, the largest waterfall located in the valley. 

Golf: Above the town is Hagavollur Golf Course, a nine-hole golf course. Head to the information centre in town for more information on booking. 

Skiing: Winter offers the perfect slopes at Stafdalur Ski Station located between Seyðisfjörður and Egilsstaðir
For more, explore our blogs and read our guide to East Iceland.