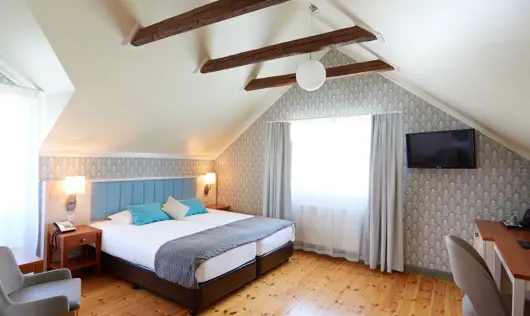 Superior Double or Twin Room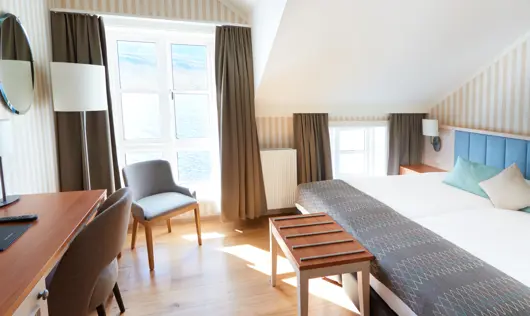 Standard Double or Twin Room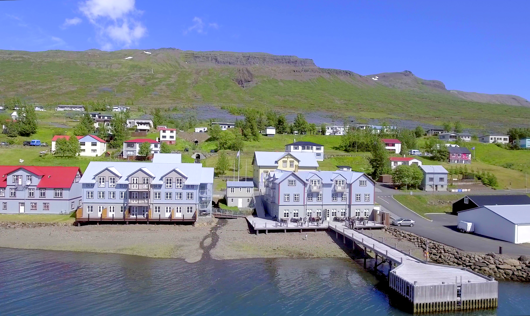 Fosshotel Eastfjords exterior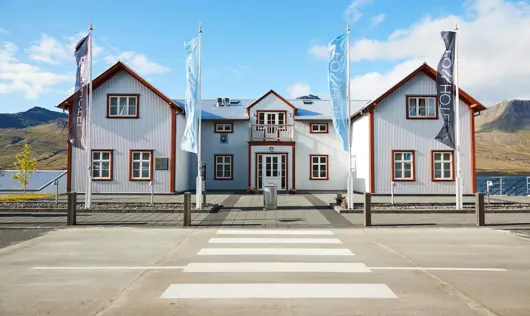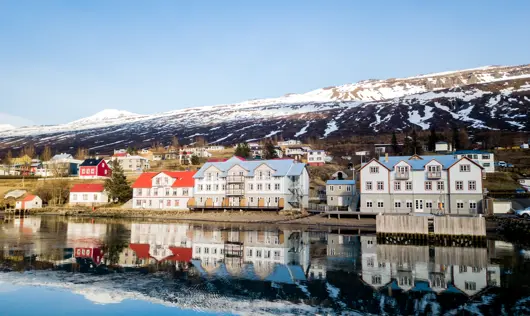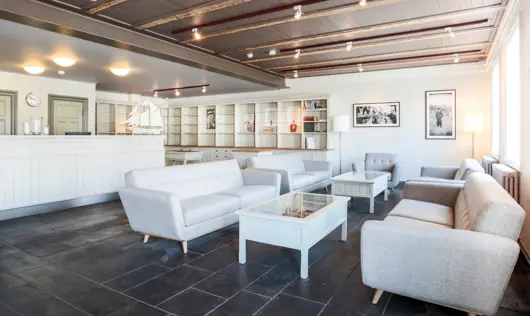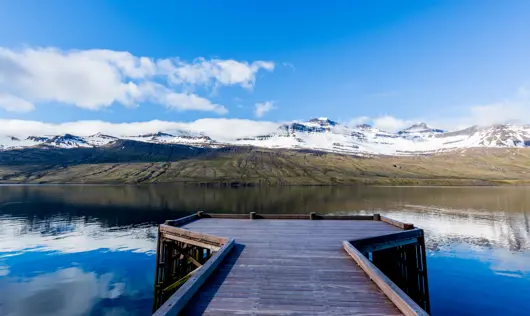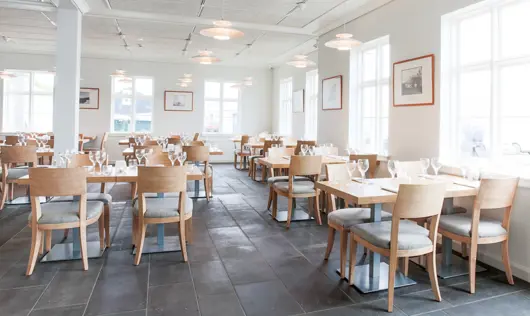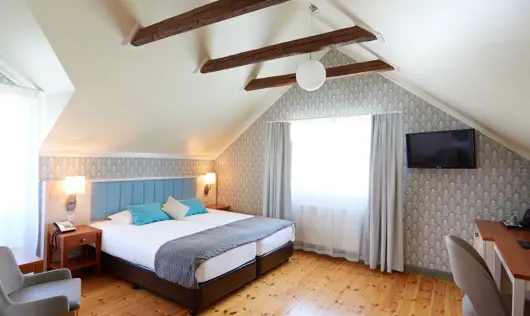 Superior Double or Twin Room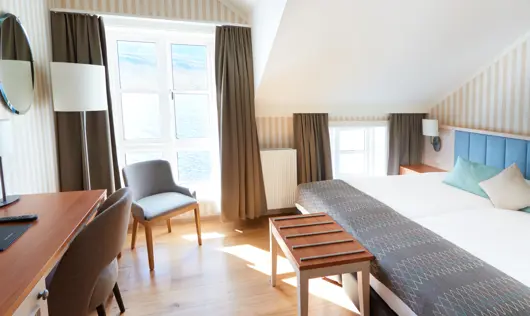 Standard Double or Twin Room
Fosshotel Eastfjords
Daily housekeeping on request
Fosshotel Eastfjords
Fosshotel Eastfjords is a beautiful three-star hotel in Fáskrúðsfjörður near Reyðarfjörður, which is in the centre of the Eastfjords. The hotel was renovated in 2016 and is in a historic building built in 1903 and previously used as a hospital for French fishermen.
Located on the east coast of Iceland, the town of Fáskrúðsfjörður is celebrated for its majestic nature and beautiful scenery. With strong historical ties to the French, this is a unique settlement in the Eastfjords of Iceland. You'll find traces of this relationship in street signs, buildings, and traditions, a combination entirely distinctive to this location.
Reyðarfjörður is the longest fjord in Iceland with several coastal towns taking advantage of great harbour conditions, also the name of one of these towns. Rivers, lakes, and landscapes in the East of Iceland provide excellent conditions for hiking, skiing, fishing, and more activities. Tours from nearby towns are a great way to explore the East Fjords, an incredible and relatively untouched portion of the country.
In 2016, the hotel's renovations received the European Heritage Awards from the European Commission and Europa Nostra. Fosshotel Eastfjords operates in 4 historic buildings previously made for French fishermen in the years between 1898 - 1907. The most famous of them is the French hospital, built in 1903. In 1939, the house was moved and used as an apartment building and school for a long time. In 2008, a decision was made to reassemble it at its original location. The hotel includes L'Abri, a French-inspired restaurant and a museum devoted to the French fishermen, where hotel guests benefit from free admission.
The Eastfjords of Iceland is an area that is lesser known and less commonly considered for an Icelandic adventure. Nature rules in the East, and you'll discover some of the country's impeccable hidden gems here, including the Vestrahorn mountain range and Hallormsstadaskogur forest. Rediscover the past, explore stunning hiking trails, or simply stop off on your Ring Route road trip. Whatever you're here for, Fosshotel Eastfjords is a comfortable and charming stay.
Accommodation
The 47 rooms are located in 4 unique buildings sitting alongside the main street of Fáskrúðsfjörður.
The French theme is apparent throughout the hotel property yet each building offers some distinctive characteristics giving the town its unique appearance. All the rooms feature modern furnishing combined with some French vintage interiors and come with satellite tv, radio, and Free WiFi.
Restaurant
A dinner with a view over the fjord of Fáskrúðsfjörður.
L'Abri is a French-inspired restaurant overlooking the Dock of Fáskrúðsfjörður offering great views over the fjord. The cuisine is French and Scandic based where local ingredients from farmers and fishermen nearby play a key role. Feel free to check out the museum connected to the restaurant and dedicated to French fishermen, before or after dinner.
Interesting places and scenery in Eastfjords, Iceland
Museum devoted to the French fishermen
Fáskrúðsfjörður is in the centre of the Eastfjords, in between peninsulas Vattarnes and Hafnarnes. The town became a trading post in 1880. From the latter part of the 19th century until 1935, the town was the main hub for French fishermen off East of Iceland. The town is famous for its French heritage and has a strong connection to its French counterpart, Gravelines. The museum is located in the Doctor's House and the French Hospital as they are called. The main exhibition is situated in a tunnel that connects the two buildings. It is a worthwhile visit to learn more about these historical connections.
The beautiful waterfalls Klifbrekkufossar
Mjóifjörður, the "narrow fjord", 18 km. long, and is known for pleasant weather and tranquillity. The exhilarating road on the north side runs along the fjord side to Dalatangi, a lighthouse with a most magnificent view out towards the open ocean. There are many attractions in Mjóifjörður, which is considered by many people to be the most impressive fjord in Iceland. The beautiful waterfalls Klifbrekkufossar tumble down by the roadside.
Vök baths
Bath in floating pools out on the Urriðavatn lake. Vök Baths is located only a few minutes from the town of Egilsstaðir which is 50 km from Fáskrúðsfjörður. Vök Baths opened in summer 2019 and features the first floating pools in Iceland. A new bathing experience and the perfect place to rest and rejuvenate by the crystal clear waters of Urriðavatn lake.
FAQ
Standard check in time is 3pm local hotel time and check-out time is 12pm local hotel time. 

You can contact the hotel and request an early check in and/or late check-out for additional charge. This is based on availability and possible to request via the welcome email guests receive shortly before arrival.

If you arrive earlier, the reception will gladly store your baggage in the baggage area until your room is ready.

Guests can enjoy free parking.

Yes, dogs are allowed at the hotel. To request a dog friendly room when booking, it is important that you inform us in the comment box. To guarantee the room, you'll have to contact the hotel. 

More about our furry friends. See our pet policy.

Bookings made on the website can be changed or cancelled via link in the booking confirmation email.

Yes there is a charging station in front of the hotel. 

Breakfast is served from 7am-10am. 

No, the hotel is open from 1. Mars - 30. Oct.

To request housekeeping services, please inform the front desk upon check-in or the day prior to the desired service. Additionally, feel free to request fresh towels, linens, and other amenities, as necessary.

At Íslandshotel we are committed to both sustainability and the privacy of our guests. As part of that commitment our housekeeping team will only enter your room to clean and change towels upon request, effectively reducing the amount of water and chemicals used. However, if you prefer daily cleaning or require a restock of amenities, we're happy to accommodate your needs.

To request housekeeping services, please inform the front desk upon check-in or on the day prior to the desired service. Additionally, feel free to request fresh towels, linens, and other amenities, as necessary.

We hope that this endeavor allows us to provide you with a more personalized and comfortable stay, while also contributing to a more sustainable future.

At Íslandshótel, we prioritize the comfort and peace of mind of our guests. In certain situations, our staff may need to enter rooms, even if a 'do not disturb' sign is displayed. This is typically for essential maintenance, safety checks, security procedures, or other valid reasons. To ensure a respectful and minimally disruptive experience, our team will always knock on the door and announce their presence before entering. We understand the importance of privacy and strive to maintain a welcoming environment for all.

If you have any concerns or questions, please don't hesitate to contact our friendly staff.

Learn more about our sustainable practices and our Green Key Certificate here.