Top 10 things to do in Iceland in winter
Top 10 Things to Do in Iceland in the Winter
Is Iceland's winter charm worth the journey? It absolutely is, in our opinion. 
Winter in Iceland offers something completely unique to the summer months and provides a whole itinerary of things to do and seasonal benefits. There are so many reasons to visit in the winter: famous attractions are less busy but still accessible (for the most part); ice emerges, creating unmatched beauty, and the season's elements brighten the skies and terrain. So whether you're from a warmer climate or somewhere wintery yourself, Iceland will offer unparalleled experiences. To get you planning for your trip, we've compiled the top 10 things to do in Iceland during the winter.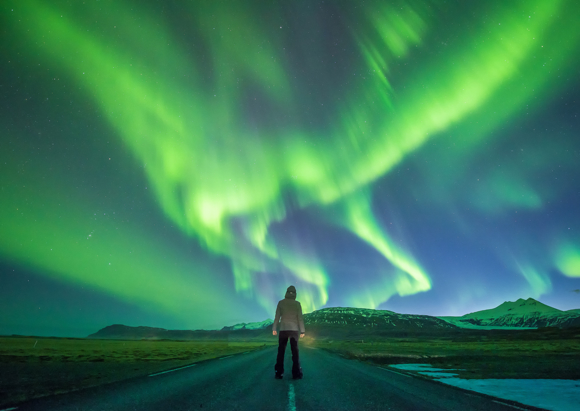 1. Hunt for the Northern Lights
First on the list is what Iceland's winters are famous for: The Aurora Borealis,  a stunning natural phenomenon. Those magical streaks of light on a clear night sky in the Northern Hemisphere can only be seen during the winter months, or from around October to February. The colder the temperature, the more likely you are to spot the northern lights.  
It's not just the colder temperatures that increase your chance of ticking this experience off your bucket list. To be able to witness them, you will need a clear sky and the right conditions (visit auroraforecast.is to check solar activity).  It's also important to keep in mind that there's no sure way to predict at what time in the evening they will appear. 
The best way to see the Aurora is away from the bright lights of the city. In the countryside of Iceland, you can simply step outside your hotel and look up to the sky.  If you are staying in Reykjavík , you can hop on a coach to join one of the many Northern Lights tours you can take from our hotels. Keep your eyes towards the skies though, you could be lucky enough to be standing on a city pavement and see them soaring right above you. 
Northern Lights can be spotted, if you're lucky, from all our Foss hotels.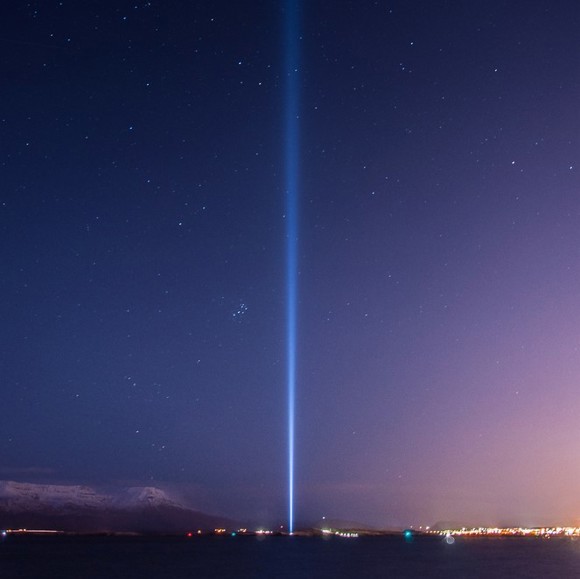 2. Check out the Yoko Ono Peace Tower
The Imagine Peace Tower – an outdoor artwork by Yoko Ono – was erected on Viðey island in 2007 in honour of John Lennon's memory. It is lit every year on October 9th, and it illuminates the sky until December 8, the date he was assassinated in 1980. The tower symbolises Lennon and Ono's fight for peace. On the tower, the words "Imagine peace" are written in 24 languages. You can see the bright beam pointing towards the sky from most parts of Reykjavík but if you want a closer look, take a picturesque 30-minute ride on the ferry to Viðey island which has a unique place in Icelandic history. The combination of stunning views, historical ruins, and contemporary art pieces make Viðey island a special place to visit.
The Yoko Ono Peace Tower is easily accessible from all our hotels in Reykjavik.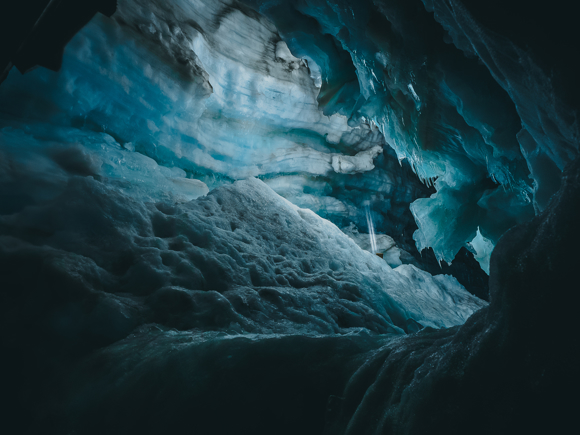 3. Venture into the Ice Cave on Langjökull glacier
If you're looking for a winter activity, then the ice caves at Langjökull Glacier are an ideal and unique thing to do in Iceland during the winter. This attraction is one of Iceland's most innovative; it is the world's longest and first-ever man-made ice cave.
The cave is built 200-300m into glacier ice,  complete with plenty to discover. The journey is LED-lit, with lights guiding you through the tunnel to the caves and even a frozen underground chapel. The tour lasts for approximately an hour and includes a drive towards the top of the glacier.

We recommend staying near the ice -cave at  Fosshotel Reykholt.
4. Visit Reykholt for a glimpse into Iceland's historic past
The historic site of Reykholt is renowned for its beauty, historical richness and wealth of geothermal activity which makes it an ideal place to go if you visit Iceland in the winter. Reykholt was the home of Snorri Sturluson, a chieftain, historian and writer whose most famous works are the Prose Edda, an account of Old Norse Mythology and Heimskringla, an account of Norwegian Kings of the middle ages.  Snorri was assassinated in his home at Reykholt in 1241 and in Reykholt you can still visit one of Iceland's oldest structures, Snorri's own geothermal pool carved out of stone. 
There are plenty of things to see around Reykholt including the gorgeous waterfalls Hraunfossar and Barnafoss and Deildartunguhver, the highest-flowing hot spring in Europe. At the springs you can soak in the relaxing waters of Krauma geothermal baths and if you are staying at Fosshótel Reykholt, you can enjoy its geothermal spa complete with outdoor hot and cold tubs, sauna, steam bath and relaxation room.
Recommended stay: Fosshótel Reykholt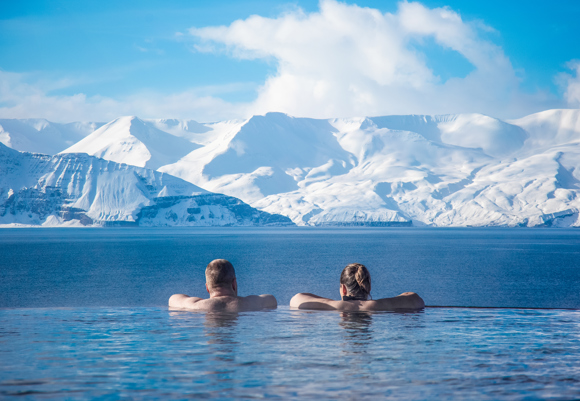 5. Head to Húsavík for whale watching and the GeoSea
Winter in Iceland is an ideal time for whale watching, and there is no better place to do it than at  the whale-watching capital of Iceland. Húsavík, is a coastal town in the remote north of Iceland. To drive here from the capital, it takes around 9 hours.From Akureyri, a popular destination on a Ring Road tour,  it's approximately one hour's drive. There is much to be discovered while in Husavik. In fact, Legends have said  that the first ever home built in Iceland was that of Swedish Viking Garðar Svavarsson in the year 860. 
Húsavík is most famously  known as the town of whales, as  its main attraction is whale watching. There is a greater chance to see whales like blue whales, fin whales and humpback whales here than in  South Iceland.
To warm up after a day on the water,  a  visit to Húsavík's GeoSea is a truly unforgettable experience.  The water is warm and inviting, steam rises up to blend with the skyline and as you relax in the pool, you can enjoy the magnificent mountains and ocean all around. It's easy spending an entire afternoon here and as the sun starts to lower on the horizon, it's the perfect spot to enjoy locally brewed Húsavík beer or fruit juice from the pool bar.
Recommended stay Fosshótel Húsavík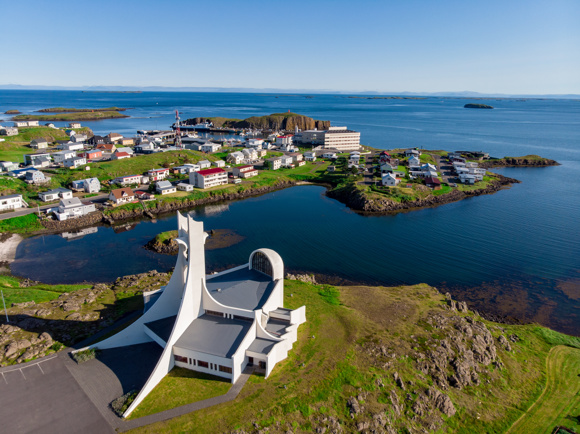 6. Journey to the Centre of the Earth: Magical Snæfellsnes peninsula
Snæfellsnes Peninsula is renowned for its beautiful nature and charming villages. There are plenty of things to see and do there, either as a day trip from Reykjavík or staying for a couple of days. During the winter, the peninsula is at its most beautiful with snowy landscapes. Many tours and trips run all year round in this area.
Snæfellsnes Peninsula boasts a rich fishing heritage, with fishing being a vital part of its economy for centuries. The area is dotted with charming fishing villages, where small houses gather around picturesque churches amidst breathtaking mountain scenery. One such village is Stykkishólmur, nestled on the ocean's edge, offering a stunning panorama of cliffs, small islands, and graceful seabirds. Another renowned landmark, Mount Kirkjufell, located near the scenic town of Grundarfjörður, proudly holds the distinction of being the most photographed place in all of Iceland. The peninsula's iconic Snæfellsjökull glacier, an extinct volcano crowned with a glacier, commands attention from every corner and has even inspired literary works like Jules Verne's "Journey to the Centre of the Earth" and Halldór Laxness' "Under the Glacier." 
Finally, among the myriad of things to see in Snæfellsnes are the villages of Hellnar and Arnarstapi.  Arnarstapi is a very small village that used to be an important trading post, and much bigger than it is now. The pier and all of the coastline around the village are decorated with stunning rock formations of columnar basalt. While visiting, head on a hike along the coastline between Arnarstapi and Hellnar.
Recommended stay in Snæfellsnes Fosshotel Hellnar and Fosshotel Stykkishólmur.
7. Soak in the stunning Sky Lagoon
The Sky Lagoon opened in 2021 in the suburb of Kópavogur, only a 15-minute drive from Reykjavík city centre and is the perfect thing to do in the winter. It's an immersive swim and thermal spa experience beautifully landscaped in between cliffs with an infinity pool overlooking the ocean and mountain range. It's an impressive homage to Icelandic bathing culture featuring an ultra-cool  modern Nordic design that gives a nod to the old turf houses of Iceland. 
Guests (take note that the lagoon is only for children aged 12 and upwards) have a choice of different packages with the main difference being in the changing facilities. The Sky Pass includes lagoon admission and access to a special seven-step Sky Lagoon 'Ritual', which includes a face scrub, sauna, steam bath  and body oil. The more expensive Sky Package includes private changing rooms with the use of Sky Lagoon's premium hair- and skincare amenities. The sauna at the lagoon is worth a visit in itself with its amazing views. Swim up to the in-water bar for drinks or enjoy a meal or snacks at the stylish café once you're out of the water.  Be prepared though for a lot of people taking selfies, even in the water.
The Sky Lagoon is easily accessible from all our hotels in Reykjavík.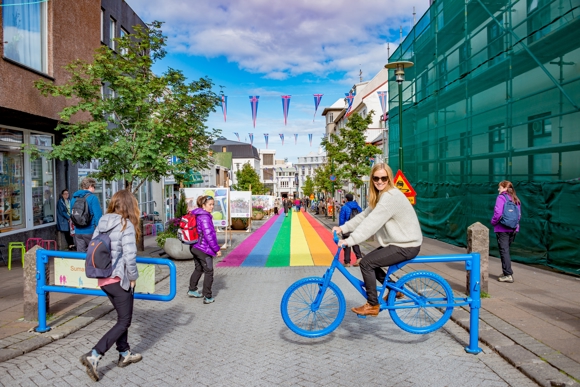 8. Wander around Reykjavik's old centre
Do you have a winter's afternoon to spend in Reykjavík? The old city centre and harbour are easily navigated on foot all year round, just make sure that you're dressed for the snow, rain or cold during the winter months! 
Start off at Hallgrímskirkja church, Reykjavík's most famous landmark which soars some 70 metres into the sky on top of a hill called Skólavörðuholt. The building, built in honour of 17th-century  poet and minister Hallgrimur Pétursson is built in a Gothic revival style with a minimalist Lutheran-style  interior.  You can visit the church and go up to the bell tower to catch stunning views of the city. Leading down from Hallgrímskirkja church, you'll find Skólavörðustígur, the rainbow street, painted in support of the LGBTQ+ community. There are plenty of shops, cafés and bars on this charming street and also on adjacent Laugavegur, Reykjavík's main shopping street. For downtown museums, head to the Reykjavík Art Museum, The National Gallery, The Settlement Museum and of course, the Phallological Museum, possibly the only one of its kind in the world!At the heart of the city centre lies the Town Hall, Parliament and the beautiful Lake Tjörnin where you'll see swans and ducks, and close by you'll find the old harbour with restaurants and cafés.
No trip around Reykjavík is complete without a dip into one of several geothermal swimming pools, beloved by locals. Just make sure that you observe the strict rules of hygiene beforehand.
The city centre is easily accessible from all our hotels in Reykjavík.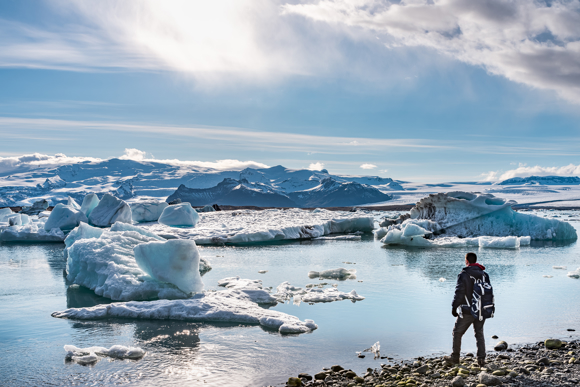 9. Jökulsárlón Glacial Lagoon
The South-East coast of Iceland remains one of the most popular routes for visitors to the country even during the winter months.  Some of the keysights in the south are  the waterfalls Skógafoss and Seljalandsfoss, the famous black beaches at Reynisfjara,, the vast vistas of Skaftafell National Park and of course Vatnajökull glacier. One spot that is truly magical during the winter months is the famous Jökulsárlón glacier lagoon. It is located close to The Ring Road (R1), about a 5 hour drive  east from Reykjavík. Sitting at sea level, the lagoon receives seawater during high tide, and it's here that massive chunks of ice regularly detach from the Breiðamerkurjökull glacier, transforming the scene into a truly unparalleled spectacle. While the lagoon may not be expansive, it boasts an impressive depth of up to 250 metres, making it the deepest lake in Iceland. Serving as an outlet for the Vatnajökull glacier, Breiðamerkurjökull presents the opportunity for unique amphibious vehicle tours, allowing visitors to explore the lagoon up close. 
For the ultimate in style, stay at Fosshótel Glacial Lagoon. It's located just off the R1,some 29 km from the Jökulsárlón glacial lagoon and 27 km from the picturesque Svartifoss in Skaftafell National Park. This contemporary building reflects the hues of the surrounding nature, in grey stone and clad in wood,constructed in accordance with ecological policies. The interiors are beautifully chic with dark walls and cool sixties' style lighting lending it a kind of James Bond flair and of course, there's an equally stylish restaurant.
Recommended stay Fosshotel Glacier Lagoon.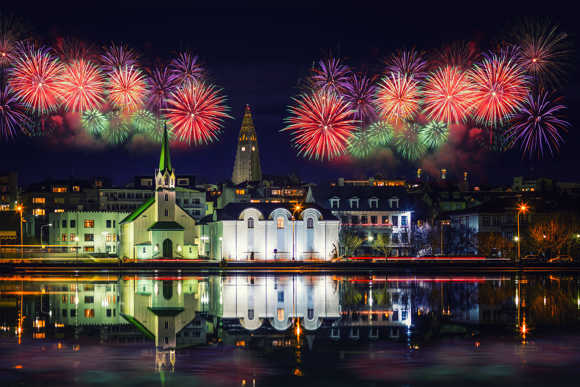 10. Celebrate Christmas or the New Year, Icelandic style!
Christmas, New Year's Eve and the whole festive season, before and in between, are thoroughly celebrated in Iceland. Perhaps it's because December is the darkest month of the year, with only around three hours of sunlight so Icelanders like to cosy up with candles, go wild on decorations and even wilder on partying!  If you're in Reykjavík,  you'll enjoy the pretty decorations and lights that bring a wonderful magical feeling to the downtown area. During this time, you can go late-night shopping and sit down at a café for a warming cup of mulled wine or hot chocolate. Be sure to check out the various Christmas markets and the ice-skating rink on Ingólfstorg and see if you spot any of the Thirteen different Yule lads- Iceland's version of Santa Claus!  In the heart of the city, you'll also see the huge and menacing Yule cat in a decorative form - an evil child-eating cat from Icelandic Christmas Folklore! 
New Year's Eve is something else in Reykjavík, with people buying fireworks which they ignite in gardens, parks, streets or famously at Hallgrímskirkja church and Harpa Concert Hall for the New Year's countdown.  Do not miss the famous Christmas buffets and brunches at Fosshotel Reykjavík and Hotel Reykjavík Grand which offer a host of traditional Icelandic dishes along with more international ones like turkey with stuffing!