Everything to know about Jökulsárlón Glacier Lagoon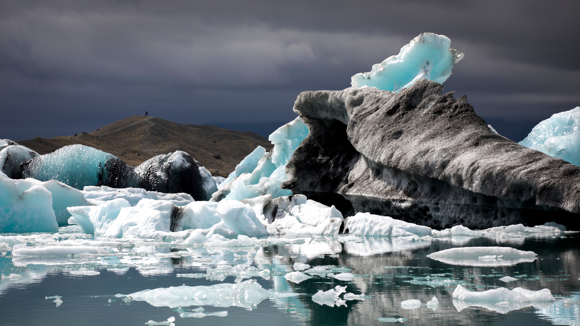 Located on the edge of Europe's largest glacier, with only a small distance separating it from the Atlantic Ocean, Jökulsárlón Glacier Lagoon stands as Iceland's grandest and most breathtaking glacial lake. This remarkable destination gets the award of being the largest and deepest among Iceland's many glacial lakes. Within its sparkling waters, icebergs gracefully float, surrounded by sheer peaks, rugged lava fields, and picturesque black-sand beaches.
This attraction draws visitors from across the world who come to marvel at this natural wonder. Find out everything you need to know about Jökulsárlón Glacier Lagoon.
How to get to Jökulsárlón Glacier Lagoon
Jökulsárlón is in southeastern Iceland and lies within the incredible Vatnajökull National Park, where you can find other attractions like Skaftafell Nature Reserve. It's 230 miles east of Reykjavik. The journey passes many landmarks, making it an ideal road trip destination. There are three main ways to get to the glacier lagoon.
1. By car 
The journey from Reykjavik takes approximately 5 hours to drive via the Ring Road (R1). It's important to check the conditions of the road before setting off on your journey, especially if you are travelling during the winter months.
2. Public transport 
If you have a more relaxed timeframe and prefer to use public transport for the journey, there are a few options available. You can take buses from Reykjavik to Selfoss (a total of 3 buses) or opt for a domestic flight to the nearest airport to Jökulsárlón, Hornafjörður, and then take a bus (approximately 5 hours). It's important to consider the time of year and check schedules, as they can vary throughout the seasons.
3. Guided tours 
There are many options for those who are wanting to travel on a guided tour to Jökulsárlón with transport. Some tours are multi-day including accommodation which gives you more time to explore this incredible national park.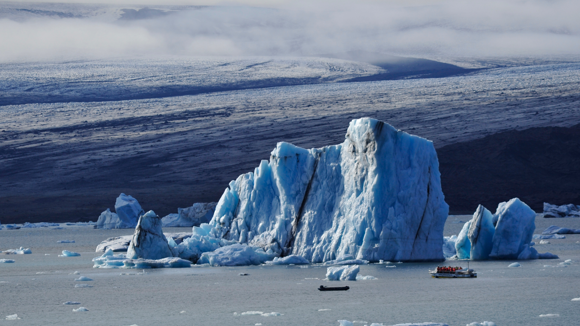 5 Things to Do at Jökulsárlón Glacier Lagoon
1. Boat tours and amphibian boat rides
One of the best ways to explore this lagoon is by water. By boat, you'll navigate through the floating icebergs and learn more about how the lagoon was formed and what's in store for its future.
2. Photography
With thousands of ever-changing icebergs in Jökulsárlón Glacier Lagoon, taking photographs offers a unique way to remember the surroundings. Exploring the shores and angles, you're bound to take an interesting shot.
3. Ice Caves
During certain times of the year, you can get an opportunity to explore the ice caves, which are ever-changing. You'll get up close and personal with the blue and black ice. Not only will you see the incredible structures formed by the ice, but you'll also be able to hear, and feel it. 
4. Exploring the Diamond Beach
Nearby Diamond Beach is a must-visit while traveling to the lagoon. The icebergs, which break off and float out of the lagoon, get washed ashore on this beach. As the name suggests, the black sand looks scattered with jewel-like blocks, creating a captivating scene.
5. Glacier hiking
If exploring the lagoon is not enough, you can explore the glacier that feeds the lake, Vatnajökull Glacier. For this activity, book a tour that will provide all the equipment you need to traverse the crevasses and witness the blue frozen wonderland.
Wildlife at Jökulsárlón Glacier Lagoon
The conditions and environment at Jökulsárlón Glacier Lagoon are a hotspot for wildlife. These rich waters are fed by both the tide and the glacier. Throughout the year, you'll find seals swimming or relaxing on icebergs. It is a safe haven for them, especially when Orcas populate the coastline.
It is also a paradise for birdwatching, as many species live and feed in this area. You may be able to spot the famous Atlantic Puffin feeding when the tides bring in fish. Arctic terns use this area as a breeding ground; however, they are territorial birds, so make sure you keep your distance while exploring.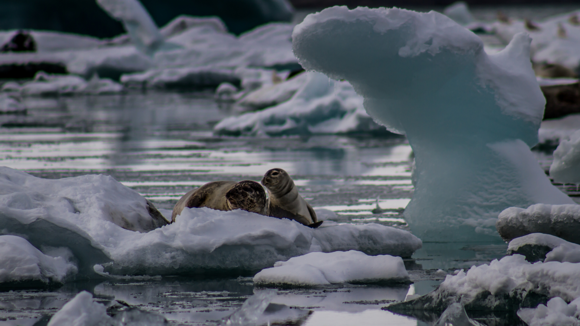 Jökulsárlón Glacier Lagoon in TV and Film
It's not only wildlife and tourists that come to this lagoon. Jökulsárlón Glacier Lagoon has been used as a location for many movies, music videos, and TV shows. The incredible scenery and icy waters make for interesting backgrounds to dramatic shows and movies. The most popular shows that have been shot here include James Bond films like "Die Another Day" and "A View to a Kill". Both Game of Thrones and Tomb Raider have also been filmed here as well.
Nearby Hotel Recommendation
Make the most of your time in Vatnajökull National Park by standing at a nearby hotel. Fosshotel Glacier Lagoon is perfectly situated near the Jökulsárlón Glacier Lagoon and nearby hiking areas. The Spa is the perfect place to relax and unwind after exploring. Fuel up at the restaurant, which is passionate about every dish it serves.