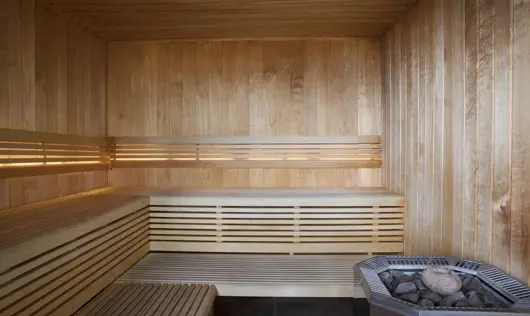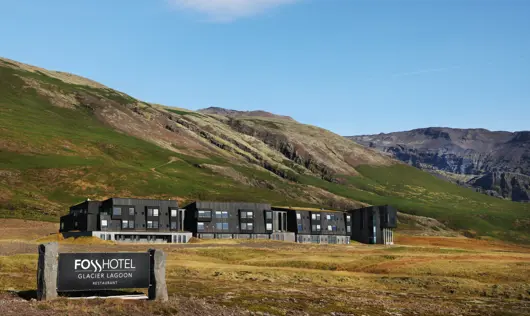 Fosshotel Glacier Lagoon Exterior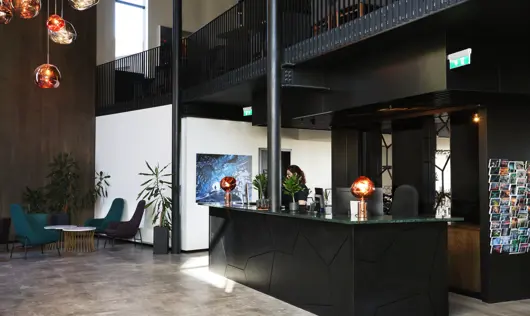 Fosshotel Glacier Lagoon Reception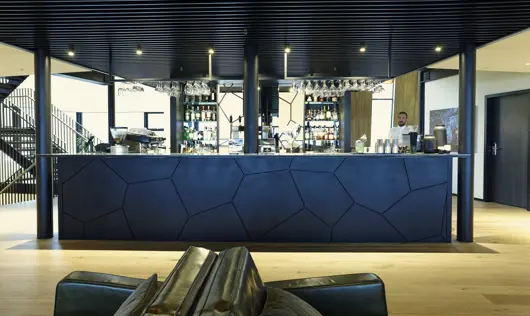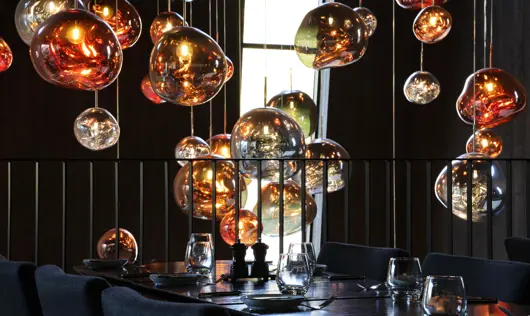 Fosshotel Glacier Lagoon Restaurant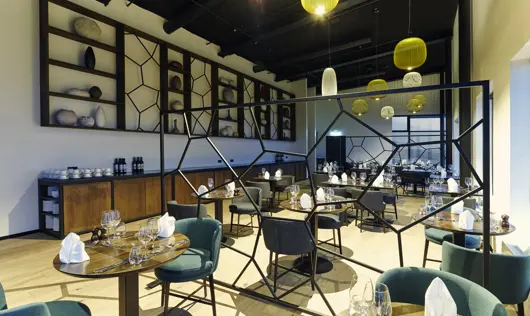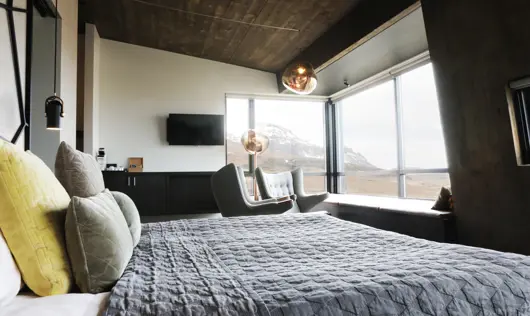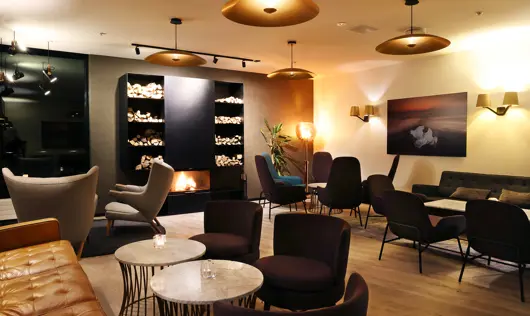 Fosshotel Glacier Lagoon Bar area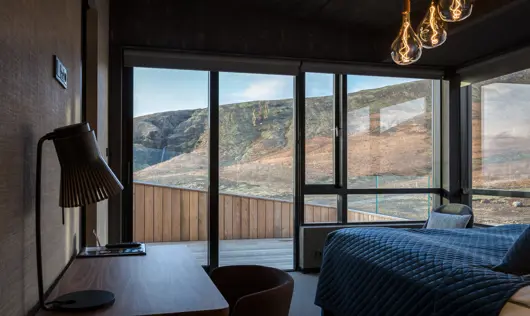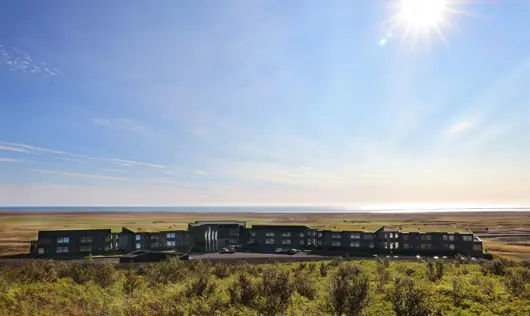 Fosshotel Glacier Lagoon Exterior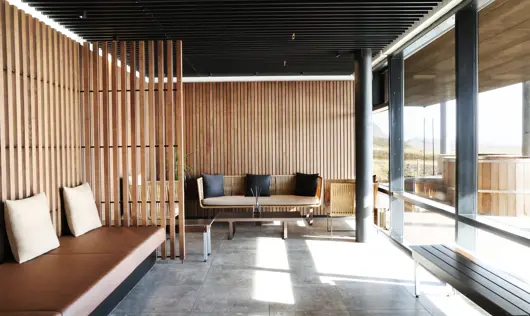 Fosshotel Glacier Lagoon Spa area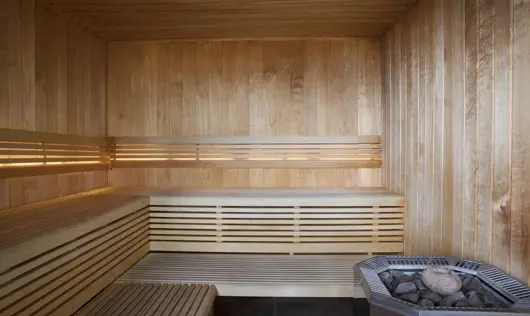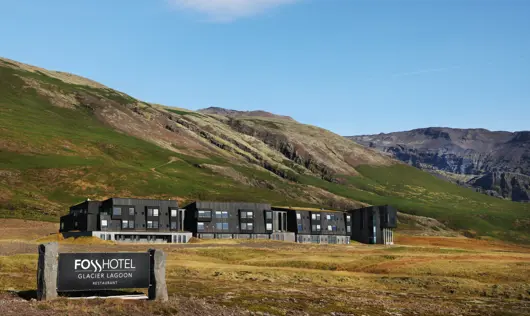 Fosshotel Glacier Lagoon Exterior
Fosshotel Glacier Lagoon
Daily housekeeping on request
Fosshotel Glacier Lagoon
Accommodation near Jökulsárlón Glacier Lagoon and Skaftafell
Fosshotel Glacier Lagoon is perfectly situated between two of Iceland's most spectacular natural attractions, Skaftafell National Park and Jökulsárlón Glacier Lagoon. Surrounded by rolling mountains and remote countryside, the location is perfect for nature lovers who want to experience an oasis of breathtaking scenery, cascading waterfalls, floating icebergs, and fantastic hiking trails.
Fosshotel Glacier Lagoon is a four-star superior hotel, near Skaftafell in Iceland, that offers 125 contemporary rooms with all necessary amenities including free parking, an electric vehicle charging station, a restaurant, gym and a spa. The restaurant at the hotel has a seating capacity of 180.
Our spa is a complimentary service/amenity available to all guests staying at the hotel on a first come, first served basis. Bookings can only be made upon arrival at the hotel. The hot tubs, sauna and gym are open from 08:00-12:00 & 15:00-23:00.
Reception is open 24 hours a day for your convenience.
Accommodation
Comfortable rooms, designed in a modern and minimalistic style
Fosshotel Glacier Lagoon offers comfortable and contemporary rooms with high ceilings, large windows with views over the mountains or the ocean. The rooms at this lagoon hotel come with everything you need for a comfortable stay including satellite television, tea and coffee making facilities, coolers and more. Hotel guests can enjoy free WiFi, a bar, restaurant, spa and a gym.
Restaurant
Dine under the stars, in the middle of nowhere. Join us for a one of a kind food journey, in a stunning geometrical environment.
Located right under the highest peak of Iceland, Hvannadalshnúkur (2110m), we want to take you on a one-of-a-kind food journey. The cooking is inspired by the Icelandic nature surrounding the hotel where we emphasize on quality and creativity in our dishes. The restaurant offers seating for up to 180 people where you can enjoy exquisite Icelandic fusion cuisine at its best.
Interesting places and scenery near Fosshotel Glacier Lagoon, South Iceland
The beautiful Skaftafell
A wilderness to some and an oasis to others, the beautiful Skaftafell is an area of Vatnajökull National Park that offers epic landscapes, favourable weather conditions and a range of hiking trails to keep even the most dedicated of outdoors enthusiasts happy. Short trails lead visitors on an easy journey to the glorious Svartifoss waterfall which cascades down 12 metres of unique black basalt cliffs and has the reputation of being the crowning glory of Skaftafell.
Hiking the Svínafellsjökull Glacier
For many visitors, a trip to Iceland is not complete without paying a visit to Europe's largest glacier. Svínafellsjökull is a tongue of the monumental Vatnajökull Glacier, stretching right to the verdant region of Skaftafell. Tours are generally available from March through to December and involve fun and easy trekking across the jagged ridges, blue crevasses and many glacial tongues of this otherworldly ice cap.
Jökulsárlón glacier lagoon
If you want to see a beach that glitters like diamonds, the magical southeast of Iceland will make your wish come true. Jökulsárlón is one of Mother Nature's greatest triumphs; a glacial lagoon and the deepest natural lake in Iceland, waters broken only by fish, seals and glowing chunks of ice. Head down to the seashore to see more of this ice dotted amongst the black sands, polished to sparkling perfection by the tides and creating the impression of a beach littered with diamonds, shimmering under the sun.
FAQ
Standard check in time is 3pm local hotel time and check-out time is 12pm local hotel time. 

You can contact the hotel and request an early check in and/or late check-out for additional charge. This is based on availability and possible to request via the welcome email guests receive shortly before arrival.

If you arrive earlier, the reception will gladly store your baggage in the baggage area until your room is ready.

Guests can enjoy free parking.

Yes, dogs are allowed at the hotel. To request a dog friendly room when booking, it is important that you inform us in the comment box. To guarantee the room, you'll have to contact the hotel. 

More about our furry friends. See our pet policy.

Bookings made on the website can be changed or cancelled via link in the booking confirmation email. 

Yes there is a charging station in front of the hotel. 

Yes, Fosshotel Glacier Lagoon offers continental breakfast, sauna & fitness centre and features free WiFi, lounge, bar and a restaurant. Our Sauna is complimentary service/amenity. Time can only be booked upon arrival at the hotel.

To request housekeeping services, please inform the front desk upon check-in or the day prior to the desired service. Additionally, feel free to request fresh towels, linens, and other amenities, as necessary.

At Íslandshotel we are committed to both sustainability and the privacy of our guests. As part of that commitment our housekeeping team will only enter your room to clean and change towels upon request, effectively reducing the amount of water and chemicals used. However, if you prefer daily cleaning or require a restock of amenities, we're happy to accommodate your needs.

To request housekeeping services, please inform the front desk upon check-in or on the day prior to the desired service. Additionally, feel free to request fresh towels, linens, and other amenities, as necessary.

We hope that this endeavor allows us to provide you with a more personalized and comfortable stay, while also contributing to a more sustainable future.

At Íslandshótel, we prioritize the comfort and peace of mind of our guests. In certain situations, our staff may need to enter rooms, even if a 'do not disturb' sign is displayed. This is typically for essential maintenance, safety checks, security procedures, or other valid reasons. To ensure a respectful and minimally disruptive experience, our team will always knock on the door and announce their presence before entering. We understand the importance of privacy and strive to maintain a welcoming environment for all.

If you have any concerns or questions, please don't hesitate to contact our friendly staff.

Learn more about our sustainable practices and our Green Key Certificate here.