Ultimate Guide to Iceland's Diamond Beach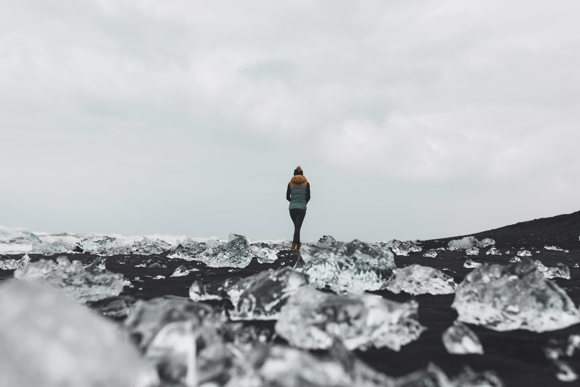 Discover Diamond beach Iceland
If you've done any preparation for your road trip across Iceland, you'll have doubtless encountered information, photos and videos about Diamond Beach. This stretch of black sand beach is littered with chunks of ice washing up from the nearby Jökulsárlón Glacier Lagoon, called Breiðamerkursandur by Icelanders. 
Diamond Beach is an absolute sight to behold. On a clear day, the sun illuminates the thousands of chunks of ice and makes for some outstanding photo opportunities. If you're uploading to Instagram, make sure to use the hashtag #DiamondBeach to make sure your image is included amongst the thousand of dazzling photos taken in the area. 
In addition to the beautiful scenery of the ice that has washed up to the shore, Diamond Beach can be a fantastic place to see Icelandic wildlife. It is not at all uncommon to spot whales swimming in the surf, including orcas, or Killer Whales. 
Visitors can also enjoy seeing seals playing in the water, relaxing on icebergs and hunting if they're lucky. 
Where is Diamond Beach?
Diamond Beach is located along the southeast coast of Iceland, just off Route 1, or the Ring Road. It's opposite Jökulsárlón Glacier Lagoon, which is worth a visit in its own right. Diamond Beach is also located about 40 minutes away from the nearby town of Hof.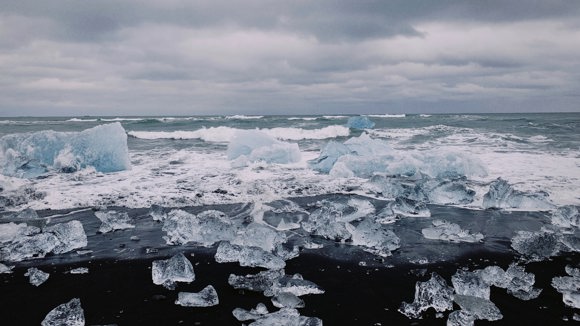 How far is Diamond Beach from Reykjavík?
Diamond Beach is about a 5-hour drive from Reykjavik, and 235 miles. It's too big of a trip to tackle in a single day, but driving from Reykjavik to Diamond Beach can easily be incorporated into a wider road trip or as part of a tour.
The Black Sands of Diamond Beach, Iceland.
Many of Iceland's beaches have black sand, due to the island's volcanic nature. Diamond Beach also has black sand, which adds to the striking appearance visitors flock there to appreciate. The black sands are caused by volcanic lava, which cools when it flows into the ocean. It then becomes sediment which washes onto the beach as sand. As tempting as it may be, make sure you don't take a handful of sand or stones home with you, as it is illegal to remove anything from Iceland's beaches.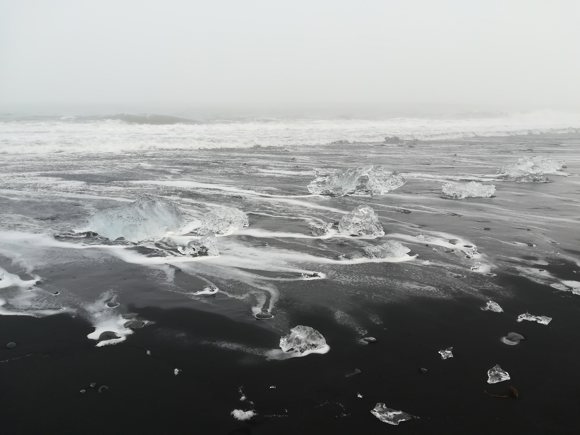 Where to Stay near Diamond Beach
There are many wonderful places to choose from when it comes to selecting somewhere to stay near Diamond Beach in Iceland. Many people opt to stay in or around Hof thanks to its amenities and proximity to Diamond Beach and Jökulsárlón Glacier Lagoon. Our Fosshotel Glacier Lagoon is even closer, located only 20 minutes away from Diamond Beach and has all the amenities to ensure you have a comfortable stay after a beautiful day at the beach. We offer a selection of rooms that will suit your party, whether you're travelling solo, as a couple, with friends, or with children. The onsite restaurant offers unmissable culinary experiences, the gym and sauna are perfect for recharging, and the parking is free.