Top 10 things to do in Northeast Iceland
Lava fields, whale-watching and multiple Game of Thrones film locations. The Northeast of Iceland calls to those who prefer to wander off the beaten track.
Famous for its collage of rugged mountains, cascading waterfalls and spectacular lava fields, this remote region showcases Iceland's natural beauty in all its wild glory. This is a region where Mother Nature rules. Chief attractions of the Northeast include spectacles such as Iceland's longest glacial river canyon, Europe's largest waterfall and the incredible Húsavík, the 'whale-watching capital' of the country. 
When you glimpse the cinematic beauty of sights such as the bubbling hot springs and enchanting Ásbyrgi canyon, you'll realize that Northeast Iceland offers a true escape from reality. It's not too hard to see why those seeking nature at its most supercharged succumb to the charms of this breath-taking corner of the world.
1. Whale-watching in Húsavík
The best whale-watching in Iceland can be found at the pleasant fishing village of Húsavík (population 2,200), nestled on the shore of Skjálfandi Bay. The bay itself is rich in plankton, attracting around 24 species of whale including the famous orca (killer whale), humpback whale, minke whale and blue whale. Observing these awe-inspiring creatures in the land of the midnight sun is an experience you won't soon forget.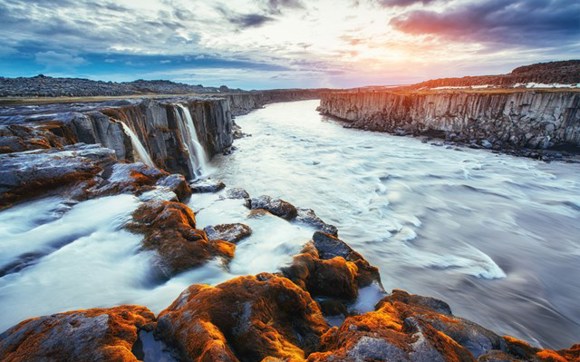 2. Jökulsárgljúfur - Iceland's longest river canyon
Meaning 'glacial river canyon', it delivers exactly what it says on the tin. This natural wonder is Iceland's longest river canyon, stretching for 25km (16 miles) through the mighty Vatnajökull National Park. Flanked on either side by towering cliffs, the river has shaped its path over thousands of years, forming thundering waterfalls and unusual basalt column formations during its journey. Pack your walking boots – hiking here could keep you busy for hours, if not days.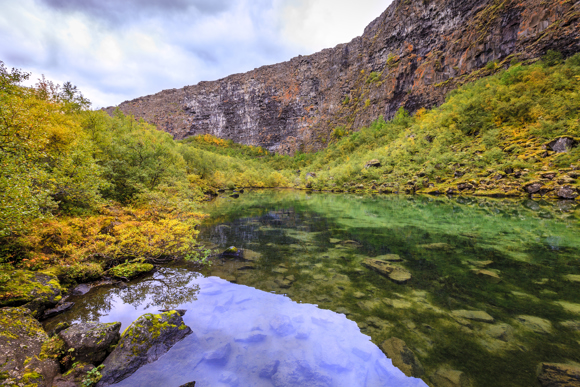 3. The Ásbyrgi canyon
The enormous horseshoe-shaped Ásbyrgi depression, ringed by sheer cliff drops and carpeted in green forest, is one of the best hiking destinations in Iceland. Located at the northern entrance to the Jökulsárgljúfur river canyon, Ásbyrgi offers hours of wondrous walks and a magical atmosphere that lends itself well to the local legends about the place. According to Norse mythology, the rock formation is the hoofprint of Odin's eight-legged horse, while other stories say Ásbyrgi is the capital city of the Huldufólk, or elves as they are more widely known.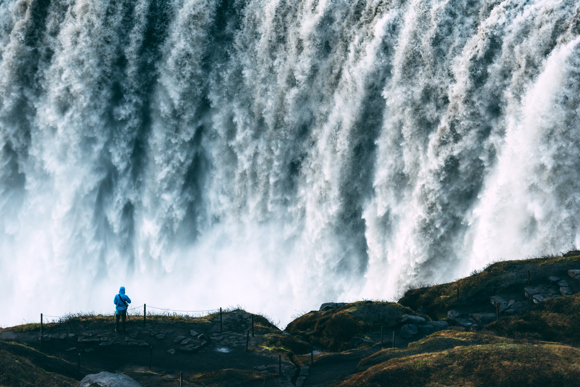 4. Dettifoss - Europe's largest waterfall
Another jewel in the crown of the Jökulsárgljúfur canyon is this colossal waterfall, with its intimidating 44m drop and thunderous volume of water that can be seen from several kilometres away – look out for the clouds of spray. Impressive at any time of year, the full impact of Dettifoss is most keenly experienced during spring, after the seasonal melt. If you get the feeling you might have spotted this famous fall before, it featured in the opening scene of Ridley Scott's 2012 Aliens prequel, Prometheus.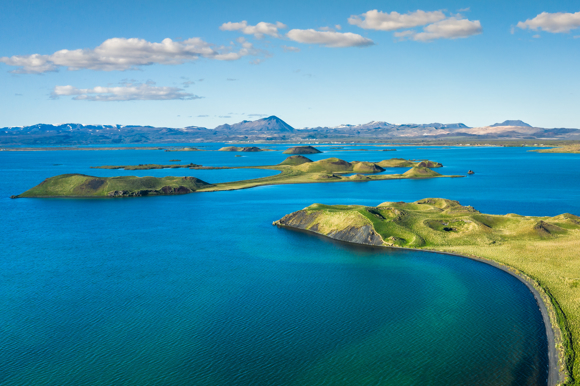 5. Lake Mývatn
Formed during a massive eruption some 2,300 years ago, the surrounds of Lake Mývatn are a hotbed of volcanic activity. Bubbling mud pools, curious lava formations and cone-shaped craters create an eerie and atmospheric landscape, punctuated by the calls of the diverse birdlife that call the lake home. This was the Game of Thrones backdrop for many of Jon Snow's adventures north of the wall, including several of his experiences with Ygritte.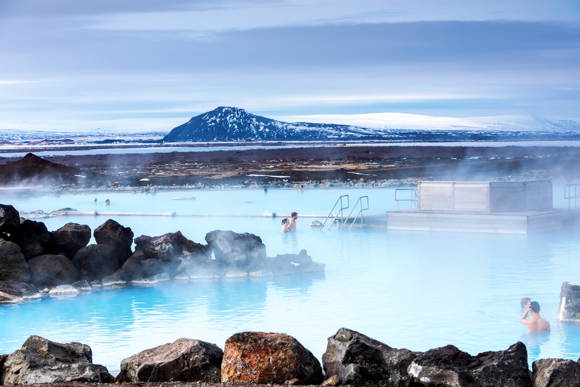 6. Mývatn Nature Baths
After soaking up the scenery of the lake itself, it's time to soak your weary limbs in the Mývatn Nature Baths, Northeast Iceland's answer to the famous Blue Lagoon. The otherworldly complex offers bathers the opportunity to take a relaxing dip in a pool of geothermal water as clouds of steam rise up from a fissure deep in the Earth's surface. It's the quintessential Icelandic experience and far less frequented by tourists than it's notorious counterpart.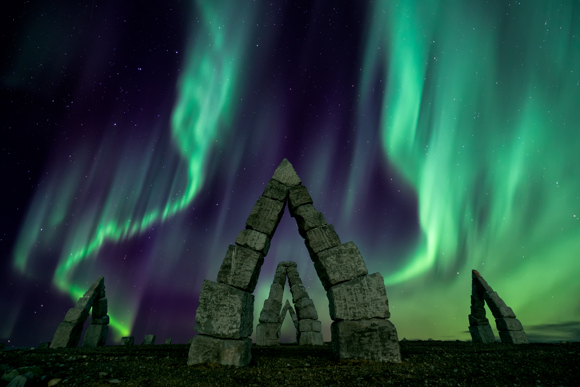 7. Heimskautsgerðið – the Arctic Henge
Situated in Raufarhöfn, one of Iceland's northernmost villages, the fascinating Heimskautsgerðið, also known as the Arctic Henge, looks like an awe-inspiring relic, transported from ancient times. However, this monument is actually a modern project – construction started in 1996. A nod to Iceland's Nordic roots, the henge aims to act as a giant sundial to capture light and shadows in precise locations and encourage more visitors to this remote part of the country.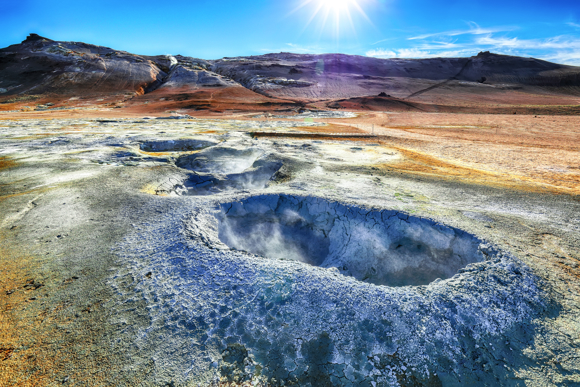 8. Hverir hot springs
If you're looking for bubbling mud pools, steaming fumaroles and hissing geysers, head to the Hverir hot springs at the foot of Námafjall mountain. Here, it's as if you have stepped into another world – one where the ground is restless beneath your feet. The churning desert, devoid of vegetation and dotted with giant craters and colourful mineral-rich deposits, is a sight worth writing home about. Cameras at the ready.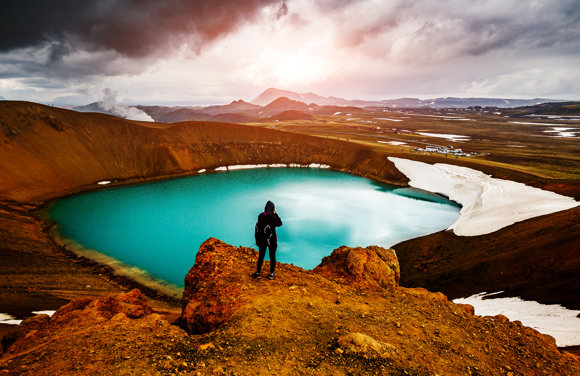 9. Krafla lava fields
There are several lava fields in Iceland, but Krafla is one of the best known, and a striking reminder of the power of nature at its most destructive. Shaped by the Krafla Fires that lasted nearly a decade, the solidified lava has created another alien landscape; barren yet mesmerising all the same. Krafla is also home to the crater Viti (the Icelandic word for 'hell') with its enchanting emerald lake.
10. History and culture
Those interested in history and culture will find several excellent museums in the Northeast of Iceland. The Húsavík Whale Museum and the Exploration Museum are favourites in Húsavík, while the Sigurgeirs Bird Museum, the largest private bird collection in Iceland situated beside Lake Mývatn, is well worth a visit too.
Book tours and activities
The North East has an abundance of places of interest and natural beauty with a large variety of activities. The landscape is a fascinating collage of lakes, mountains, plains, rivers and lava deserts.
Our partner, TourDesk, offers a comprehensive tour-booking service aimed to simplify the booking process.
Our hotels in Northeast Iceland: