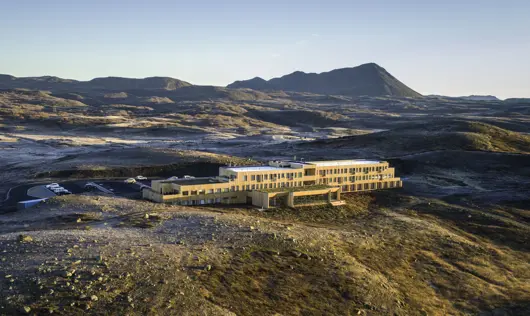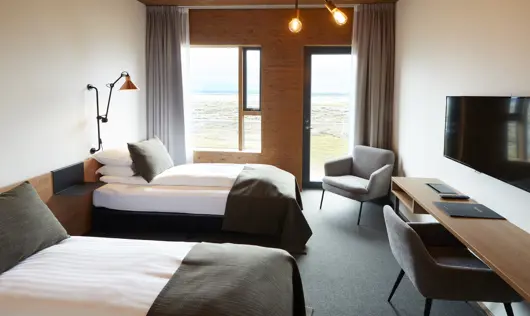 Lake View Double or Twin Room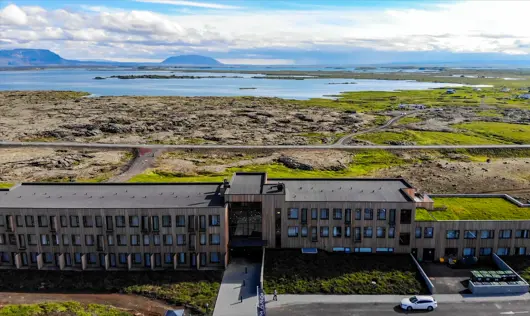 Fosshotel Mývatn exterior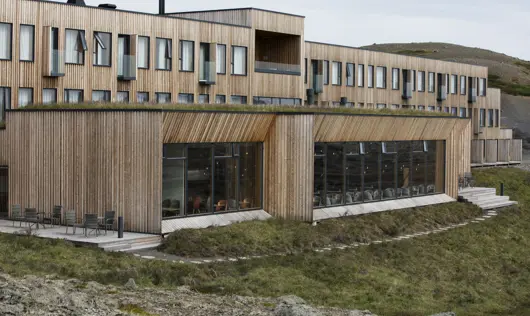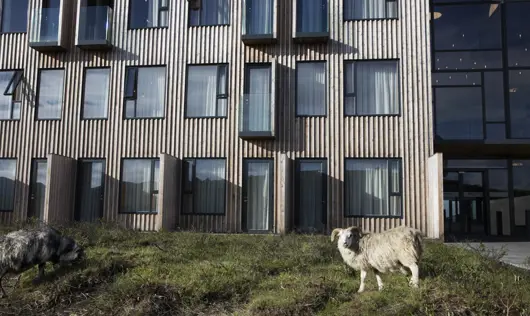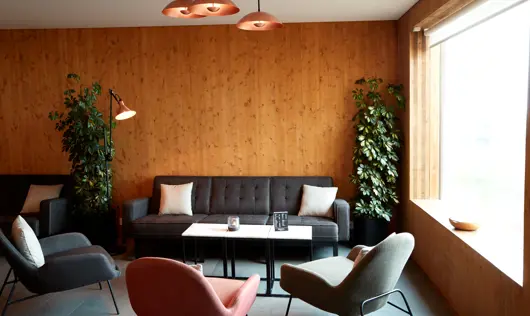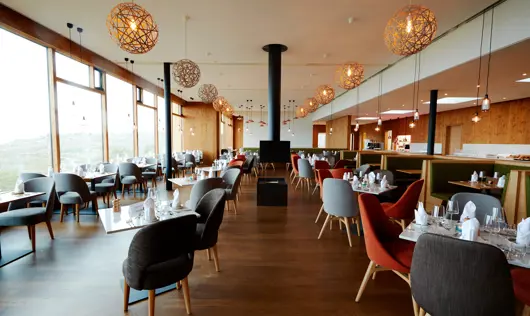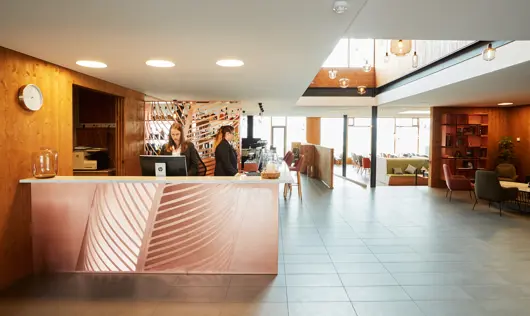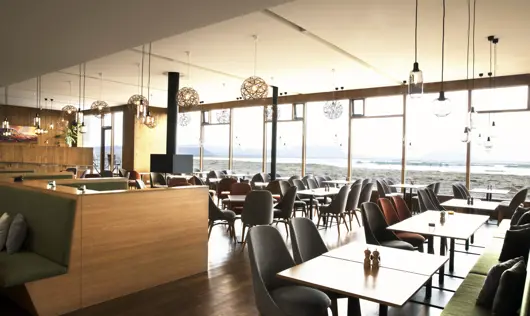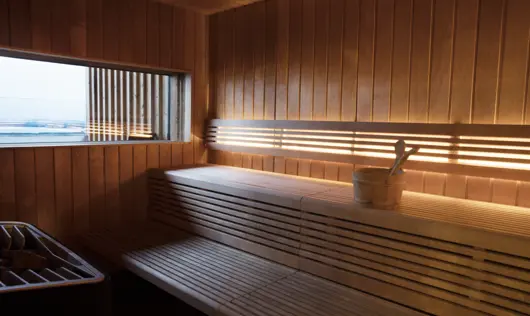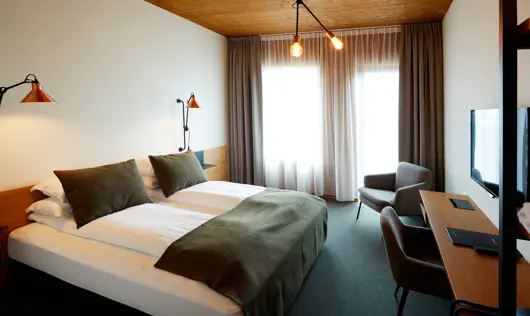 Standard Double or Twin Room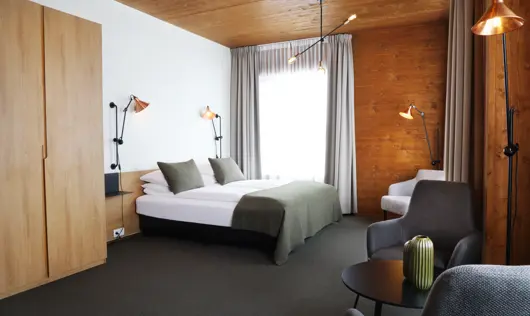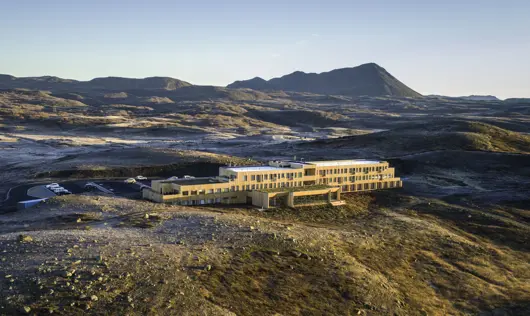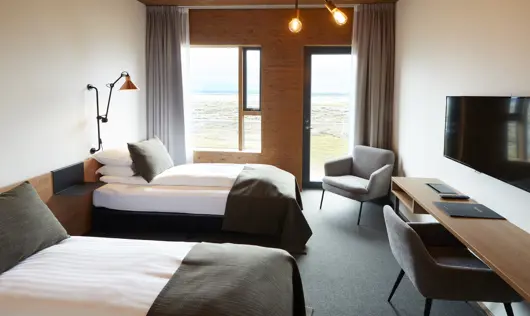 Lake View Double or Twin Room
Fosshotel Mývatn
Hotel in North Iceland
Hotel in North Iceland
Daily housekeeping on request
Fosshotel Mývatn
Fosshotel Mývatn is an idyllic, peaceful hotel offering 92 rooms in the stunning surroundings of Lake Mývatn, Iceland's fourth largest body of water.
Fosshotel Mývatn is a great location for those looking to explore North Iceland. Local attractions include Mývatn Nature Baths, the Námafjall geothermal area and the unusual lava fields of Dimmuborgir. Fosshotel Mývatn is less than 100km from Akureyri Airport.
In the local town of Reykjahlíð, you will find a mini supermarket, bank, health centre and swimming pool. Cafes and restaurants are located around Lake Mývatn.
Lake Mývatn is one of the main sights included in the Diamond Circle, a sightseeing route which also features the Dettifoss waterfall, Ásbyrgi Canyon and Húsavík. Fosshotel Mývatn is an ideal base for families, friends and couples who want to visit these sights.
The hotel is designed by award-winning architectures and features almost exclusively low-environmental impact materials. The building is a low-rise, clad with larch wood and grass roof which makes it in perfect
harmony with the surrounding nature. Discover serenity in the heart of our hotel with our cozy sauna.
Accommodation
Fosshotel Mývatn offers multiple room types with exceptional views of Lake Mývatn and the surrounding scenery.
Make yourself at home in our wood theme designed rooms, bringing you even closer to nature. All rooms are well equipped with everything you'll need including a satellite TV, a small refrigerator, free WiFi and a private bathroom with a shower or a tub.
Restaurant
The perfect place to unwind and refuel after a day of exploring in North Iceland.
Fosshotel Mývatn presents a stylish and contemporary restaurant with a beautiful view over lake Mývatn. The menu offers Nordic cuisine at its finest with top quality local ingredients from farmers and fishermen in North Iceland.
Interesting places and scenery near Fosshotel Mývatn, North Iceland
Lake Mývatn and Mývatn Nature Baths
Formed during a massive eruption some 2,300 years ago, the surrounds of Lake Mývatn are a hotbed of volcanic activity. Bubbling mud pools, curious lava formations and cone-shaped craters create an eerie and atmospheric landscape, punctuated by the calls of the diverse birdlife that call the lake home. After soaking up the scenery of the lake itself, it's time to soak your weary limbs in the Mývatn Nature Baths, Northeast Iceland's answer to the famous Blue Lagoon.
Dettifoss - Europe's largest waterfall
Another jewel in the crown of the Jökulsárgljúfur canyon is this colossal waterfall, with its intimidating 44m drop and thunderous volume of water that can be seen from several kilometres away – look out for the clouds of spray. Impressive at any time of year, the full impact of Dettifoss is most keenly experienced during spring, after the seasonal melt. If you get the feeling you might have spotted this famous fall before, it featured in the opening scene of Ridley Scott's 2012 Aliens prequel, Prometheus.
Dimmuborgir lava field
Three marked trails lead through Dimmuborgir varying in length and taking up to an hour each. All of these paths are easy. In addition to shrubs and other vegetation, the Dimmuborgir area displays freestanding lava cliffs and fortresses with grotesque shapes, holes and small caves.
FAQ
Standard check in time is 3pm local hotel time and check-out time is 12pm local hotel time. 

You can contact the hotel and request an early check in and/or late check-out for additional charge. This is based on availability and possible to request via the welcome email guests receive shortly before arrival.

If you arrive earlier, the reception will gladly store your baggage in the baggage area until your room is ready.

Guests can enjoy free parking.

Yes, dogs are allowed at the hotel. To request a dog friendly room when booking, it is important that you inform us in the comment box. To guarantee the room, you'll have to contact the hotel. 

More about our furry friends. See our pet policy.

Bookings made on the website can be changed or cancelled via link in the booking confirmation email.

Yes there is a charging station in front of the hotel. 

Breakfast is served from am 7-10am. *from 1.november-18th of December breakfast will be served from 8-10am. 

The hotel is open all year except for 17.Dec – 19.Jan.

To request housekeeping services, please inform the front desk upon check-in or the day prior to the desired service. Additionally, feel free to request fresh towels, linens, and other amenities, as necessary.

At Íslandshotel we are committed to both sustainability and the privacy of our guests. As part of that commitment our housekeeping team will only enter your room to clean and change towels upon request, effectively reducing the amount of water and chemicals used. However, if you prefer daily cleaning or require a restock of amenities, we're happy to accommodate your needs.

To request housekeeping services, please inform the front desk upon check-in or on the day prior to the desired service. Additionally, feel free to request fresh towels, linens, and other amenities, as necessary.

We hope that this endeavor allows us to provide you with a more personalized and comfortable stay, while also contributing to a more sustainable future.

At Íslandshótel, we prioritize the comfort and peace of mind of our guests. In certain situations, our staff may need to enter rooms, even if a 'do not disturb' sign is displayed. This is typically for essential maintenance, safety checks, security procedures, or other valid reasons. To ensure a respectful and minimally disruptive experience, our team will always knock on the door and announce their presence before entering. We understand the importance of privacy and strive to maintain a welcoming environment for all.

If you have any concerns or questions, please don't hesitate to contact our friendly staff.

Learn more about our sustainable practices and our Green Key Certificate here.