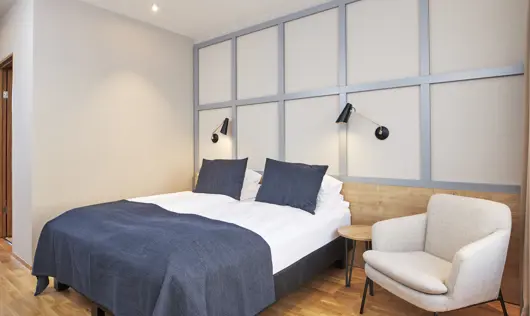 Standard Double or Twin Room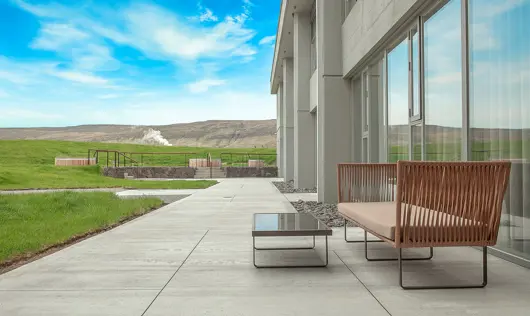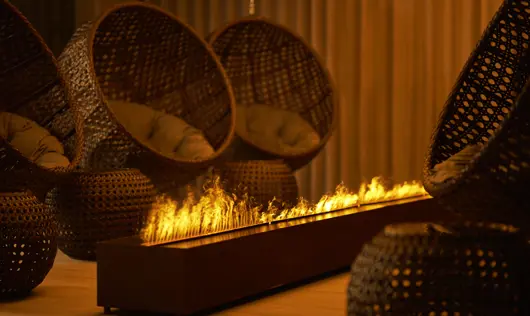 FH Reykholt SPA Lounge Area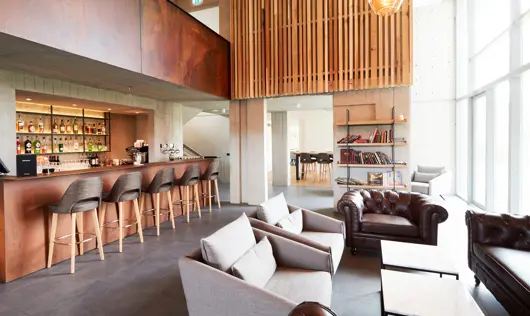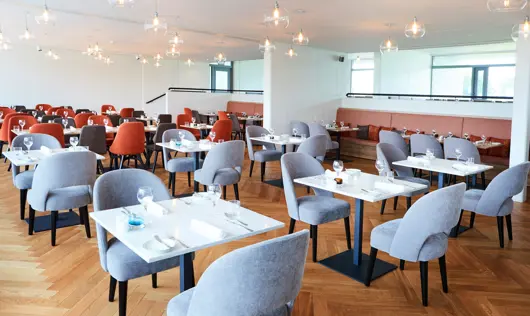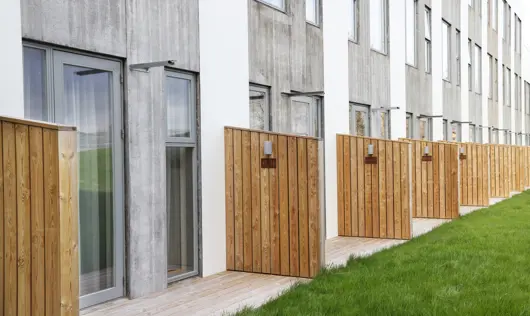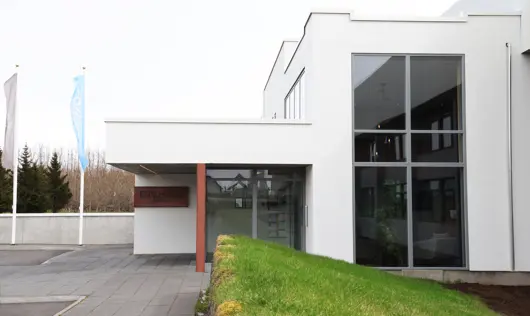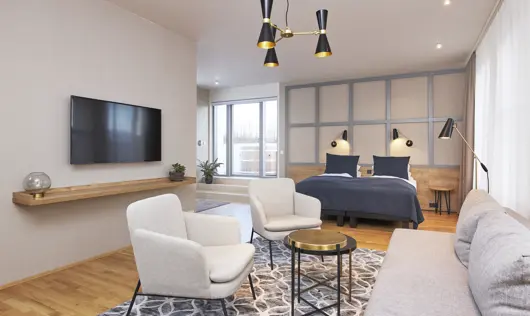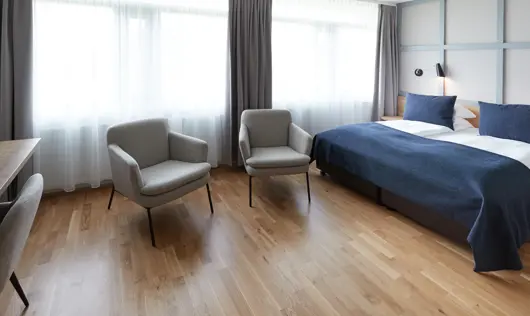 FH Reykholt Superior Double Room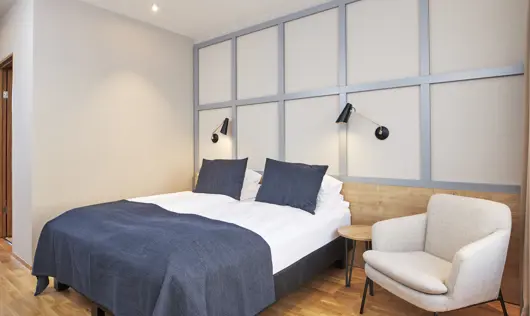 Standard Double or Twin Room
Fosshotel Reykholt
Daily housekeeping on request
Fosshotel Reykholt
Fosshotel Reykholt is a romantic country hotel with a beautiful spa in calm and relaxing surroundings. If you're looking for a fantastic stay in West Iceland, Fosshotel Reykholt offers an ideal spot for couples, families, and groups in need of a tranquil spot set right in the centre of Iceland's history.
Complete with a new spa, the Fosshotel Reykholt makes for an idyllic romantic getaway, with both indoor and outdoor spa facilities. After an afternoon of relaxation, enjoy a delicious menu at the hotel restaurant, featuring traditional Icelandic cuisine surrounded by charming decorations.
West Iceland is a fantastic spot for a trip to Iceland, often referred to as "mini Iceland". It has absolutely everything you need to tick off everything on your Iceland bucket list including quaint villages, oceanside views, and national parks. A popular local attraction is Deildartunguhver and the Krauma Geothermal Baths. But knowing where to stay in West Iceland, with countless settlements and hotels across the region, can be difficult. Reykholt, surrounded by these fascinating geographical spots, makes for the perfect starting point for any number of trips.
The hotel is situated in the legendary location of Reykholt in Borgarfjörður. Once the home of historian and poet Snorri Sturluson, Reykholt is one of Iceland's major historical sites. Snorri's main residence Snorrastofa, an independent research centre, is just next door. Bounteous in captivating scenery the area is full of lava fields, waterfalls, mountains, craters and caves. There is no shortage of traditional Icelandic landscapes around Reykholt, making Fosshotel Reykholt the perfect base for an Icelandic adventure.
Accommodation
Comfort and class in the historical settings of Reykholt in West Iceland.
Offering 6 types of hotel rooms, Fosshotel Reykholt is everything you look for in a quiet country hotel. The hotel offers a relaxing environment, full of historic remains and attractions for intrigued travellers. The rooms are well designed and equipped with facilities that will make your hotel stay even more enjoyable.
Interesting places and scenery near Fosshotel Reykholt, West Iceland
The village of Reykholt
Reykholt was the home of Snorri Sturlusson, one of Iceland's greatest Saga writer, poet and historian. Today, Reykholt is still one of Iceland's main historical and cultural sites. Here you will find two beautiful churches, Snorri's natural hot pool, Snorralaug, and Snorrastofa, an exhibit of Snorri's writings and research centre for medieval studies. In the park is a statue of Snorri by the Norwegian sculptor Gustav Vigeland. Archaeological excavations are carried out by the National Museum of Iceland.
Hraunfossar and Barnafoss
A series of waterfalls pouring over the side of Hvítá river canyon from beneath Hallmundarhraun lava field. Just upstream is beautiful Barnafoss (Children's falls). Hraunfossar and Barnafoss are neither particularly high, nor have a great volume of water, yet they are enchanting. The water is often pastel shade of blue, rather than the muddy brown of Iceland's other glacial rivers. From here you can walk into the surrounding lava fields.
Langjökull – Iceland's second largest glacier
The most popular glacier for hiking in Iceland is Langjökull – the country's second largest glacier and the glittering diamond in the Vesturland's crown. Living up to its name which means 'the Long Glacier', Langjökull offers a 367 miles sq (950 km sq) stretch of ice cap, ideal for snowmobiling and admiring the winter wonderland scenery. However, that's not all Langjökull has to offer: beneath the frosty surface lies a network of vast manmade ice caves where a world of shimmering blue and silver ice is waiting to be explored.
FAQ
Standard check in time is 3pm local hotel time and check-out time is 12pm local hotel time. 

You can contact the hotel and request an early check in and/or late check-out for additional charge. This is based on availability and possible to request via the welcome email guests receive shortly before arrival.

If you arrive earlier, the reception will gladly store your baggage in the baggage area until your room is ready.

Yes, Fosshotel Reykholt offers continental breakfast and features free WiFi, lounge, bar and a restaurant. The spa & fitness centre are available for surcharge.

Guests can enjoy free parking.

There is a range of tours and activities available around Reykholt and the surrounding area. 

Yes, dogs are allowed at the hotel. To request a dog friendly room when booking, it is important that you inform us in the comment box. To guarantee the room, you'll have to contact the hotel. 

More about our furry friends. See our pet policy. 

Bookings made on the website can be changed or cancelled via link in the booking confirmation email. 

Yes there is a charging station in front of the hotel. 

The hotel is open all year except for 10.Dec – 27.Dec.

To request housekeeping services, please inform the front desk upon check-in or the day prior to the desired service. Additionally, feel free to request fresh towels, linens, and other amenities, as necessary.

At Íslandshotel we are committed to both sustainability and the privacy of our guests. As part of that commitment our housekeeping team will only enter your room to clean and change towels upon request, effectively reducing the amount of water and chemicals used. However, if you prefer daily cleaning or require a restock of amenities, we're happy to accommodate your needs.

To request housekeeping services, please inform the front desk upon check-in or on the day prior to the desired service. Additionally, feel free to request fresh towels, linens, and other amenities, as necessary.

We hope that this endeavor allows us to provide you with a more personalized and comfortable stay, while also contributing to a more sustainable future.

At Íslandshótel, we prioritize the comfort and peace of mind of our guests. In certain situations, our staff may need to enter rooms, even if a 'do not disturb' sign is displayed. This is typically for essential maintenance, safety checks, security procedures, or other valid reasons. To ensure a respectful and minimally disruptive experience, our team will always knock on the door and announce their presence before entering. We understand the importance of privacy and strive to maintain a welcoming environment for all.

If you have any concerns or questions, please don't hesitate to contact our friendly staff.

Learn more about our sustainable practices and our Green Key Certificate here.