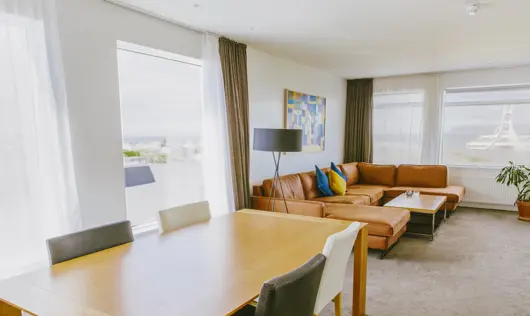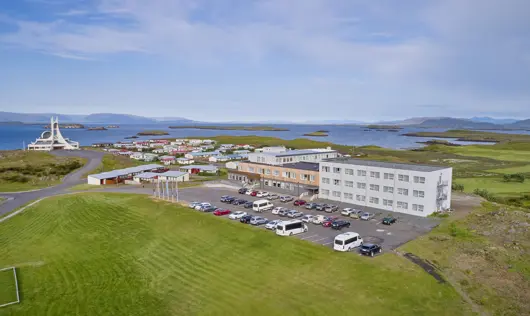 Fosshotel Stykkishólmur & Breiðafjörður Bay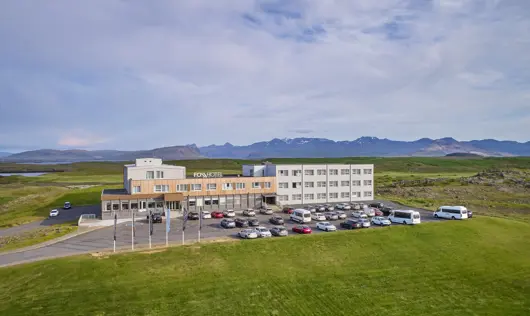 Fosshotel Stykkishólmur exterior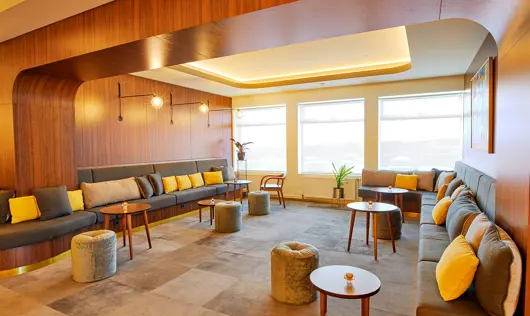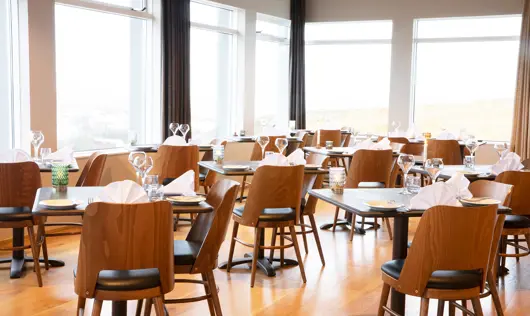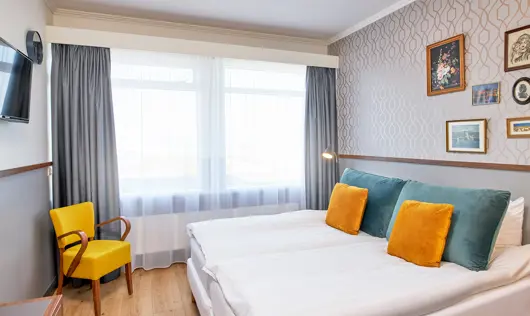 Stykkisholmur Double Standard Room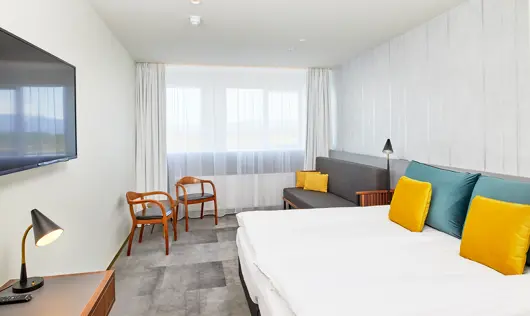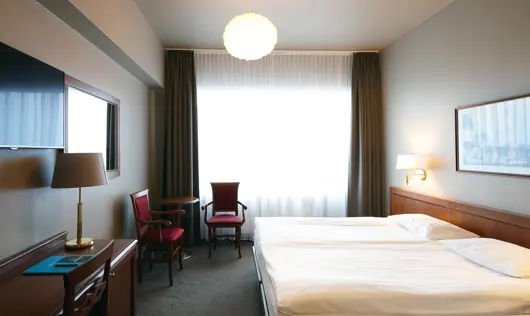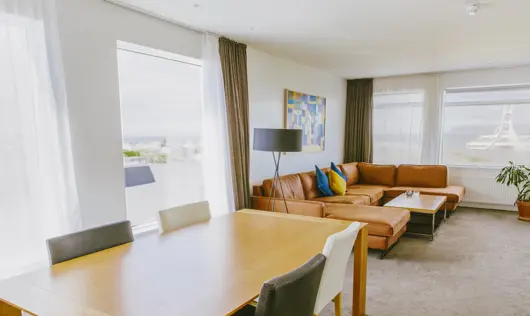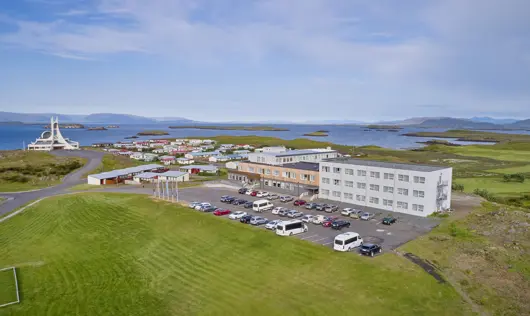 Fosshotel Stykkishólmur & Breiðafjörður Bay
Fosshotel Stykkishólmur
Daily housekeeping on request
Fosshotel Stykkishólmur
Fosshotel Stykkishólmur is a 3-star hotel located in the beautiful fishing village of Stykkishólmur.
Stykkishólmur, sometimes called the town of thousand islands, is in the Northern part of the Snaefellsnes peninsula. The town boasts a wonderful atmosphere set by old-style houses that make you feel like you've taken a step back in time.
With a population of approximately 1,100 people,  Stykkishólmur saw its first development in 1550, when the natural harbour allowed for the creation of a trading post. The town experienced further development while the Danish Trade Monopoly was in place. 
Ideally situated for discovering West Iceland, Fosshotel Stykkishólmur is a great base for visiting attractions in the local area such as the Norwegian House, the Shark Museum and the Library of Water. The bustling harbour even offers ferry trips to Flatey Island and the Westfjords.  
Want to explore further afield? The Snaefellsnes peninsula is a paradise for adventurers, featuring lava fields, basalt cliffs, legendary caves and the Snæfellsjökull glacier. It is also home to Kirkjufell, or Church Mountain, which stands 463 meters above sea level and is said to be the most photographed mountain in Iceland. 
Want to enjoy a round of golf during your stay? All our guests have free access to Víkurvellir the golf course in Stykkishólmur.
Meetings and Events
Come and join us in one of the greatest conference hall's in the Snaefellsnes Peninsula.
Located just a 2-hour drive from Reykjavik, Fosshótel Stykkishólmur provides a high-quality service for your conference or event. The conference hall is equipped with all the technical equipment you'll need for your event to run smoothly and the location is guaranteed to impress your guests.
Restaurant
A warm and cosy restaurant where you can enjoy the extraordinary view of the beautiful village of Stykkishólmur.
The kitchen has focus on all the local ingredients Breiðafjörður bay has to offer, such as blue mussels, scallops, fresh fish, seaweed etc. The cooking is as natural as possible, so all the flavours are at best quality possible.
Interesting places and scenery near Fosshotel Stykkishólmur, West Iceland
Snæfellsjökull National Park and Glacier
One of the most famous landmarks in Iceland, Snæfellsjökull is a 700,000-year-old stratovolcano with a glacier cap, situated on the most western part of the Snæfellsnes peninsula. The crater served as the entrance to the fantastical subterranean world in Jules Verne's classic 1864 novel, Journey to the Centre of the Earth and the peninsula also found fame in the 90s when thousands of people congregated to welcome aliens to Earth. There must be something magical in the air around Snæfellsjökull though – for centuries it has been considered a source of power, mysticism and energy amongst the superstitious locals and its reputation holds strong.
Kirkjufell Mountain
If committing your Icelandic adventure to film is an essential consideration, be sure to visit the most photographed mountain in Iceland – Kirkjufell. Rising 463m above sea level, this perfectly symmetrical cone is an unmissable part of west Iceland's coastal skyline. As well as being a photographer's dream, the beautiful nature trails and abundant bird life of the mountain make it an ideal destination for those who can't get enough of the Great Outdoors. Stand beside the Kirkjufellsfoss waterfall for the best view of this iconic mountain.
Breiðafjörður Bay
The wide, shallow bay of Breiðafjörður is one of the best destinations for nature lovers in west Iceland. The region is made up of around 3,000 islands, islets and skerries, all playing host to around 50 breeding birds, including the common shag, puffin and the magnificent white-tailed eagle. Hop aboard a boat tour to make the most of this diverse natural environment, admiring the fairy-tale scenery and maybe even sampling a taste of fresh-off-the-boat shellfish en route.
FAQ
Standard check in time is 3pm local hotel time and check-out time is 12pm local hotel time. 

You can contact the hotel and request an early check in and/or late check-out for additional charge. This is based on availability and possible to request via the welcome email guests receive shortly before arrival.

If you arrive earlier, the reception will gladly store your baggage in the baggage area until your room is ready.

Guests can enjoy free parking.

Fosshótel Stykkishólmur provides a high-quality service for your Conference & Event. The Conference Hall can accommodate up to 250 guests in reception and is convenient for all kind of events such as conferences, meetings, banquets, workshops and concerts. 

Yes, dogs are allowed at the hotel. To request a dog friendly room when booking, it is important that you inform us in the comment box. To guarantee the room, you'll have to contact the hotel. 

More about our furry friends. See our pet policy.

Bookings made on the website can be changed or cancelled via link in the booking confirmation email.

Yes there is a charging station.

Breakfast is served from 7am-10am. 

The hotel is open all year except for 11.Dec-11.Jan.

To request housekeeping services, please inform the front desk upon check-in or the day prior to the desired service. Additionally, feel free to request fresh towels, linens, and other amenities, as necessary.

At Íslandshotel we are committed to both sustainability and the privacy of our guests. As part of that commitment our housekeeping team will only enter your room to clean and change towels upon request, effectively reducing the amount of water and chemicals used. However, if you prefer daily cleaning or require a restock of amenities, we're happy to accommodate your needs.

To request housekeeping services, please inform the front desk upon check-in or on the day prior to the desired service. Additionally, feel free to request fresh towels, linens, and other amenities, as necessary.

We hope that this endeavor allows us to provide you with a more personalized and comfortable stay, while also contributing to a more sustainable future.

At Íslandshótel, we prioritize the comfort and peace of mind of our guests. In certain situations, our staff may need to enter rooms, even if a 'do not disturb' sign is displayed. This is typically for essential maintenance, safety checks, security procedures, or other valid reasons. To ensure a respectful and minimally disruptive experience, our team will always knock on the door and announce their presence before entering. We understand the importance of privacy and strive to maintain a welcoming environment for all.

If you have any concerns or questions, please don't hesitate to contact our friendly staff.

Learn more about our sustainable practices and our Green Key Certificate here.