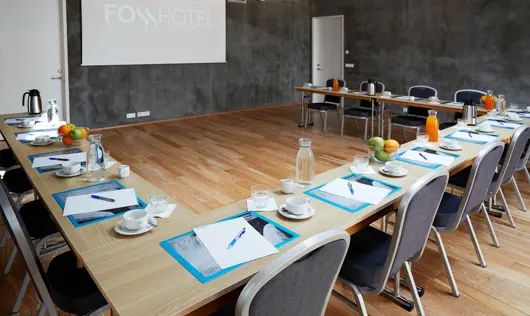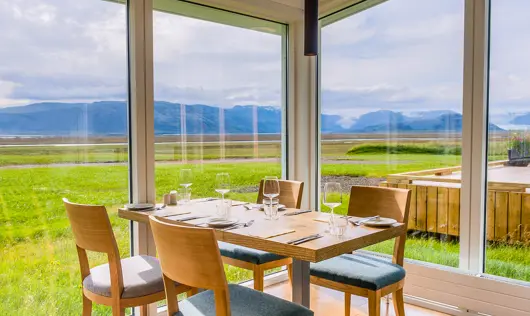 Fosshotel Vatnajökull restaurant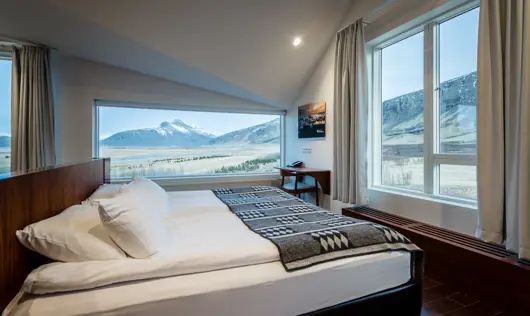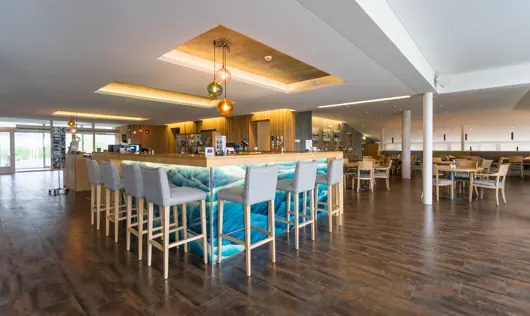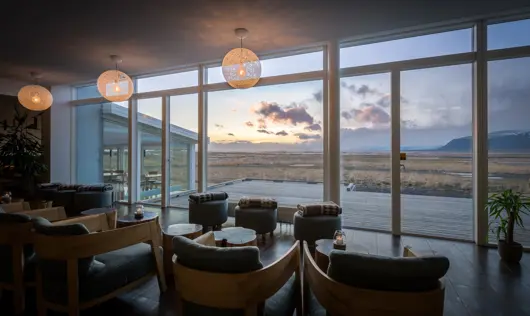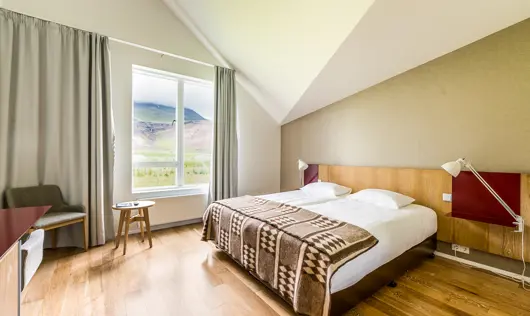 Standard Double or Twin Room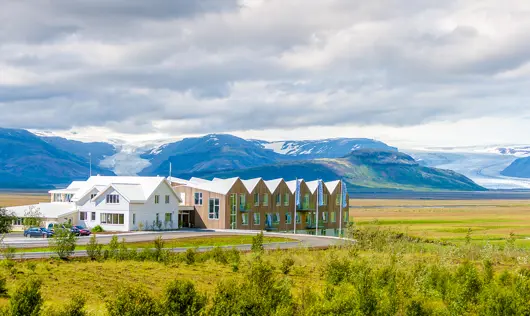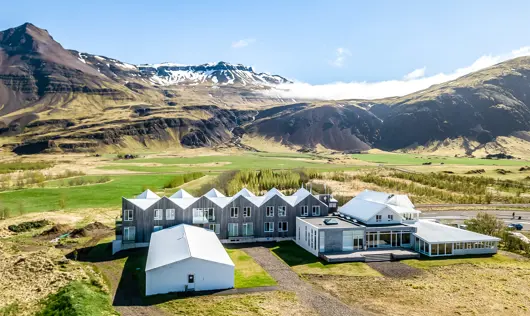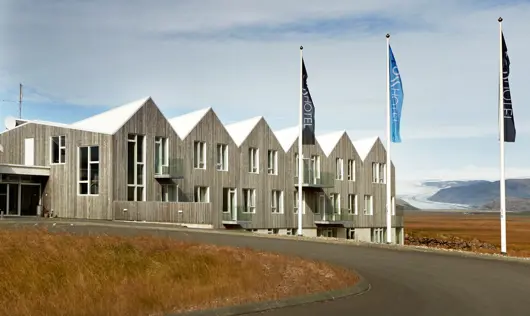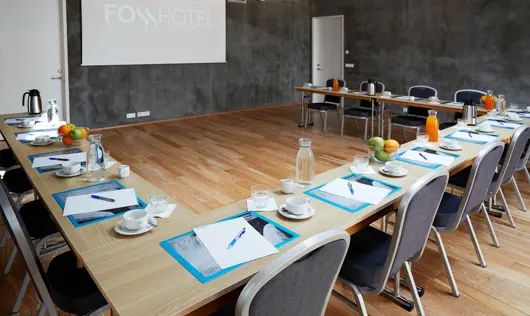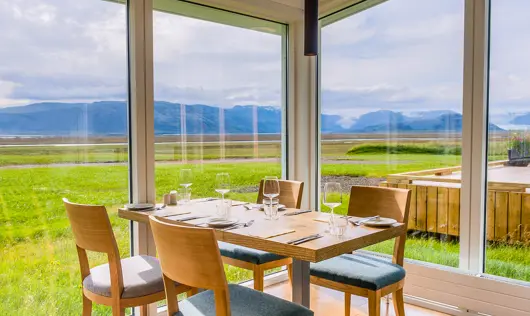 Fosshotel Vatnajökull restaurant
Fosshotel Vatnajökull
Fosshotel Vatnajökull
Offering spellbinding views of the magnificent glacier Vatnajökull in the beautiful surroundings of southeast Iceland.
Fosshotel Vatnajökull is an attractive hotel in the southeast of Iceland with a spellbinding view of the magnificent glacier Vatnajökull. In beautiful surroundings, the hotel has been designed to make sure your stay is as peaceful and relaxing as possible.
Accommodation
Accommodation in one of Southeast Iceland most exciting locations.
With a total of 66 rooms, Fosshotel Vatnajökull offers 5 room types from single rooms to family rooms. The rooms feature a modern design with hardwood floors, stylish interiors and a view over Vatnajökull Glacier or surrounding mountains, making the Lindabakki area one of the most exciting locations in Southeast Iceland. All rooms include a TV, fridge, bathroom and Free WiFi.
Meetings and Events
With a 180 degree glacial view over one of the largest glaciers in the world. Are you ready to be amazed?
The 2 venues are perfect for small or medium groups. We offer all the necessary equipment for your event. After a long day of meetings, our terrace is perfect for unwind with a nice cold drink.
Restaurant
Dine with a view of Vatnajökull glacier and the majestic Hornafjörður
Dine with a view of Vatnajökull glacier and the majestic Hornafjörður fjord. Freshly caught fare from local fishermen including mackerel. Serene and quiet atmosphere with light Nordic interiors, large windows all around and a great bar with cocktails on offer.
Interesting places and scenery near Fosshotel Vatnajökull, South Iceland
The Crystal Cave
If walking on ice isn't enough for you and you're keen to see what lies beneath, book yourself in for an ice cave tour – Iceland has plenty to choose from! Perhaps one of the best-known is the entrancing Crystal Cave, hidden within the Breiðamerkurjökull Glacier. The largest ice cave in Vatnajökull National Park was formed as a result of the glacier hitting the Icelandic coastline. The interior is a dream-like study of textures, coloured in fifty shades of blue – it must be seen to be believed.
Hiking the Svínafellsjökull Glacier
For many visitors, a trip to Iceland is not complete without paying a visit to Europe's largest glacier. Svínafellsjökull is a tongue of the monumental Vatnajökull Glacier, stretching right to the verdant region of Skaftafell. Tours are generally available from March through to December and involve fun and easy trekking across the jagged ridges, blue crevasses and many glacial tongues of this otherworldly ice cap.
Jökulsárlón glacier lagoon
If you want to see a beach that glitters like diamonds, the magical southeast of Iceland will make your wish come true. Jökulsárlón is one of Mother Nature's greatest triumphs; a glacial lagoon and the deepest natural lake in Iceland, waters broken only by fish, seals and glowing chunks of ice. Head down to the seashore to see more of this ice dotted amongst the black sands, polished to sparkling perfection by the tides and creating the impression of a beach littered with diamonds, shimmering under the sun.
FAQ
Standard check in time is 3pm local hotel time and check-out time is 12pm local hotel time. 

You can contact the hotel and request an early check in and/or late check-out for additional charge. This is based on availability and possible to request via the welcome email guests receive shortly before arrival.

If you arrive earlier, the reception will gladly store your baggage in the baggage area until your room is ready.

Guests can enjoy free parking.

Yes, dogs are allowed at the hotel. To request a dog friendly room when booking, it is important that you inform us in the comment box. To guarantee the room, you'll have to contact the hotel. 

More about our furry friends. See our pet policy.

Bookings made on the website can be changed or cancelled via link in the booking confirmation email.

Yes there is a charging station in front of the hotel. 

Fosshotel Vatnajökull has 2 venues that are perfect for small or medium groups. We offer all the necessary equipment for your event. 

Breakfast is served from 7am-10am. 

The hotel is open all year except for 4.Dec – 1.Feb.