Iceland's Dimmuborgir Lava Field
Dimmuborgir is a natural lava field covering a wide area in the northeast of Iceland. The crags and pillars of lava rock offer excellent photographic opportunities, as well as mind-blowing views from 3 different walking routes. Explore mysterious caves while dark pillars of rock tower over you, some of which reach 20m up in the air.
The name roughly means "dark castles" in Icelandic, which is an apt description of the other-worldly lava formations that can be found here. The lava labyrinth, as it's become known, makes for an incredible walking experience.
Formation of Dimmuborgir
The area surrounding Lake Myvatn is a hive of volcanic activity, with a whole host of naturally occurring and fascinating landmarks. Lava fields across the island are caused by lava flows from ancient volcanic eruptions, and Dimmuborgir is no different. 
A flow of lava around 2 millennia ago covered an ancient lake. The water in the lake was cold enough to speed the cooling of the lava while steam from the evaporating water and bubbles cracked chambers and columns within the hardening rock. The Dimmuborgir lava field is now known for its distinctive towers, columns and caves. In fact, the soaring stacks and winding chambers have been likened to a castle, with high towers and narrow staircases.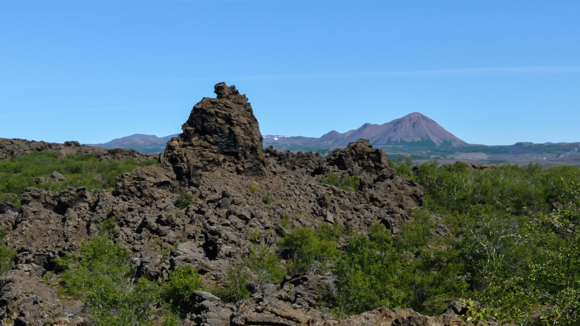 Dimmuborgir's Rise to Fame
If some of these images are ringing a bell somewhere, it might be because you're a Game of Thrones fan! That's right, Dimmuborgir featured as the hold of the wildling army of Mance Rayder in season 4 of the popular television series. Filming took place in winter to capture the landscape at its most spectacular. Iceland has been chosen as the stark backdrop for several of GoT's most dramatic scenes and considering the unique nature of the area's geology, this comes as no surprise. 
Where is Dimmuborgir?
Estimated to have been created around 2,300 years ago by a series of volcanic events, Dimmuborgir is located East of Lake Myvatn but still within the Myvatn geothermal area.  The lava field lies just below Hverfjall black sand mountain, some 82 km from Akureyri to the north.
How to Get There?
If you're staying in Reykjavik, Dimmuborgir is a 6-hour drive away from you. From Akureyri, this is a much shorter drive. If making your way from the capital, make sure to leave plenty of time to explore everything that Akureyri and the Myvatn geothermal area have to offer. 
When driving from Akureyri on the Ring Road, the journey will take about an hour, but there are some incredible stops on the way to make the trip worth your while. The immense Goðafoss is an unmissable attraction, or if you're after some relaxation, the newly-opened Forest Lagoon spa lies just outside of Akureyri on the way to Lake Mývatn. Learn more and book your ticket today on their website. 
What to do near Dimmuborgir?
Like most areas of natural beauty in Iceland, Dimmuborgir is a fantastic place to simply enjoy your surroundings. With three winding walkways, you're free to explore the incredible towers, caves, and caverns - even better for avid photographers! For little ones, set them on a search for the Dimmuborgir trolls who are rumoured to make their homes among the boulders. 
Surrounded by the highlights of the incredible Myvatn geothermal area, Dimmuborgir is a magical stop on a tour of the area. This is a great place to get up close and personal with the true power of the country's geothermal energy. 

If you're eager to visit the Dimmuborgir lava field, staying near Lake Myvatn is the perfect base. Fosshotel Myvatn is a convenient and peaceful place to stay for those looking to get into the geothermal magic of the Myvatn area.