Your Guide to Iceland's Lake Myvatn
The Ultimate Guide to Lake Mývatn 
Lake Myvatn, one of the key focal points of the Diamond Circle,  is a region of geothermal wonder. The lake itself, which covers an impressive area of 14 square miles, is one of the largest lakes in Iceland. A trip to this beautiful location is an opportunity to experience breathtaking scenery, relaxing nature baths, sweeping volcanic craters and dramatic rock formations. Discover more about what you can expect to find at Lake Myvatn in our expert guide. 
Myvatn is a beautiful, shallow lake that was formed over 2,000 years ago by a large fissure eruption. The lake and wetlands are a popular breeding ground for many duck species, making it an ideal destination for bird watching. Salmon, trout and char are often the catch of the day for those who stop for a spot of fishing.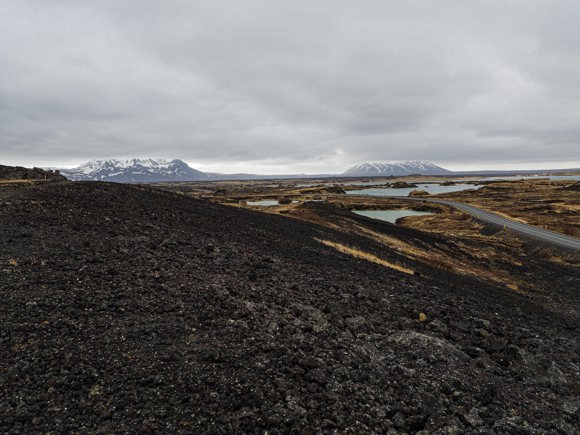 Where is Lake Mývatn?
Located in the North of Iceland, Lake Myvatn is found near the Krafla volcano, approximately 300 miles from Reykjavik.The beautiful lake is easily accessible from Route 1, also known as the Icelandic Ring Road, the main road that circles the entire country.  The Lake Myvatn area, or Mývatn, is home to just one small town, Reykjahlíð. 
If you'd rather not drive across the country to the lake, there are regular flights available to nearby airport Akureyri from the capital city. You can then either hire a car or take a bus to Reykjahlíð. The drive from Akureyri to Mývatn takes approximately 60 minutes.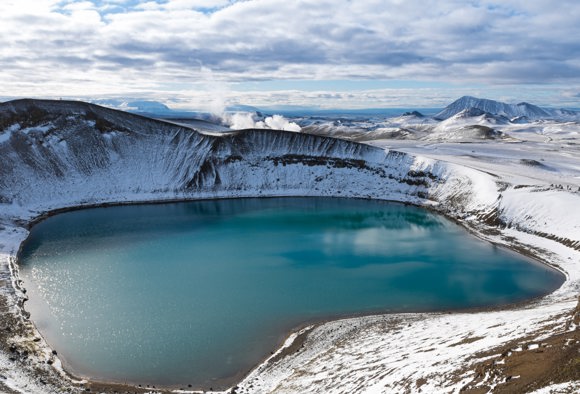 Nearby Attractions
Although Lake Myvatn is a wonderful experience in its own right, there are also many other nearby attractions that you should aim to make the most of whilst in the area. According to the locals, these are some of the places you must visit.
Dimmuborgir
The molten lava that once flowed through this area has created the unusual lava fields, volcanic caves and rock formations you can see today. Dimmuborgir, or 'Dark Cities' is particularly popular with fans of Game of Thrones, who are likely to recognise some of this dramatic landscape from scenes in the TV show itself. 
Game of Thrones fans may also be particularly excited by nearby Grjótagjá, a lava cave that was visited by Jon Snow and Ygritte. 
Hverfjall
Given the substantial volcanic activity in Iceland, it's no surprise that the country is home to one of the world's largest explosion craters, Hverfjall. It is estimated that the crater, an area which is extremely popular with avid hikers, was created over 2,800 years ago. 
Mývatn Nature Baths
If you're looking for something a little more relaxing either before, during or after your time exploring the Lake Myvatn region, then this activity is for you. The nature baths offer milky blue, warm water to soak away your stresses, steam baths and even a swim-up bar. You can book tickets in advance of your visit. 
Goðafoss
Iceland boasts many spectacular waterfalls but the 'waterfall of the gods' is one of the most popular. The blue, glacial water falls from a height of around 12 metres and can be seen from many vantage points, each offering a different perspective. 
Húsavík
Often referred to as the whale-watching capital of Europe, the Icelandic town of Húsavík is located on the coast of Skjálfandi bay. You may recognise the town by its landmark white church, which was built from Norwegian wood and consecrated in June 1907. Húsavík is well worth the 45-minute drive from Mývatn. Situated in the heart of Húsavík is Fosshotel Húsavík.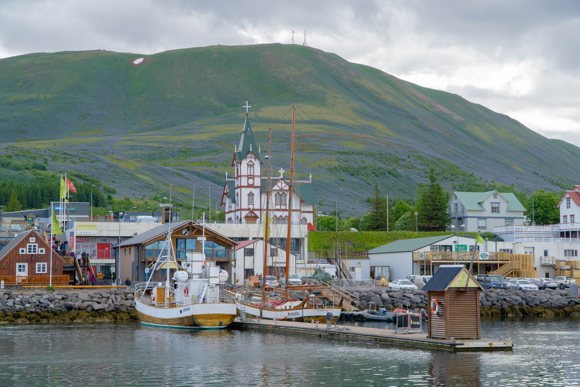 Driving the Diamond Circle 
Exploring North Iceland is simple thanks to the 250km sightseeing circuit known as the Diamond Circle. The route allows you to see four major attractions; Lake Myvatn, Dettifoss Waterfall, Ásbyrgi Canyon and Húsavík. However, it's likely that there are several other stops you'll want to make along the way including the distinctive 'whispering cliffs' - Hljodaklettar. 
The Diamond Circle is partly composed of gravel roads, which means that if you're opting for a self-drive tour then you'll want to hire a 4x4 vehicle that will be able to handle the rough terrain. 
If you're planning a trip to Iceland and are looking for a hotel in Lake Myvatn, the peaceful Fosshotel Mývatn has a variety of room types overlooking the water and will make a great base for your Icelandic adventures.There are many tours available to keep you busy!