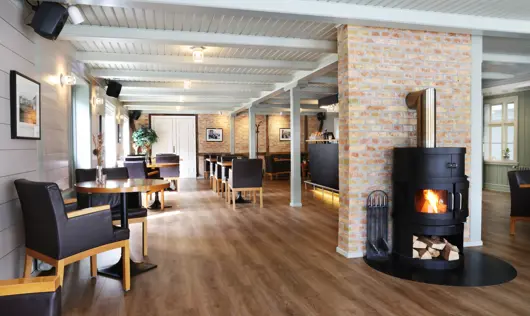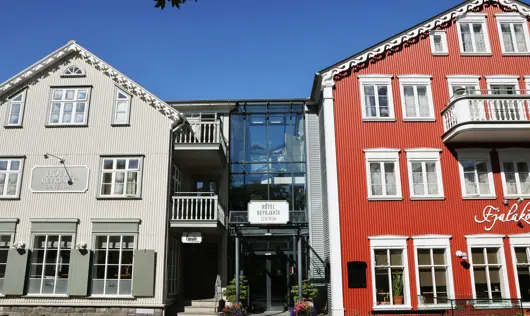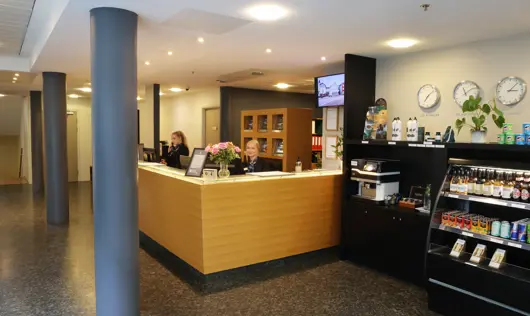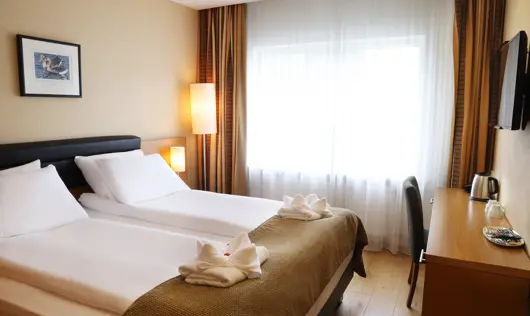 Standard Double or Twin Room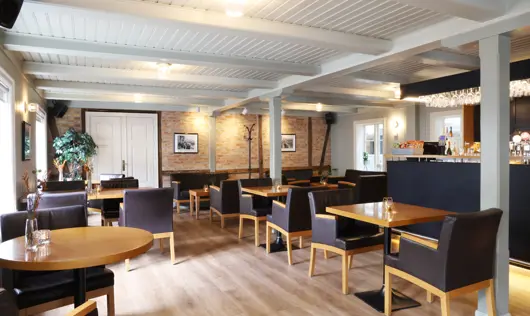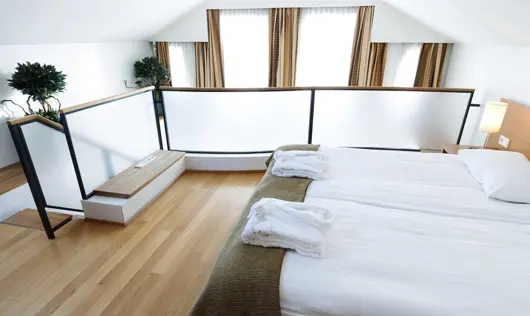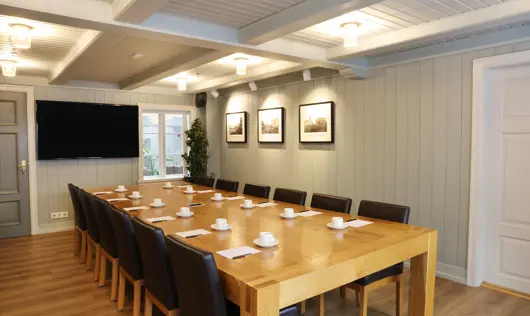 Meeting Facilities Forsetastofa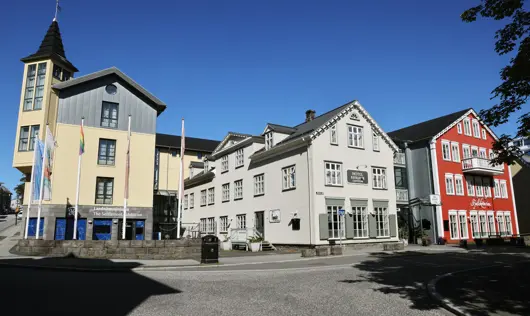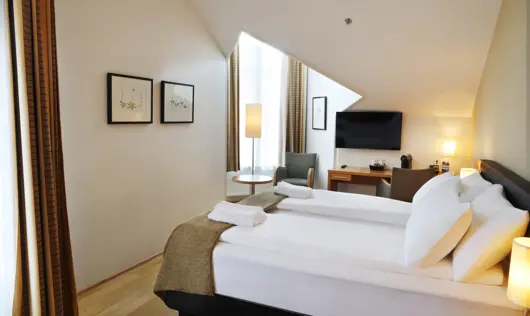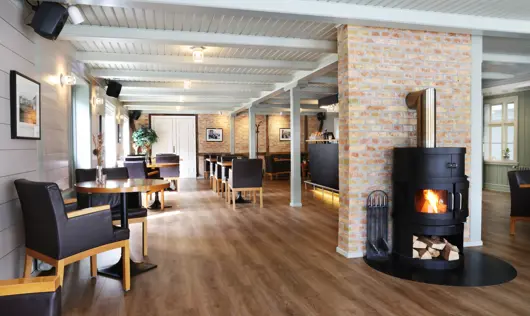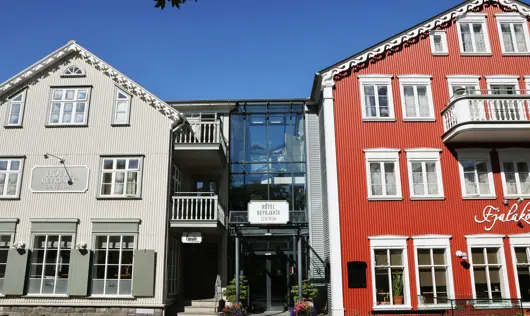 Hotel Reykjavik Centrum
Daily housekeeping on request
Hotel Reykjavik Centrum
Hotel Reykjavík Centrum stands in the bustling city center within walking distance of museums, restaurants and bars.
In addition to a myriad of parks and green spaces, there is never a shortage of things to do near this downtown Reykjavik hotel. For art lovers, history fanatics, or simply enjoyers of good food and exciting nightlife, Hotel Reykjavik Centrum couldn't be closer to the action.
As a hotel located right where all the action is, Hotel Reykjavik Centrum has not sacrificed on style. This romantic hotel is located on Aðalstræti, one of Reykjavík's oldest streets, in a newly renovated building, the oldest part of which was built in 1764. On either side of it, new buildings have been built in the likeness of their historic predecessors Fjalakötturinn and Uppsalir. 
Grand Reykjavik Cathedral, Reykjavik City Hall and more fascinating landmarks stand just minutes away. Wander around the edge of Tjörnin pond or any of central Reykjavik's parks for a great way to break up a city scene. An array of incredible restaurants are within easy reach, meaning you can enjoy a broad variety of cuisines to suit any palate.
Venues
Located in the heart of downtown Reykjavík, the perfect solution for smaller groups.
All work and no play is not why you came to Iceland. Convenience makes Hotel Reykjavík Centrum the favourite location for our business guests. Once you're through with your meetings, guests are just one step from "where the action is".
The Northern Lights
One of the biggest draws to Iceland is the Aurora Borealis, or Northern Lights, a striking natural phenomenon that causes the sky to light up with streaks of dancing colors. The best time to see the Northern Lights in Iceland is between September and April on a dark and cloudless night. You'll want to escape from the light pollution of Reykjavik but tours can easily be arranged from the city.
The Golden Circle
A popular sightseeing route within easy reach of Reykjavík is Iceland's Golden Circle, a tour of some of the best attractions in the southwest of the country. Famous sights such as the historical Þingvellir National Park, the awe-inspiring Geysir Geothermal Area and the mighty Gullfoss waterfall are all situated on this route - none are further than a two-hour drive from the capital.
Whale-watching
There's no better place to book a whale-watching tour than Reykjavík; boats leave daily from the old harbor, just minutes from the center. The main types of whales that are usually spotted in Faxaflói Bay are minke whales, white-beaked dolphins, humpback whales and harbor porpoises - sightings of these majestic creatures are most likely during the summer months.
FAQ
Standard check in time is 3pm local hotel time and check-out time is 12pm local hotel time. 

You can contact the hotel and request an early check in and/or late check-out for additional charge. This is based on availability and possible to request via the welcome email guests receive shortly before arrival.

If you arrive earlier, the reception will gladly store your baggage in the baggage area until your room is ready.

Public parking is available and parking garages nearby. The hotel cannot reserve parking.

Hotel Reykjavík Centrum offers the perfect solution for smaller groups with great service and the amenities needed. The hotel has two meeting rooms with max capacity of 40 people. 

Yes, dogs are allowed at the hotel. To request a dog friendly room when booking, it is important that you inform us in the comment box. To guarantee the room, you'll have to contact the hotel. 

More about our furry friends. See our pet policy. 

Bookings made on the website can be changed or cancelled via link in the booking confirmation email. 

Breakfast is served from 7am-10am. 

To request housekeeping services, please inform the front desk upon check-in or the day prior to the desired service. Additionally, feel free to request fresh towels, linens, and other amenities, as necessary.

At Íslandshotel we are committed to both sustainability and the privacy of our guests. As part of that commitment our housekeeping team will only enter your room to clean and change towels upon request, effectively reducing the amount of water and chemicals used. However, if you prefer daily cleaning or require a restock of amenities, we're happy to accommodate your needs.

To request housekeeping services, please inform the front desk upon check-in or on the day prior to the desired service. Additionally, feel free to request fresh towels, linens, and other amenities, as necessary.

We hope that this endeavor allows us to provide you with a more personalized and comfortable stay, while also contributing to a more sustainable future.

At Íslandshótel, we prioritize the comfort and peace of mind of our guests. In certain situations, our staff may need to enter rooms, even if a 'do not disturb' sign is displayed. This is typically for essential maintenance, safety checks, security procedures, or other valid reasons. To ensure a respectful and minimally disruptive experience, our team will always knock on the door and announce their presence before entering. We understand the importance of privacy and strive to maintain a welcoming environment for all.

If you have any concerns or questions, please don't hesitate to contact our friendly staff.

Learn more about our sustainable practices and our Green Key Certificate here.