Enjoy the sites at Námaskarð and Krafla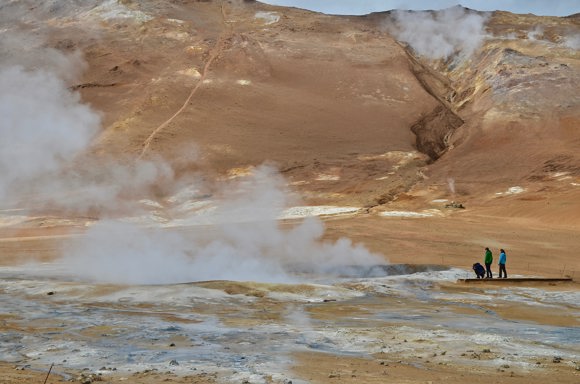 Námaskarð Pass is a narrow strip of land characterised by countless hot springs, colourful mud pools and gas-filled craters. It lies under a 30 minute drive from Lake Mývatn, in North East Iceland, just off the incredibly accessible Route 1. It is a geothermal area on Námafjall mountain linked to the Krafla volcano system, which was responsible for eruptions between 1975 and 1984. Anyone interested in Iceland's volcanic activity will be sure to find Námaskarð and the Krafla lava fields a fascinating day out.
Námaskarð Pass Geography
The most unique quality of Námaskarð is the distinct lack of vegetation. Much of Iceland, particularly lava fields and wide plains, are covered in different moss and even some flowers during the summer months. However, the soil acidity and heat from the underground volcanic activity means that plant life struggles to thrive there. You'll also notice fumes in the air being expelled from various fumaroles, pumping out an egg-like smell, which is also not beneficial to flora species.
Though the lack of green might sound barren, this couldn't be further from the truth. Elements and minerals brought to the earth's surface via steam from under the ground have brought vibrant colour to the area. Orange, yellow, red, green - the earth in many places is streaked with bright colours, particularly where there are holes in the ground.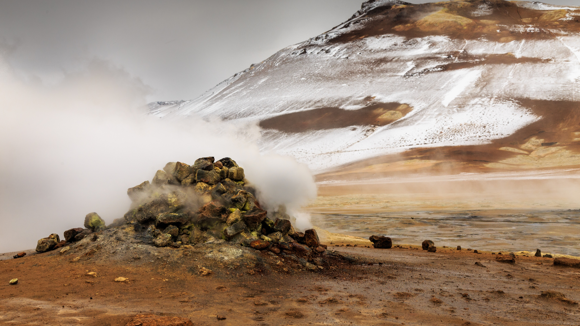 Where is Námaskarð?
If travelling through North West Iceland via the Ring Road, Route 1, you'll find yourself driving through Námaskarð Pass. The area sits north of Lake Mývatn, around 105 km (65 miles) from Akureyri, the capital of the North. If starting your Ring Road journey in Reykjavik and driving clockwise, your journey with no stop will take about 6 hours. However, there are countless highlights on Route 1 that are simply unmissable, so it's bound to take longer.
When To Visit
No matter the season, Námaskarð is a stunning natural attraction. During winter, snowfall can create magical scenery, blending the steaming pools and colourful mud pools with a white blanket. One thing to note is that the roads might be more difficult to navigate with lying snow. In summer, the weather is perfect to explore the area with ease and snap some equally incredible photos.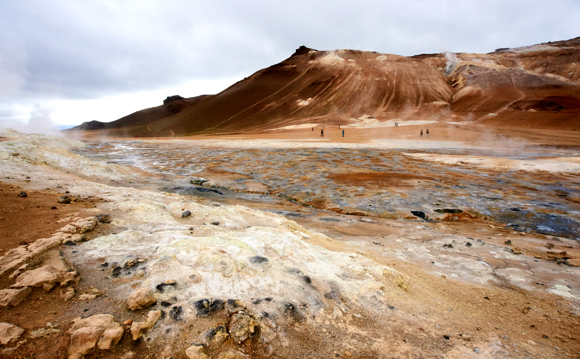 What To See and Do
While walking around the area might seem dull in theory, you'll find the colours and steaming pools and springs in real life difficult to tear yourself away from. Rock formations litter the landscape, making for almost unbelievable spectacles as you wander the paths. If you're after a whole day spent in the area, here are a few things of particular note to add to your itinerary.
Hverarönd
To the East of the narrow Námaskarð Pass, you'll find the Geyser Strip - also known as Hverarönd or Hverir. This area has a fascinating concentration of fumaroles and hot springs, all streaked with the rainbow colours of volcanic minerals. 
Krafla Crater
Being so closely connected to the Krafla volcanic system, the area is bound to have seen some action in the past. The nearby Krafla crater is just one scar from Iceland's volcanic past. The crater has a diameter of 10 kilometres, with a recorded 29 eruptions to its name, and contains smaller craters with proven devastating potential. Due to the high frequency of geothermal activity here, a power station was constructed at the crater in 1977.
Hiking
Another way to enjoy the spectacular surroundings is hiking. Gentle walking can be a great way to immerse yourself in the geothermal power of Iceland, especially in locations like this. For a little more adventure, you can enjoy a short walk to the Leirhnjúkur lava fields nearby. This is a stunning point from which to observe the pure geothermal power of the region.
Dangers at Námaskarð
When exploring the geothermal area, it's important to take notice of the obvious danger around you. The water you see bubbling from the earth's surface is at boiling point, so it's critical that you don't attempt to touch or swim in any of the Námaskarð hot springs you see. Keep to the paths and follow signage on site to keep you and your family safe from harm, as well as preserve your surroundings. 
With so much to see in the Lake Mývatn area has to offer, staying in the local area is a great way to make sure you don't miss a thing. North Iceland is a fantastic location for your trip to Iceland, and Fosshotel Mývatn is the perfect base for all things north Iceland. Enjoy a peaceful stay with endless opportunities for adventure all around you!